Do you experience regular mild pain? What if you could go into your backyard and find something that could relieve some of that pain? If you are in California, there's a good chance you can find wild lettuce somewhere near you.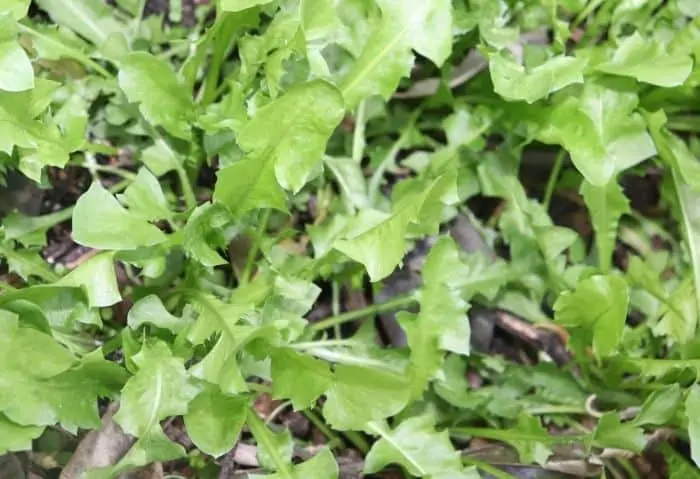 DISCLAIMER: For educational purposes only. This information has not been evaluated by the Food and Drug Administration. This information is not intended to diagnose, treat, cure, or prevent any disease, we are simply sharing what we have learned. Use the information at your own risk. We recommend that you consult with a qualified healthcare practitioner before using herbal products, particularly if you are pregnant, nursing, or on any medications. Please see our disclaimer page for more details.
I'm super excited to talk about this today, because my knees have recently decided that they are going to act arthritic on me. Despite the fact that I am running daily (which, oddly, doesn't hurt my knees, but actually helps them), they still want to complain occasionally. Being an active person just isn't enough for my knees, apparently.
A couple of years ago, I wrote on arnica balm for pain. In that post, I shared that I am a huge baby with pain–just ask my family. One time I cut off the tip of my index finger and fainted 6 times before the paramedics came. Most people wouldn't need the paramedics for that, but me? Let's just say my body is averse to injury, and in a zombie apocalypse, I'm definitely zombie food. Just ask my kids.
Another story–just real quick. About 10 or so years ago, I decided to get my first ever tattoo. My body wasn't cool about that either. It decided that I was in terribly injured or something and started to go into shock. It expelled the contents of my stomach and, well, you know. I'm not a person who can stand much pain.
So. Now you know me, and why I am so excited about wild lettuce.
What is Wild Lettuce?
Wild lettuce is likely something you are very familiar with if you live in California. But if you have done any herbal studies at all, you know that often what we call a weed is often a useful plant. It's crazy prolific where I live, I'm going to guess that we probably have no less than 50 on our property that have popped up wherever. They are pretty ugly when they get tall–and they do get tall, up to 6 feet.
Wild lettuce (Lactuca virosa), often called "lettuce opium", though it has no opium in it. Still, it is considered by some a smokeable herb, and people do it to relieve their anxiety (mild sedative effects), to improve their sleep, and as a pain reliever. It can, and is more often used in other forms, like tea, tinctures, capsules, and extracts to relieve those issues as well.
It's an effective pain reliever that has benefits similar to ibuprofen or aspirin. According to WebMD, it can also be used for asthma, painful menstrual cramps, poor circulation, and so much more.
What Are the Side Effects of Wild Lettuce?
There are some reported side effects if consumed in large amounts, but it's generally safe in small, medicinal amounts unless you have an enlarged prostate, glaucoma, or are allergic to ragweed. Also, women who are pregnant or breastfeeding should not use wild lettuce, as not enough is known about how it might effect mom or baby. Wild lettuce should not be used alongside other sedative medications, because it has sedative effects when used.
Identifying Wild Lettuce
Wild lettuce is not as easy to find as you might think. There are tons of photos on the internet of Lactuca virosa, and many of them look quite different from the other. My friend Tessa from FreeSpiritFolk.com is a long-time forager and wildcrafter who is very familiar with wild lettuce. She instructed me on how to find it, and her description was awesome in that it made it so easy to identify. Here are the things she told me to look for:
rosette basal leaves that look like a mix between dandelion and chicory
large, milky taproot
alternative leaves that are 6-12 inches long
hairless top leaves
lower leaves (undersides) are lined with prickles
always milky (the milk is also called "latex")
tastes like lettuce (though mine tasted bitter, like bolting lettuce)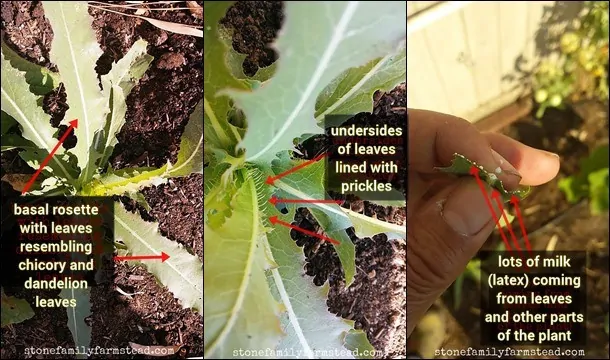 Here are some photos for reference:

What If I Don't Have Wild Lettuce in My Backyard?
That's no problem, it's widely sold. You can get it in the following forms (full disclosure, though, I have not used these, so I can't vouch for their quality or effectiveness):
Do you use wild lettuce? I haven't yet, but I'm very intrigued and would really like to use it since it grows so prolifically on my homestead. If you use it, scroll down and leave me a comment letting me know which form you use, if you harvest it from your property, and which preparations work well for you. I'd love to hear!