Keeping chickens is one of the easiest ways to grow nutritious food on your homestead. These feathered friends don't need much if they have space to graze, a place to sleep and lay eggs, and of course, proper nutrition. Here is some info on what to feed chickens, including specific things you can do to feed them well, and inexpensively.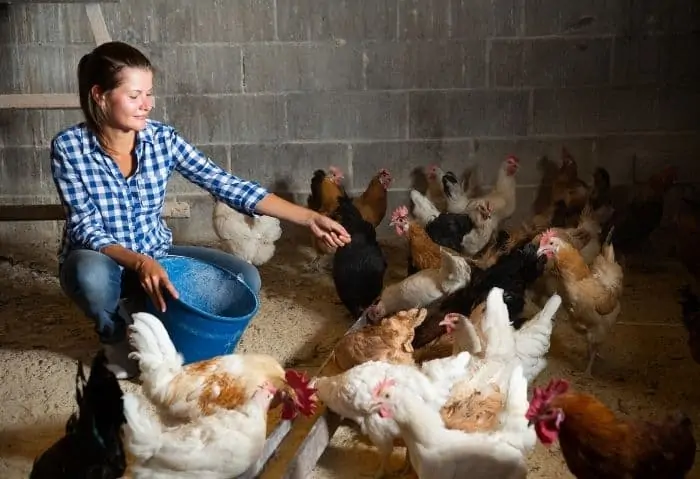 What Can Chickens Eat?
Chickens can eat SO many things, from leftovers, to fruit and veggies, to meats, to seeds….the possibilities for food are endless. The question you really want to ask is what can't they eat?
Don't Feed These Things to Your Chickens
It's kind of a weird thing when I hear people say that animals will eat anything. Granted, some do, and some are more discriminant. However, there are people out there who have animals and just feed them whatever and are fine with it because the animals will eat it. Don't do that.
In the same way that our bodies do well to have good fuels to keep it working properly, it's the same for our animals, and in this case, our chickens. What they eat can be helpful or harmful to them, and can even affect egg production and quality.
For the sake of making sure we understand what not to include in our chickens' feed, here's a list of things you don't want to give to them, and why. Many of the ideas I'm sharing with you today come from, or are based on ideas from Carissa Bonham's lovely new book that she gifted to me for my honest review, Proven Techniques for Keeping Healthy Chickens: The Backyard Guide to Raising Chicks, Handling Broody Hens, Building Coops, and More.
Avocado (pits or skin) – contains toxins which can cause heart issues, breathing problems, and death within 48 hours
Citrus fruits or peels -buildup of citric acid leads to feather plucking
Green potatoes, raw potatoes, or potato skins – green parts contain toxins that cause death; cannot be changed by cooking the potato
Green (unripe) tomatoes – same as with green potatoes
Raw onions – destroys red blood cells in chickens
Chocolate – caffeine and toxins can cause cardiac arrest in chickens
Moldy/rotten food – while some molds can be fine for both humans and animals, it isn't really possible to determine which ones would be fine when they are growing on our food; could cause death
Undercooked/dry beans – dry and undercooked beans have toxins in them that can kill a chicken quickly. If you want to feed beans to your chickens, you can give them fully cooked beans; also can cause gut problems if beans are eaten and swell in the gut
Apple seeds – contain levels of cyanide that can kill
Another warning that Carissa gives is to avoid allowing styrofoam anywhere around the chickens, because they love eating it for some reason! Ew.
What to Feed Chickens for Cheap or Free
Now that we know what not to feed our chickens, we can get on with what to feed chickens, and how we can do it with many things we already have in our kitchens, save for the foods we mentioned above.
Food scraps – These are a fantastic supplement for your girls (and guys, if you have them), because they bring fantastic variety to what would otherwise be sort of a boring daily diet. Leftover foods on their way out (but not moldy) are the perfect treat for your flock, and they will thank you for it. Along with interesting tastes and textures, they can gain precious nutrition through the foods you would normally just throw out. (Again, avoid foods in the no-no list above.)
Make your own chicken feed – If you can get a hold of bulk grains and seeds, making your own feed is easy. You can control how much protein goes into it for your flock, as well as add herbs for continuous immune support. Here's some instructions for a great, non-GMO feed for your chickens.
Fermented feed – This is a fantastic way to stretch your feed and only takes a few minutes per day to do! It's basically soaking the feed over a few days to create a feed full of nutrients that are much more bioavailable to your flock. The food "grows" in the fermentation process, and therefore, you are only feeding about 1/2 of their normal daily rations of dry feed you used to give them. Super easy!
Grow your own fodder – Growing fodder adds extra protein to to your chickens' diet, and provides lovely fresh greens to them. Fodder is a great replacement for the lack of vegetation in a chicken run, and it's so easy to grow. Here's a set of instructions for a continuous supply.
Edible Piñata – What is that? It's basically what it sounds like, hanging food, and chickens love it once they get over their initial alarm over the strange item. The hanging item can be a head of green leafies, a piece of fruit, or even a bundle of herbs. You can stick an S hook directly into the item, or for larger, looser items, you can use one of those metal hanging planters on a shepherd's crook.
Add extra nutrition to their water – By adding vitamins and electrolytes, or even molasses, you can help a sick or injured chicken back to health; by adding herbs, you can add flavor to their water, or if you add something like fresh oregano, antibiotics. Adding apple cider vinegar (with the mother) will encourage them to drink, which will in turn get valuable probiotics into their systems.
If you'd like more details on how to implement the above ideas, what to feed chickens, how to grow them from chick to layer, or any other information on how to care for chickens in a natural and healthy way, grab a copy of Proven Techniques for Keeping Healthy Chickens. I know you will love it, and it will help propel you into the chicken keeping super hero you are dying to become!
In addition to it having plenty of great, bite-sized chapters, Carissa has included aesthetically pleasing photos throughout the book that make you feel like you are looking at a lovely chicken magazine. In addition to writing this beautiful book you'll want to have on your shelf, Carissa blogs at Creative Green Living.