Transplanting seedlings isn't difficult, but because they are basically "babies" we can assume that there are some set practices that improve their life and strength. If you planted your seeds in larger pots, they will likely be able to live and grow there until it's time to plant them outdoors. However, if you planted your seeds in peat pellets, there is almost always a need to plant up, or transplant to the next size pot.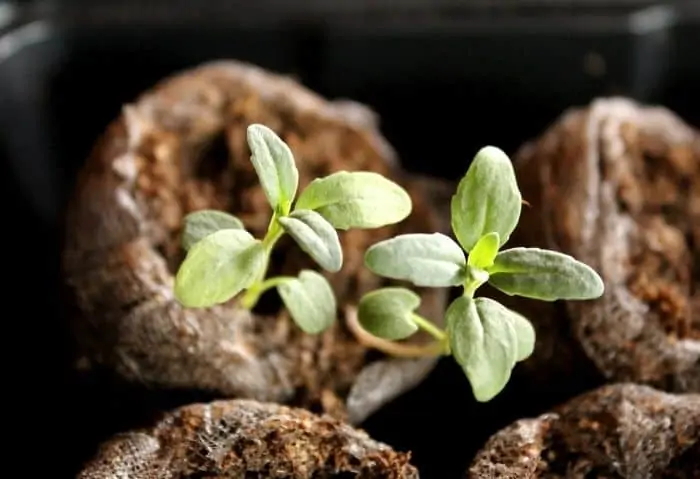 If you are like me and use small peat pellets to start your seeds, then you know that there's at least one transplant needed between starting and planting in your garden. However, this method will work with your seedlings, whichever way you planted them. In case you are not sure why we transplant our seedlings, I'll explain.
From Peat Pellet to Pot
Transplanting seedlings is important because often when we start our seeds, we start them in peat pellets or small pots. As our seedlings grow, they outgrow their first "home", and need a place to stretch their roots out.
If we do not transplant, they can easily become root bound, which can cause your plant to die. Especially in the case of peat pellet seedlings, the roots grow out of the pellet and become exposed, which can result in root damage.
When choosing pots to transplant your seedlings, you will want to choose something that is at least 2-3 times larger than your seedlings' current "home". This is so the roots can have room to grow without become root bound too quickly, or at all.
I tend to transplant in 3″ peat pots with a transplant mix, which works well for me. Transplanting seedlings in peat pots will help your seedlings avoid transplant shock later.
Transplant Mix Recipe
This is the recipe that has helped me to be successful in keeping my seedlings well-nourished and healthy. It's pretty inexpensive to make, as most of it is potting soil. I usually purchase an organic potting soil for pretty inexpensively, but you really could just use your favorite potting soil.
The potting soil will provide structure to the mix, which will allow the roots to grow and spread more easily. The worm castings will provide nutrients more immediately, while the fertilizer will feed your plants on a more long term basis. This doesn't mean you won't feed your seedlings on a weekly or bi-weekly basis, but if you don't, it won't be the end of the world.
Here's the recipe I use:
4 parts potting soil
1 part worm castings
1/4 part transplant fertilizer
Add all parts to a bucket and combine well until all parts are incorporated together. If not using immediately, add a lid and store. Do not wet until you are ready to use.
My Method for Transplanting Seedlings from Peat Pellets or Small Pots
Mix up your transplant mix. Before using, add enough water to make the soil wet, but not soggy. Fill your containers about 1/2 to 2/3 of the way.
If you have planted in peat pellets, gently remove the netting from the pellet and set the plant on top of the soil in the new container.
If you planted your seeds in a small container, squeeze the container with your fingers, turn the plant over with the stem between the fingers on your other hand, and gently work the plant out of the container. Set the plant on top of the soil in the new container.
Fill in around the seedling with more mix and press gently with fingers to eliminate any air pockets. Water with a water soluble fertilizer mixed at half strength, or with worm tea.
Want to Watch Me Do These Things?
Now what?
Once your seedlings are transplanted, you can return them to your grow light setup or grow light box, and allow them to grow a bit longer. About a week before you'd like to plant them outdoors, you will need to begin hardening off your seedlings.