If growing tomatoes has been a thorn in your side and it seems like everyone else is able to grow them without even applying any tomato plant care rules, this post is for you! I've been there too, so I'm sharing my best tomato growing tips with you.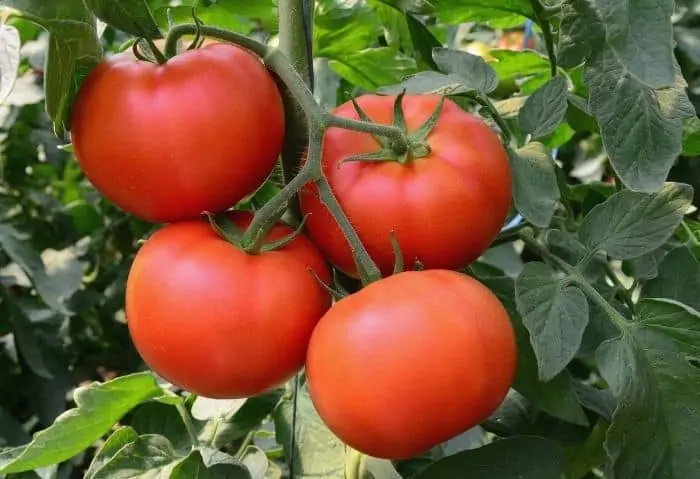 For years, I would plant my tomato transplants that I bought from the local garden center, along with bags of manure….and plant them only in that. Thankfully, I have learned how to grow tomatoes since those days (and I've learned not to plant in straight manure, too).
Nowadays, I am growing a lovely tomato garden and getting even better at it this year, and in my journey into tomato plant care, I've developed a few tomato growing tips of my own to share!
My Best Tomato Growing Tips
Remove foliage from the bottom 12 inches of the plant so no leaves touch the ground. This is a great thing to do because it keeps the leaves out of the water that can pool at the stem at watering time, which will minimize the likelihood of disease and pests that are on the ground.
Stake or tie tomato plants to grow vertically, so that they can grow upward. This is mostly for indeterminate tomato plants, but you can also stake your determinates so they don't fall over from the heavy foliage and fruit it will grow.
Remove old foliage from the plant when you see it. I often remove some of the healthy foliage out of the middle of the plant so as to allow sunshine into the middle of the plant. This is also helpful for finding hiding hornworms, which can make quick work of devouring a tomato plant. Until I learned how to prune tomatoes, I had so many hornworms on my plants.
Remove suckers from indeterminate plants so that more energy can go toward setting and ripening fruit. This also helps the plant to avoid becoming too bushy and tangled.
Prune weekly to encourage only one or two lead vines so all energy can go into fruiting and ripening fruit, just like removing the suckers will. A bushy and tangled up tomato plant is a great home for all sorts of pests and disease.
Harvest daily any fruit that is ripe each day. This allows the plant to put its energy elsewhere, like setting flowers and growing tomatoes.
Track What You Do
Make sure to track what you are doing so that you can remember in the coming years what method you used to get such a fabulous harvest. You can keep a notebook with notes on each vegetable, if you are fine with functional. Some people are!
But if you are one that likes to keep pretty journals, check my Garden Planner. It's the perfect resource for keeping gardening information straight and easily accessible each year.