I'm a collector of things. Since my study of herbs got underway, I've been buying them in bulk and using them a lot. I make lots of great things like herbal teas, arnica balm, and of course, using them in our foods like our favorite dill pickles, or our favorite pasta sauce. My biggest hurdle to using them, however, has been my lack of herb storage organization.
There are many different methods of herb storage, and usually it's in a spice rack. I have a spice rack. Actually, I have two hung directly next to each other so that they resemble one long rack. Though these are quite adequate for my culinary herbs, they don't provide enough space to store all of my herbs.
My old herb storage solution was to store them in the silver bags they came in. Some of them had a ziploc-type feature to them, making them recloseable. Others did not have that feature, which meant that I needed to use the old fold-and-clip technique. All of those bags would be piled into a cupboard somewhere making it difficult to use them.
Now I use mason jars to store my herbs. It gives me the opportunity to see what's in the jar. If I don't recognize the herb that is in the jar (which is usually the case), I mark the jar with sharpie or use a label.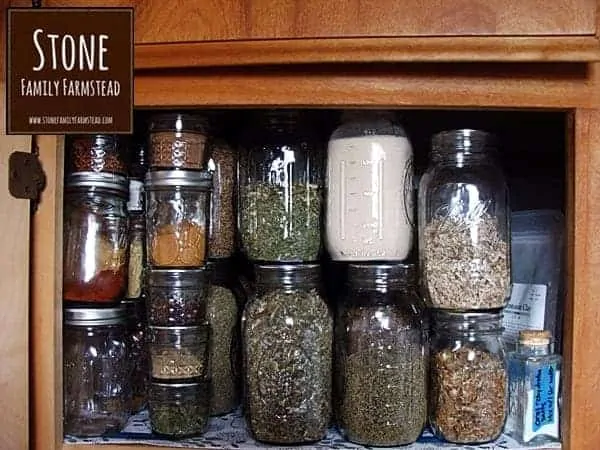 If all you have are bands and lids, and you'd like to avoid using the bands with the metal lids, you can vacuum seal your lids onto your jars. I use a Foodsaver system with the jar sealer attachment (I have both sizes). It takes a bit more time, but it's worth it if you purchase your herbs in bulk.
[sc name="Herb Jar Labels"]
If you are making culinary spice or medicinal herb mixes, you could drag out all of your herb jars on the same day. This would make it easy to make up all your mixes, then vacuum seal and put away on the same day. As an alternative to vacuum sealing, you could use a couple of oxygen absorbers in your herb jars. The size of your jar and type of absorber you purchase would determine how many to use.
What About You?
Do you have a special system for herb storage? I'd love to hear about it!
Don't know much about using herbs medicinally, but would like to? Let me recommend (affiliate link–read our full disclosure here):