Favorites of the vegetable garden, tomatoes and peppers yield a great bounty worthy worthy of even the best salsa recipes! But before we can get to the bounty, we need to start our tomato and pepper seeds indoors.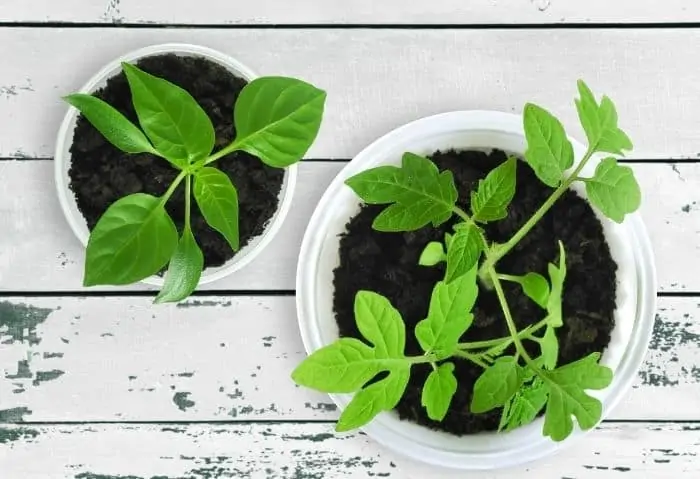 Starting tomato and pepper seeds indoors isn't difficult. Sometimes the seeds take a little longer to germinate than other seeds, but the reward at harvesting season is well worth the wait! If you are not sure if this is the right time to start tomatoes and peppers in your zone, I'll have a free cheat sheet for you at the end of this post.
There is a trick to get these two types of seeds to germinate: heat. Tomato and pepper seeds, as well as herb seeds, benefit from using a heat mat, or some other heat source beneath the planting tray. If you don't have a heat mat, try placing the tray on top of the refrigerator until the seeds are germinated.
If you'd like to grow herbs, my friend Heidi at Healing Harvest Homestead has her Ultimate Guide to Growing Herbs right here. She has tons of great information about using herbs as well!
Starting Tomato and Pepper Seeds Indoors
Sowing these seeds is easy. My favorite medium to sow in are peat pellets, but you can choose your favorite seed starting medium. The planting instructions are pretty much the same.
Getting Your Soil Ready for Planting
A couple things to consider before planting are the soil that you are using and the 'wetness' of it. Make sure that whatever soil you are using is actually for seed starting. Often, people will want to cut corners in their gardening by using their garden soil. This will not yield the results you need, and can even kill your seedlings if they even sprout at all.
Add water to your seed starting mix, or reconstitute your peat pellets if you are using those. The consistency of your soil should be wet, but not soggy.
Planting Your Seeds
Since tomato and pepper seeds are around the same size, the instructions for planting depth is the same. Plant these seeds about 1/4″ below the surface of the soil, and cover lightly with soil.
The idea here is that you want the damp soil touching the seed so the outer shell can soften. However, you don't want the soil to be so packed around the seed that the new seedling has trouble getting through.
Past advice has always been to sow three seeds together in one hole. The thought is that if the seed viability is less than 100%, you will have at least one plant growing. If all three sprout, you can simply snip off the two weaker plants and leave the strongest one in place.
I don't prefer to do it that way, but rather, I like to sow three seeds in a triangle pattern. This way if all three sprout, I can easily break the soil apart, carefully extracting the roots from each other without hurting the plant.
Here's a video that can give you a visual of how I start my tomato and pepper seeds indoors using peat pellets. (The tomato and pepper portion of the video starts around 4:30.)
Once They Are Planted
Once you have sown your tomato and pepper seeds and they have sprouted, you will want to get some light on the seedlings. You can purchase build a grow light setup with T5 lights that you can purchase at your local hardware store, or buy grow lights that are ready to use out of the box.
My favorite way to sprout my seeds and provide light to the seedlings is to use a grow light box system. This system works double duty to bring heat to your newly sown pepper and tomato seeds, which will help the seeds germinate. If you don't have one, they are easy and inexpensive to build.
This system will help your seedlings to receive all the light they need to remain healthy all the way up until it's time to plant them outdoors after your last frost date. My "When to Start Your Spring Seeds Indoors" cheat sheet can help you know when that is. It's in my resource library, and you can get the password for that below, when you subscribe to my blog.