Have you caught the homesteading bug yet? How about the self-reliance bug? If you are any kind of DIY person, you understand how important it is to learn to do more things for yourself. Learning how to start a homestead in the home your presently live in is one powerful way to equip yourself and your family to do more for yourselves, and rely less on the grocery store.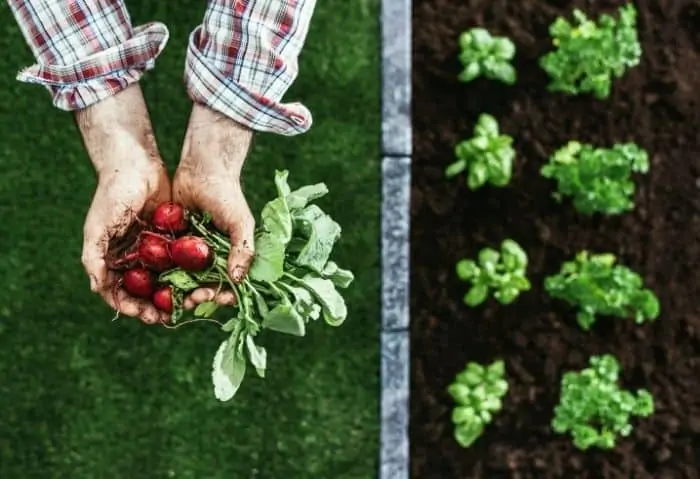 Each homesteader looks different, as do their properties. Some homesteaders live on large acreage and 'do it all', while other homesteaders live on rented property which allows them to do only few things. Regardless of where you live, there are literally tons of things you can do today to embark on a homesteading lifestyle.
I have a really cool little resource that will help you start your journey into homesteading by helping you figure out your top goals. This resource will be available to you at the bottom of this article.
As mentioned in my article on homesteading for beginners, homesteading doesn't mean the same thing that it used to back in the 1860s. What is does mean is this: In an effort to become more self-sufficient, modern homesteaders are getting back to the roots of our ancestors by honing old skills.
How to Start a Homestead Right Where You Are
What your homestead looks like really just depends on which way you desire to be more self-sufficient. Here are a few activities that many who call themselves homesteaders do regularly.
Vegetable Gardening
Gardening is a fantastic place to start when you are just beginning to homestead. If you're new at gardening, starting with a 100 square foot plot should do nicely. Buy plants for the first year if you can afford them, and especially if you have never started your own plants from seed.
Starting small and simple will give you the tools you need to be able to get some quick success, and it will help you to understand what you are trying to accomplish when you do finally start doing everything 'from scratch'.
Of course, if you are wanting the whole experience, by all means, start your seeds indoors! (Want a step-by-step instruction book that will "hold your hand" through the process? Check out my eBook!)
Try these helps and resources:
How to Start Your Own Garden and Save Money
Preparing Land to Plant Your First Vegetable Garden
How to Prepare Soil for an Awesome Spring Garden
The Vegetable Gardener's Bible by Edward C. Smith
Preserving Food
Eating seasonally is definitely a must for the homesteader, but learning to can, dehydrate, and freeze food is one sure way to preserve your bounty–when you have one to preserve, that is. Starting to learn how to fill your shelves with delicious canned and dehydrated food will help you to know what to do when you get that windfall of tomatoes this summer.
While you are waiting on your bounty, why not try out your new skills on store-bought produce? Often, it's very inexpensive, especially if it's in season, and it's a great way to get your feet wet with putting your food by!
Try these helps and resources:
Pressure Canning Carrots is Safe and So Easy!
How to Can Meat Safely at Home
How to Can Tomato Sauce Safely
National Center for Home Food Preservation
Ball Blue Book Guide to Preserving
Presto 23-quart Pressure Canner (the canner I own and use for both water bath and pressure canning)
Canning Tools Kit
Raising Small Livestock
Raising livestock for milk, fiber, meat and eggs is a prudent choice for the homesteader, if you have the space. Small livestock would be the obvious choice for those living in smaller spaces, but if you have a piece of land, your choices for raising animals is likely wide open. Depending upon which animals you choose to raise it can range from a simple part-time job to a labor intensive endeavor.
Apartment homesteaders are probably out of luck when it comes to raising livestock (maybe try a worm farm under the sink). Perhaps if it is on your horizon to raise rabbits for meat, you could start with a pet rabbit so you can learn the basics.
For those of you living in tract homes, many cities and urban areas allow raising chickens, so make sure to check your city's ordinances before you assume you can't.
Those of you with acreage might opt for a chicken flock with a sprawling chicken coop and run area, a goat paddock, or even horses.
Try these helps and resources:
Keeping Livestock on the Homestead
What to Feed Chickens: 6 Healthy and Cheap Ideas You'll Love
Top 10 Things to Bring Home with Your New Rabbit
PIN FOR LATER