Many say that bottle fed goat kids are much more friendly than their dam-raised counterparts, but if you are more inclined to allow mama to raise her babies, here is a way that can help encourage trust between you and your baby goat kids on your homestead.
I changed my mind about only allowing my dams to raise the kids when I thought back to three years ago, when we acquired two new doelings. Naomi was three months old and weaned, and Willow was 8 days old and a bottle baby. As intimidating as that felt to raise my very first goats, it felt even more intimidating to raise a bottle baby. I went for it anyway.
My First Baby Goat Kids
It was a great joy to be little Willow's source of meals, and I do believe it really did create a bond between us. Both of my girls are really sweet, but Willow seems to respond to me differently than Naomi. Perhaps it's trust. Or love. I don't know, but I know it's different.
Recently, my Willow gave birth to four beautiful kids, 3 does and 1 buck. A friend of mine, Dani from Hooligans Farm, had the unfortunate reality of having mostly bucks this year. Kindly, she referred those customers looking for does to me. I was happy to accommodate, but there was catch. They wanted to take them home before three months old, which meant they wouldn't be dam raised.
Dani taught me that when "showing" customers purchase a goat, they usually want to bottle feed them. This is in order to create the proper bond they need to have with their show goat. Although this wasn't the way I originally wanted to raise our goats, it made perfect sense given my own experience.
I Still Prefer a Natural Approach, But I'm More Open
Being a naturalist at heart, and couldn't really pull babies off their mama earlier than two or three months without feeling a little sad. I love to watch Willow raising her babies, tenderly allowing them to nurse (and they are rough!), teaching them how to find forage, letting them jump and romp all over her back…it's just such a sweet and natural thing to watch every day. They are family, and it's obvious. I feel privileged and blessed to experience this interaction between them.
Still, for the sake of the relationships of the kids we raise here and their new families, I feel it is important to create a little bit of dependence on humans in our kids. All three of my does will be going to families that want to create a bond between goat and owner.
Two of the does are quite friendly, my buck is a spark-plug and is teaching his other sister his ways. I've been able to make some decent progress with all of them, but I can see the most change in my buck and his sister-buddy.
What I Did
The first week, I milked Willow in the middle of the day. I did not separate babies from mom at all. All I wanted to do was get 4-5 ounces of milk from her. Once I did, I put it in a bottle to present to the babies. I wanted to teach them that I am a source of good things for them.
I had to first teach them to drink from a bottle, which wasn't at all difficult. Some caught on sooner than others, but they all got the gist of it the first day. I did this for a few days.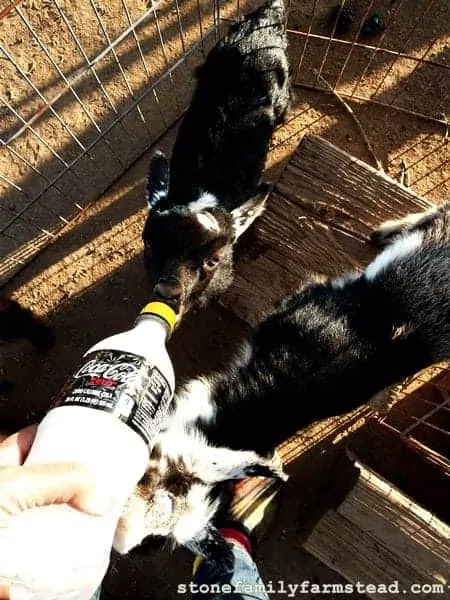 The New Routine is Working
Once they all got the hang of our new routine, I began separating the babies overnight (they were about 26 days old at this time). Seeing that mom and babies usually went their separate ways at night, I knew it wouldn't be too hard on them.
The next day when I came out to milk Willow, they were calling their mama. It was hard for Willow to leave them, but she came with me to the milk stanchion. I milked her out and bottle fed each of the babies about 5 ounces each.
At first they wanted mom instead, but I was persuasive over the week. I am happy to say that they are making daily progress, and even our little buck is jumping on my lap now, coming to see what I might have for him.
Due to a family crisis, I even had to skip a few days of separating babies and milking, and the little buckling has continued to remember that I sometimes have good stuff for him! Success!
The following video is of our little buckling bottle feeding:

Get Started Raising Friendly Goat Kids
This is just how I did it. You may find that another way works better for you, but this is a good jumping off point.
Step 1 :For the first 4-5 days, milk mom just enough to have an ounce of milk to offer each kid in the litter. It is important to understand that you want to obtain the milk from Mom. If you try to substitute another dam's milk for the bottle feedings, Mom is likely to leave them to fend for themselves.
Step 2: Teach the kids to bottle feed the first day. (I use a 20 oz coke bottle, like these ones but you don't need this many, and these nipples.)
Step 3: For the remaining 4 days, milk a few ounces from mom, then keep practicing the bottle feeding, giving just a little to each kid.
Step 4: On the 5th night, separate them from mom overnight. Milk mom out in the morning. (NOTE: If you try this when they are very young and it is cold overnight, you will want to make sure that they have sweaters and a warm bed to sleep in because they won't be snuggling with mom all night. Alternatively, you can separate during the day and feed babies at night. Whatever works best for you, mama, and her kids is the right way. )
Step 5: Bottle feed babies their first feeding of the day. (Here is a post that breaks down what a bottle feeding schedule should be. Since we are only instilling friendliness, we don't need to follow the schedule completely. However, we do want to make sure they are getting enough to eat for breakfast each morning.)
Do not allow them contact with mom until they have had their breakfast. Once each one has eaten, go ahead and let them be with mom. They will likely try to nurse, but there probably won't be anything left. This gives mom a little break, which is especially nice for her.
Step 6: Allow kids to hang out with mom all day long and nurse, then separate again in the evening. I usually separate around 6-6:30pm and milk around 6-6:30am.