The other day I found a fantastic deal on carrots, .20/lb! The carrots are nice-sized, but 25 lbs is a lot of carrots, even after canning 21 quarts of my mom's soup (you can see that recipe here, if you're wondering about it). Canning carrots is how I decided to handle the last 15 of those 25lbs!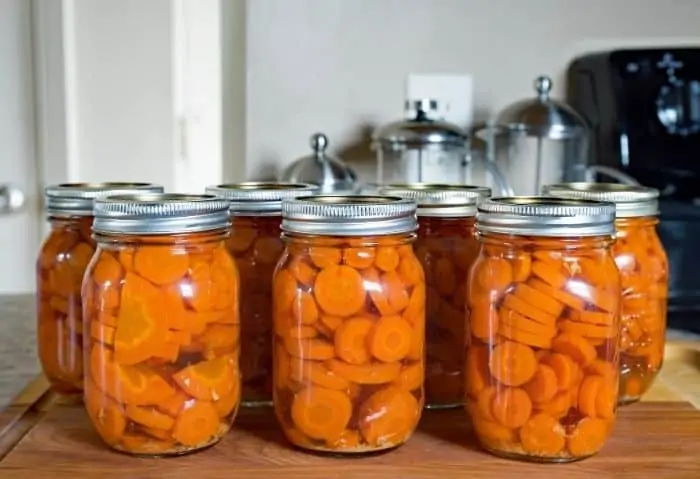 Pressure canning carrots is one of the easiest home canning jobs you can do, which is why I decided to handle the rest of my carrot mother lode this way. Besides processing time, peeling is the part that takes longest, and I tend to do that while binge watching Netflix, so it's pretty much a breeze for me. (Making a Murderer, anyone?)
Having canned carrots on the shelf means that you will be able to quickly add carrots to soups, or just to a small saucepan as a side next to meat and a rice dish. Once, a friend of mine shared a recipe on how to make a dish called "cheese carrots", where she used Cheez-Wiz with canned carrots, and oddly enough, it was a hit that Thanksgiving! I don't use Cheez-Wiz, but I'm pretty sure I can duplicate cheese carrots nicely with a good white sauce, some cheese, and my home-canned carrots! But I'm digressing.
There's a couple different ways you fill your jars. You can raw pack or hot pack the carrots, and both are just as good as the other (though I prefer the raw pack method, because I'm lazy and like fewer steps). I will give you instructions on how to raw and hot pack the carrots so you can make your own choice on how to handle this job. I'm giving you general instructions based on the directions in the Ball Blue Book (2014), and from National Center for Home Food Preservation, which is my favorite safe sources for home canning.
This post is going to assume that you understand the basics of pressure canning, but if you are doing this for the first time, or are not quite sure you have the basics down, you can refer to my post, "How to Can Food for Beginners". It's a fantastic article that takes you step-by-step through both canning processes. This time you will only need the information under the headings of Steps Before Processing, Pressure Canning, and Steps After Processing.
Items Needed for Canning Carrots
6-9lbs carrots
salt (optional)
water or broth
tools and equipment listed under "The Tools" section in this post
How to Can Carrots Step-by-Step
This recipe makes 6 pints or 3 quart jars of carrots.
Step 1, Prep the carrots: Wash and peel carrots. Rinse carrots again, then slice or dice. You can also leave the carrots whole, if you'd like. I like to slice mine with my Cuisinart food processor. If you are raw packing your carrots, bring some water to a boil to use as your liquid in the jar. If you are hot packing your carrots, put your carrots into a large saucepan, adding water just to cover. Bring to a boil and reduce heat to a simmer, and simmer for 5 minutes. Remove carrots and keep water hot.
Step 2, Pack the jars: RAW PACK: Pack carrots tightly into a hot jar, leaving 1 inch head space. Add 1/2 tsp. salt to pint jar, or 1 tsp. to a quart jar, if desired. Pour hot water into the jar, observing the 1 inch head space you left before. HOT PACK: Pack hot carrots into a hot jar, leaving 1″ head space. Add 1/2 tsp. salt to pint jar, or 1 tsp. to a quart jar, if desired. Pour hot cooking liquid into the jar, observing the 1 inch head space you left before.
Step 3, Preparing for the canner: Remove air bubbles with a bubble remover, and clean the jar rim. Center the lid onto the clean jar rim and screw on the band only fingertip-tight. Repeat steps 2-3 until all jars are filled.
Step 4, Fill your canner: Place all jars into your pressure canner. (For instructions on how much water should be in your canner at this point, please refer to the instructions for your canner, as each one is different).
Step 5, Close the canner and vent: Place the lid on the canner and lock into place, according to the instructions for your canner. Turn heat up to high and wait for the canner to begin exhausting steam from the vent. Allow steam to escape for 10 minutes, then put the weighted gauge on the vent. Bring canner to 10lbs pressure (make sure to check your altitude, because if you are over 1,000 ft altitude, this will be different).
Step 6, Begin timing: Once the canner is at the proper pressure, set your timer for 25 minutes for pints, or 30 minutes for quarts.
Step 7, After processing: Once processing time is finished, turn off the heat and allow the canner to depressurize naturally down to zero pressure. Allow canner to sit for 5 minutes, then remove the lid, allowing steam to escape AWAY from you so as not to burn yourself. Let jars cool 10 minutes, then with the jar lifter, remove jars to a towel on your counter. Allow to cool for 12 hours. Test seals, label, and store jars.