Beside starting seeds indoors, planting your seedlings is one of the most pleasurable parts of gardening outdoors. Knowing when to transplant seedlings is critical to whether they do well outdoors. Equally important is knowing each step to planting seedlings outdoors. By the end of this article, you will be equipped to introduce your precious little plants to your garden successfully.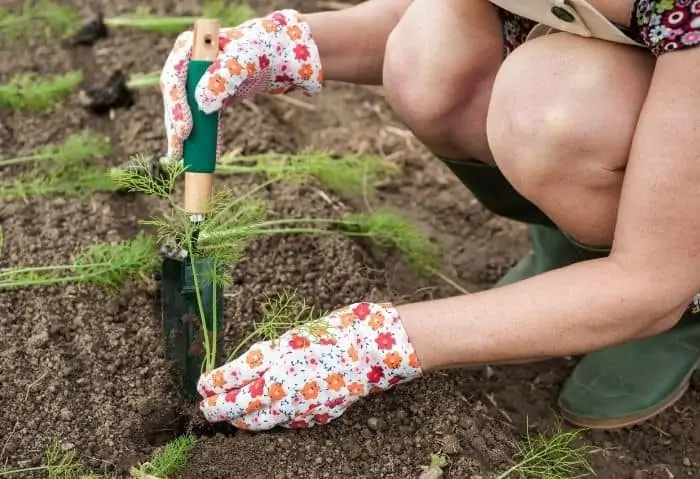 You have started your seeds, built a grow light box, learned how to make worm tea to feed your seedlings, and transplanted them. Planting your seedlings is next on your list of to-dos.
When to Transplant Seedlings Outdoors
According to some, seedlings are able to be planted outdoors once they have their first set of true leaves. True leaves are the second set of leaves that the plant grows. The first leaves that emerge are embryonic leaves, called cotyledons, also called "seed leaves". These "leaves" are the source of the plant's food for the first few weeks of the plant's life. The leaves that grow after these cotyledons form are its true leaves. Here's how to tell if you are looking at a true leaf or cotyledon on your seedlings.
About True Leaves
I prefer to wait until my seedlings have more that one set of true leaves.
Waiting a little longer to get them outdoors gives me the opportunity to care for them closely, and to keep them protected and nourished for a longer period of time. The longer it is protected in my grow light box, the stronger and more vigorous it is able to develop before planting time.
Before you plant them in your garden outdoors, you will need to learn to harden off plants to acclimate them to what will be their new living conditions. This process takes about a week and a little finesse. Basically, what you are doing is putting your seedlings outdoors little by little over a week, some of the time in the sun, some of the time in the shade. This is done daily, and for longer periods of time each day. It's a gentle way to strengthen them before you plant them in their forever home.
For easy-to-use help and care information you can use in your garden today, I have a free cheat sheet that covers the top 6 most common vegetables, which is at the bottom of this post.
Gather the Right Stuff
During the hardening off process, you can take the week to gather up the items needed for planting them out into the garden.
your seedlings
transplant fertilizer
worm castings
epsom salt for lush foliage, and to help the plant's uptake of calcium
egg shells, for calcium loving plants like tomatoes, peppers, and anything that can get blossom end rot
Instructions for Planting Seedlings
Dig your hole about twice as big as the root ball of your seedling.
Add water to the hole. This is optional, but it's a good idea to plant seedlings in wet soil.
Add your amendments to the hole and mix them around. I like to add:
transplant mix or fertilizer, 1 Tbsp (will vary depending on what type you use)
epsom salt, about a Tbsp
egg shells, about a Tbsp
worm castings, 1 handful
Remove your plant from its container. While you are able to plant your peat pots directly into the ground, I prefer to remove it so the roots can more readily stretch out. I throw the peat pot into the compost pile, so it doesn't completely go to waste. For root-bound plants, gently loosen the root ball.
Place your plant into the hole. Fill in around the sides of your plant's root ball and gently tamp dirt down with your fingers to fill in air pockets in the dirt around the roots. If you'd like, you can make a well around the plant to trap the water, rather than running all over the rest of the garden.
Water around your plant with fertilizer. Use a water soluble fertilizer like worm tea or one from the local garden center (like this one). While you have already provided some fertilizer to the hole, watering with a water soluble fertilizer will give immediate nutrients to the newly planted seedling, which helps prevent transplant shock.
Want to Watch Me Do This?