Tired of throwing away that expensive bread that you're buying at the store? How about the wonderful homemade bread that you worked so hard to bake for the family? If you are finding yourself with more stale bread on hand than you care to admit, I have a great way you can put it to use before sending it to the compost pile–homemade croutons!
I bake our bread every two to three weeks–usually a loaf of sandwich bread and a pan of dinner rolls. The problem is that we are not huge bread eaters. Sometimes we use up all the bread quickly, and others, we just don't. I do love bread, but as a family, we don't always get through all of the bread before it goes stale.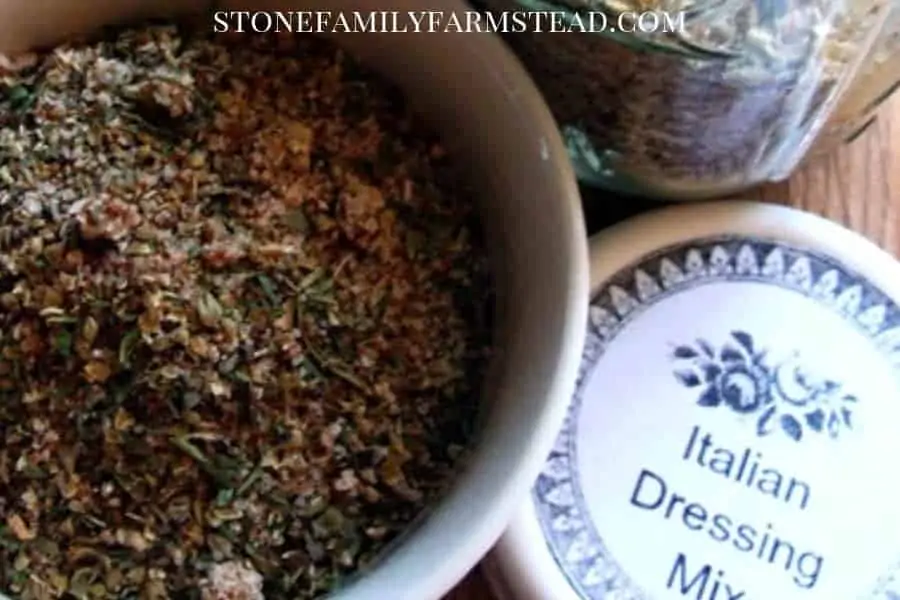 Because I'm into finding ways to get one more use out of food that might otherwise be thrown away, I was delighted to be introduced to this recipe for these homemade croutons. I learned how to make these from my friend Karyn from My Stitching Nook (check her out if you love cross stitch, her work is fantastic), and have tweaked the recipe only a little. They are delicious, and so very easy! Here's the recipe.
Perfect Homemade Croutons
These awesome croutons add the perfect crunch to your salads and soups. Feel free to use store-bought or homemade Italian dressing–they come out great whichever you use.
Ingredients
stale bread

(not moldy!), cubed in half- to one-inch chunks

italian dressing

enough to make all bread cubes evenly wet

ziploc bag or bowl with lid

large enough to fit all of your croutons, with room to shake them around
Instructions
Place bread cubes in your ziploc, and pour italian dressing in the bag, enough to coat your bread cubes well.

Close your bag and shake em up.

Convect bake on a cookie sheet at 400 degrees for 20 minutes OR regular bake at 400 for 25 minutes (cut the time if you like them lighter).

Remove from oven, allow to cool, then store in the refrigerator for up to a week. (They may last longer, depending on your refrigerator.)
Notes
Deliciously crunchy on your summer salads, or even as a crunchy snack!
These will be deliciously crunchy on your summer salads, or even alone as a snack, just like chips!