If you love salsa, but don't have all the ingredients needed to make it from all fresh, you will love this recipe! It tastes great, has a lot less prep time, and comes together in a snap! Here's a recipe for making this delicious condiment and instructions on how to can salsa!
Part of the goodness of having a tomato harvest is that you can make so many different products out of them. With your ripe tomatoes, you may try your hand at canning them whole, making tomato sauce, pizza sauce, or as in we will learn in this post, canning salsa. You can even make it with green tomatoes, but for today, we will be canning the recipe below.
All of the recipes I use are scientifically tested by National Center for Home Food Preservation, an extension office, included in the canning ingredient package, or taken from a reputable source like the Ball Blue Book. I strive to share only approved recipes for your safety.
How to Can Salsa
This recipe is from the back of the Mrs. Wages Salsa Mix package. It is SO easy to make that you will be surprised that you made such a wonderful batch in so little time.
This post is going to assume that you understand the basics of water bath canning, but if you are doing this for the first time, or are not quite sure you have the basics down, you can refer to my post, "How to Can Food for Beginners". It's a fantastic article that takes you step-by-step through both canning processes. This time you will only need the information under the headings of Steps Before Processing, Water Bath Processing, and Steps After Processing.
Home Canned Salsa (Mrs. Wages)
This quick recipe comes together in less than an hour (including the time it takes to blanch your tomatoes).
Ingredients
tomatoes

6lbs

1

packet Mrs. Wages Salsa Mix

1

cup

white vinegar

or apple cider vinegar
Instructions
Fill up a stock pot about halfway with water and bring to a boil. Do step 2 while you are waiting for that to happen.

Remove all of the stems from tomatoes. Fill up a clean sink with water and dump all of your tomatoes in. Swish around and drain.

This step will need to be done in separate small loads. Add about a quart of tomatoes at a time to the boiling water and allow to blanch (boil in the water) for 30 seconds to one minute. While you are waiting for the first load to finish, put some ice in a big bowl and fill up with water. Set on the counter near the pot you are using for the tomatoes.

With a slotted spoon, remove the tomatoes from the boiling water and place them into the ice water for a couple of minutes. This will stop the cooking process. Remove from the ice water and place in a bowl for later. Repeat Steps 3 and 4 until all of the tomatoes have been blanched, cooled, and moved to the bowl for later.

With a knife or a tomato corer, remove the stem end and slip the skins off the tomatoes. You can use the scraps to make tomato powder later if you have a dehydrator. At this point, you can cut your tomatoes into halves or quarters, or leave them whole.

Dice tomatoes into 1/4-inch pieces and put them in a large pot.

Combine all ingredients in a large non-reactive saucepan and bring mixture to a boil over medium-high heat. Reduce heat to a simmer and allow to simmer for 10 minutes or until thickened.

Fill your hot jars with salsa, leaving a 1/2-inch head space. Remove air bubbles with a bubble remover, and clean the jar rim.

Center the lid onto the clean jar rim and screw on the band only fingertip-tight. Repeat steps 6-9 until all jars are filled.

Place jars into the simmering water in your canner. Water must cover jars by at least 1 inch. Adjust heat to medium/high and cover the canner. Wait until the water boils. Once water is boiling, set your timer for 40 minutes.

Once processing time is finished, turn off the heat and uncover the canner. Allow canner to sit for 5 minutes, then remove jars with the jar lifter to a towel on your counter. Allow to cool for 12 hours. Test seals, label, and store jars.
Notes
Makes about 6 pint jars. It is not recommended to process in quart jars.
Adjust for High Altitude Canning
1,001- 3,000 5 minutes.
3,001- 6,000 10 minutes.
6,001- 8,000 15 minutes.
8,001-10,000 20 minutes.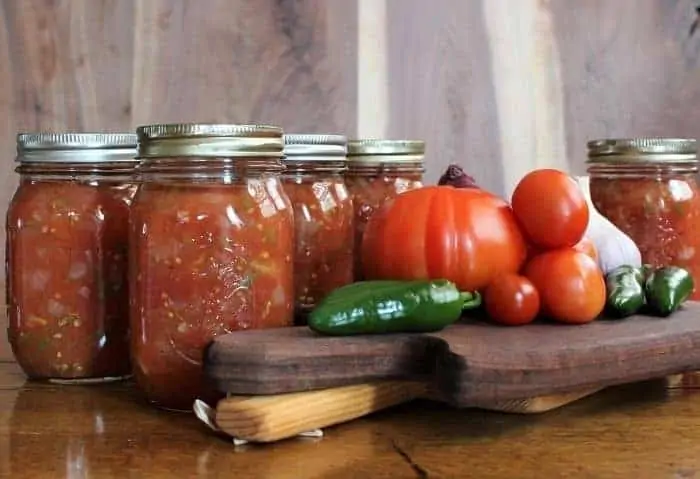 Prefer a salsa canning recipe that uses fresh ingredients? Here you go!