Whether you are purchasing peaches from the store or using your peach harvest, you may not have thought of making something savory with them. After you've made your jam, fruit leather, and wine, make sure to save a few lbs to make peach bbq sauce!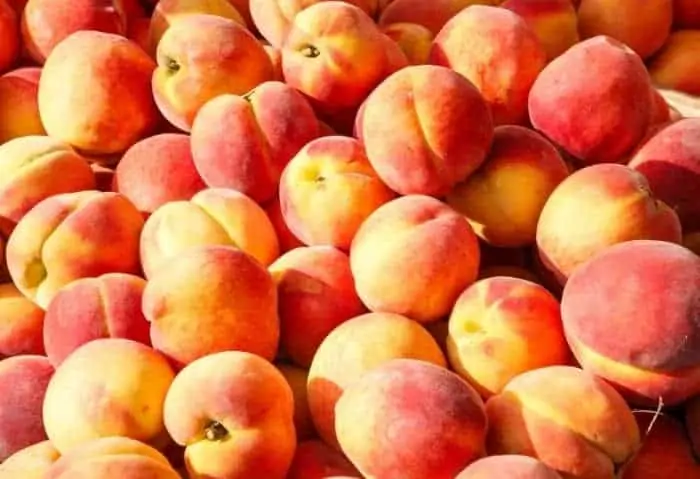 Barbecue is some of the best food on earth, thank God it's so easy to do! Todd and I ran across this recipe when we were trying to figure out what to do with our peach harvest.
This recipe is awesome if you only have a small harvest, because it stretches the fresh peachy goodness into enjoyment all year!
Peach BBQ Sauce
When I want something bbq-ey and delicious, I usually grab chicken or pork. Both meats somehow highlight the wonderful fruity flavor without making it feel like you've got dessert dumped on your dinner!
But seriously, my very favorite way to use this peach bbq sauce is blended and brushed onto chicken drumsticks and baked. I could eat a thousand of them. (But yes, I know I shouldn't. Sadly.) Ribs are also a delicious way to enjoy this sauce!
Gather These Tools
Here is the list of the basic items you would need to can a batch of jam. I am adding a water bath canner to this list just in case you aren't yet ready for pressure canning and don't want to spend the extra money for one at this time.
A Quick Note
Zesty Peach BBQ Sauce Recipe
This recipe was extracted from Ball Canning's book, the Ball Complete Book of Home Preserving. It is a tested and trusted recipe, and you can feel comfortable using it to make your peach bbq sauce.
EQUIPMENT
8 (8 oz) half pint glass preserving jars with lids and bands
INGREDIENTS
6 cups finely chopped pitted peeled peaches about 3 lb or 9 medium
1 cup finely chopped seeded red bell pepper about 1 large
1 cup finely chopped onion about 1 large
3 Tbsp finely chopped garlic about 14 cloves
1-1/4 cups honey
3/4 cup cider vinegar
1 Tbsp Worcestershire sauce
2 tsp hot pepper flakes
2 tsp dry mustard
2 tsp salt
INSTRUCTIONS
PREPARE boiling water canner. Heat jars and lids in simmering water until ready for use. Do not boil. Set bands aside.
COMBINE all ingredients in a large saucepan. Bring to a boil. Reduce heat and simmer, stirring frequently, until mixture thickens to the consistency of a thin commercial barbeque sauce, about 25 minutes.
LADLE hot sauce into hot jars leaving 1/2 inch headspace. Remove air bubbles. Wipe rim. Center hot lid on jar. Apply band and adjust until fit is fingertip tight.
PROCESS in a boiling water canner for 15 minutes, adjusting for altitude. Remove jars and cool. Check lids for seal after 24 hours. Lid should not flex up and down when center is pressed.
ALTITUDE ADJUSTMENTS FOR WATER BATH CANNING
for 1,001 – 3,000 altitude in feet, increase processing time 5 minutes
for 3,001 – 6,000 altitude in feet, increase processing time 10 minutesfor
6,001 – 8,000 altitude in feet, increase processing time 15 minutesfor
8,001 – 10,000 altitude in feet, increase processing time 20 minutes
*You can find altitude chart here: https://www.whatismyelevation.com/
Want to print this recipe? Here you go!
Don't throw away the peach scraps!
You can make some wonderful no waste peach vinegar with the scraps! Here's the recipe I use.