So you've got your seeds started indoors and they are finally emerging from the soil with the promise of providing food for your family in a few months. But–now what? You've done this before, and in past years, your seedlings haven't survived in that sunny window. And those that have, grew tall and spindly, and didn't seem as healthy as those plants you saw in the local big box store. What gives? You need a leggy seedlings fix!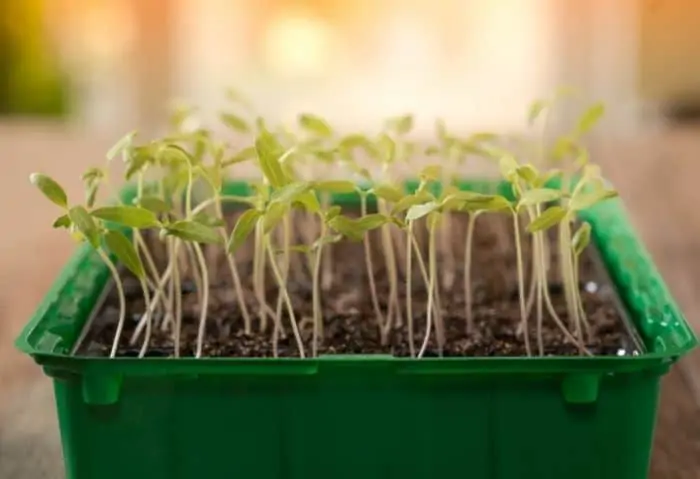 Starting seedlings isn't hard, but for some reason people make it harder than it needs to be…by trying to make it easy. Here's the thing: seedlings, like babies, have needs that must be met. Just like babies need food, water, and shelter, seedlings need the same. But because they can make their own food (unlike babies), they also need light. Nice, bright light.

New gardeners tend to think that a sunny window will do, and sometimes it can work out ok. But most of the time, that sunny window is doing more damage to your seedlings than it is doing good. Why? Because often the light just isn't bright or close enough for the plants to get all they need, so they stretch high and toward the sun to soak up all they can get. This results in stretched out stems, or "leggy" seedlings. Plants that start out leggy are stressed practically from the beginning of their lives.
Haven't started your seeds yet? I have a resource for you that will help you know what seeds to start and when for wherever you are. You can grab it at the bottom of this post!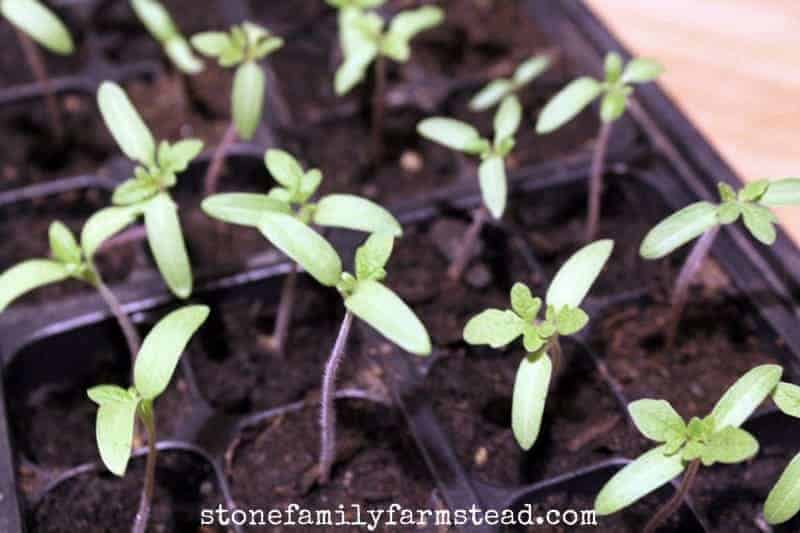 But I've Grown Plants from Leggy Seedlings!
Yep, you can totally do that! However, when plants start out stressed, their chances of being healthy and fruitful diminishes some. And if you are trying to grow your own food, you want to make sure that you give your plants the best chance at life you can. Strong, healthy plants that are raised properly will be more likely to produce plenty of fruit to feed your family.
Still, if you do end up with leggy seedlings, there are some things you can do. Leggy tomato seedlings, for instance, do very well if you bury part of the stem when planting up. Because of the "hairs" on the stem, it is possible for the tomato plant to grow more roots. This will fix the "leggy problem" as well as strengthen the plant in the long run.
3 Keys to Avoiding Leggy Seedlings
Legginess can be the result of not enough light or water, or hot conditions, which can cause a rapid growth spurt. Making sure to adjust your seedling care habits will go a long way in raising healthy, strong seedlings that will grow and produce for food for your family. (If you haven't yet started your seeds and are not sure where to start, I have a resource called "When to Start Your Spring Seeds Indoors by Zone" cheat sheet available to you for free today. It's in my resource library, and you can get the password to that at the end of this post.)
Grow Lights
You can avoid legginess by using grow lights from the day you plant your seeds to the day your are ready to harden them off for the outdoors. For growing leafy plants like vegetable seedlings, you will need full spectrum 5000k or 6500k cool blue bulbs. I use the 23 watt spiral CFL light bulb, 100 watt equivalent (6500K) in each of my grow light boxes.
The basic rule of thumb for using grow lights is that you keep the light about 2 inches above either the soil (if the seeds are not yet sprouted), or the tops of the tallest leaves.
As your plants grow, you will need to adjust the light. The tricky part is that seedlings tend to sprout and grow at differing rates. In that case, you may want to have a few sets of grow lights for different sized plants. You could use a grow light box system, using each box for similar-sized seedlings. This is the method I use presently.
More Lighting Options
I want to preface this section with full disclosure. Because I use the grow light box system mentioned earlier, I do not have any experience with any of the grow lights I'm sharing with you in this section. These suggestions are just so I can share different options with you. If you choose to use any of them, you do so at your own risk.
There are many other options for lights, and what you choose will depend on how much space you have for your seedling growing station. If you are just starting out, it's quite likely you are working with a smaller space, and that's just fine! It can be done. You can use something like these dual head grow lights. Use it with a 36 count Jiffy Tray, or even two of these 12 count Jiffy Trays for a small seed starting setup. Just remember to bring the light 2 inches above the soil's surface.
The Aerogarden grow light panel may be better if you want to plant a larger tray of seedlings, and the light has much more coverage than the dual head grow light option I mentioned before. If you are ready to jump into a large seed starting station, you can try something like this 4 foot T5 grow light system or this 3-tier stand grow light.
If you are a DIY person, like me, you might enjoy making your own lighting system. Check out my grow light box system instructions, or even this video by Calikim if you'd like to try your hand at building your own very inexpensive grow light setup.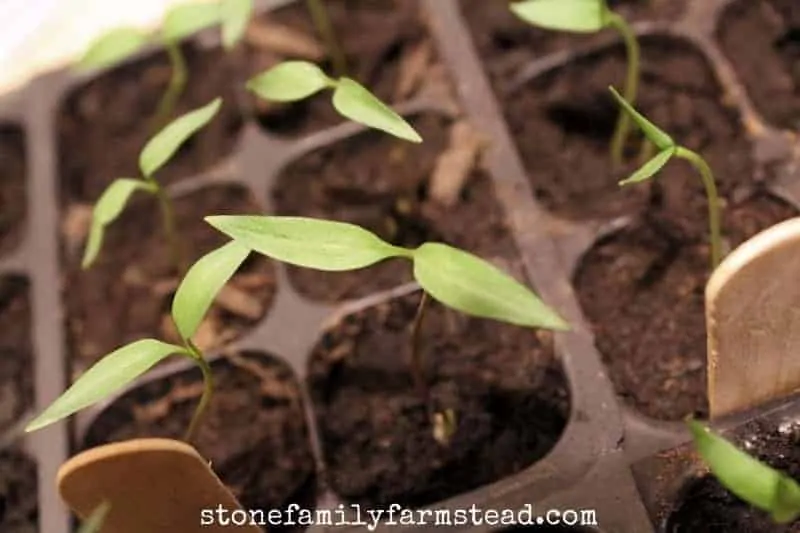 More Water
Lack of water doesn't necessarily cause leggy seedlings, but water flowing through the plant is what carries nutrients to it. According to this article by UC Santa Barbara, plants also need the water pressure to fill the stem and leaves, which will make it strong enough to hold itself up.
Make sure your soil or peat pellet isn't drying out by watering your seedlings once you see that the top of the soil is dry. Watering from underneath is the best way to rehydrate your pellets or soil, but if you must water from above, do it very carefully. The soil should be wet but not waterlogged, or pooling a the bottom of the tray. If you do have some water pooling at the bottom of the tray, pour that water off once the tops of the soil look wet again.
Less Heat
This won't normally be an issue unless you are using a seed starting setup that includes a heat mat like the one in the Jump Start Germination Station. This can also happen if your seedlings are growing in an unusually hot place. Excessive heat can cause growth spurts in seedlings, so if it the lighting is within 2 inches of the tops of your seedlings, and they have enough water, just simply move them to a cooler place.
If Your Leggy Seedlings Are Ready to Be Planted Outdoors
If they are large enough to be planted in the garden, take a few days to harden them off outdoors. The slight breezes will strengthen the stems by giving them a little "exercise". Again, keeping in mind that your seedlings will need to be watered more frequently. If you don't know how to harden off seedlings, you can read this post.
Conclusion
Leggy seedlings can be worrisome, but they aren't the end of the world! If caught early, they can often be saved by being mindful of proper lighting, heat, and water levels. Starting out with those things in place is obviously the best practice. But if you find that your seedlings are leggy, making some simple adjustments can mean that even your leggy seedlings can survive, and thrive!