If you currently own a dog, there may be a moment when you begin to wonder about introducing a second dog to your happy home.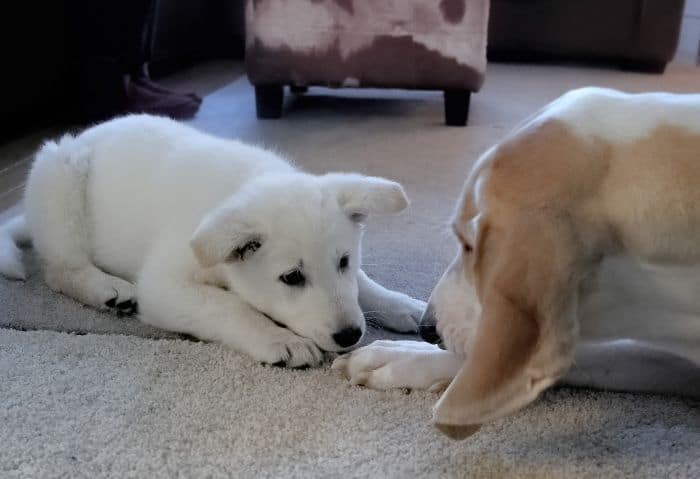 After all, you have proven experience now. You've raised your dog, found that caring for a dog is compatible with the time you have available, and – of course – you've enjoyed all of those wonderful bonding moments with your four-legged friend. You're confident that you have the space available for a second dog, and your family are keen, so why not double up on the fun? 
The decision as to whether a second dog is the right choice for your family is an one that only you can make, but if you do decide to go ahead, here's a look at what you should expect.
Introducing a Second Dog May Cause an Occasional Quarrel
One of the toughest parts of introducing a new dog to your home is introducing the new dog to your existing dog. It can be upsetting to see your dogs losing their tempers with one another, and you may begin to worry the entire endeavor is doomed to failure – but be reassured that this isn't the case.
Your dogs will need time to get used to one another and learn each others' habits and boundaries; it's entirely natural that during this learning process, there will be flare-ups here and there.
There are ways and means of reducing the likelihood of quarrels between new canine housemates, such as keeping them separate initially and always under supervision – researching these techniques prior to the first introduction will always be a good step.
However, do be aware that even with such measures, there's a strong chance that there will be the occasional spat. Just try to remember that these are teething issues and that your dogs will in time get a feel for one another, and will be more than happy to share the same space.
Back to Basics
With a second dog, you will be able to capitalize on a huge amount of the knowledge you have gained with your first dog. However, that knowledge will usually be centered around broad canine concepts, such as what plants are poisonous or the best worming regimen.
When it comes to figuring out what your second dog actually likes, you may find that you have to go right back to start over entirely. It might come down to swapping out your dog beds, finding new toys, or looking again to find the best dog food to suit your second dog's preferences.
This can often mean that you essentially end up with two different versions of all the usual supplies, rather than simply doubling up on what you already have. While there's always a chance your second dog will absolutely love the same things your first dog does, be prepared for the occasional rejection and the subsequent need for a re-think!
Introducing a Second Dog Will Take More Time
It can often seem as if introducing a second dog won't actually mean that much more work – most of your existing schedule for things such as training and walking will just the same, only with an extra four paws.
However, while your dogs may in time be able to live together in harmony, such a situation can take a while to establish. If your existing dog is mature and you've introduced a puppy into the household, the puppy will need dedicated, specific training. This training won't be relevant to your existing dog, so you'll need to accommodate this extra time in your schedule.
In Conclusion
The above may sound negative, but this is far from the intention. Sure, a second dog can pose a few small problems, but that's nothing compared to the sheer joy of sharing your life with two special canines. What's important is that you have an idea of what to expect, so you can move forward with plans in mind to manage with occasional surprise. Doing so will ensure you, your family, and both of your dogs can look forward to a bright, cuddle-filled future.