Soil is a delicate balance of minerals, organic matter, soil life, air, and water. Knowing how to prepare soil for planting is a basic skill that every gardener should master when gearing up to start a garden.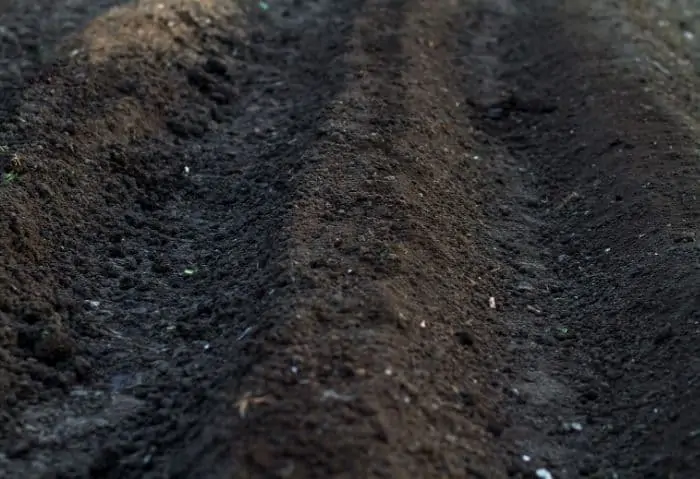 How To Prepare Soil for Planting
There are a few things you need to know about your soil before you start amending. First, the type of soil, and second, is it nutrient deficient. Only then will you know how to prepare your soil bed.
What Type of Soil Do You Have?
The first thing you want to determine is the type of soil you have. If you are planting in-ground, you will need to spend a little more time figuring this out. In the event you are planting in a raised bed, you will probably have something closer to loamy soil. Whichever soil you have, I'm going to share with you the super simple way to fix it.
Sandy Soil
Sandy soil, when you squeeze a clump of it, will fall apart when you open your hand. While sandy soil would be a better type of soil for allowing roots to spread out and grow, it is not the best kind of soil for growing most plants because it doesn't hold water long enough for the roots to be able to benefit from it. Precious nutrients leach out of sandy soil much quicker than other soils. This soil needs an amendments such as peat moss, compost or other organic matter that will help it to hold water for longer. A mixture of all three is even better. The more organic matter your soil has, the longer it will hold water.
Clay Soil
Around here, we have granite and clay soil. It's very fine minerals seem to bind together and make drainage a real problem. In order to be able to plant anything into the ground, we have to amend the soil with plenty of organic matter. Still, in the case of trees, they don't survive very well because it's difficult to dig holes large enough to accommodate the root system of a tree.
If you have clay soil like we do, you will be able to squeeze a wet clump of it, and it will remain in a clump. Because it is made mostly of tiny particles, this type of soil needs more of an airy structure or it will compact and prevent your roots' natural inclination to spread out deep and wide to look for water.
As I mentioned before (in the case of trees around here), clay soil doesn't drain as well as sandy or loamy soil does. Often the hole you dig for your plant will act as a bowl, and when you water the water remains in the bowl. This keeps roots too wet and causes root rot to occur.
Adding organic matter like bark, sawdust, manure, leaf mold, and compost will help to give your clay soil more of an airy structure, as well as create a more nutritious environment for your plants.
Loamy Soil
Loam is the soil that is most desirable, because of it's loose, crumbly structure that allows roots to stretch out and grow. It holds water, while still draining well. Loamy soil also has plenty of nutrients and organic matter in it which makes it the best choice for growing your plants.
Even if you have loamy soil, however, you did need to replenish the nutrients after each season. You should add fertilizer, compost, and other nutrients to your soil between plantings if you have a year-round growing season. If your soil gets a rest between growing seasons, add nutrients after your last harvest so it can continue to compost, especially if you are adding "hot" manures to it. (If I'm not using a garden bed, I often will do a little garden bed composting myself.)
Is Your Soil Nutrient Deficient?
It may feel like a really tedious part of garden soil preparation, but let me encourage you to take the time to figure out what your soil needs. The best way to do this is to test the soil where you will be planting your new plants.
You can do this with a chemical soil test kit to determine where your soil is deficient. These kits are very inexpensive, but rely on your ability to eyeball the colors and make a distinction based on the guide they include in the kit. It's relatively easy, but when I did my soil testing, I wasn't exactly sure I was right, so I went with "close enough".
Also available is a digital soil test kit that will measure the color for you, perhaps giving you a more accurate reading on your soil's nutrient levels. It does cost quite a bit more, but may give you a better return for your money. I have never used one before, so I can't speak to how well it works.
If you'd like to keep an eye on pH levels without having to do a water test every time, you can use a soil test meter to do that pretty quickly. This comes in handy when you want to plant pH-sensitive plants in a specific part of your garden.
Why Is All That Even Important?
There are many nutrients that plants need to grow and thrive, but the main three are found indicated with three numbers separated by dashes (for example, "10-5-4" as in the photo above) on the boxes of plant food and fertilizers that you buy at your local big box store. These numbers stand for (in this order) nitrogen, phosphorus, and potassium (potash), and are considered the most important nutrients for our garden.
Nitrogen
Nitrogen's job is to make your plants nice and green. It also helps your plant's stems and leaves grow rapidly. You might be able to tell if your plants are nitrogen deficient if their older leaves are turning yellow and falling off, or if your plant has smaller leaves and seems stunted. Plants use nitrogen in huge amounts and very rapidly, and what they don't use leeches off during rainy weather, or even just with frequent watering.
Phosphorus
This nutrient helps your plants in forming its roots, flowers, and fruit. If your plants have taken on a dull green/purplish tint, are stunted in growth, or are producing flowers and fruit poorly, they may be deficient in phosphorus.
Potassium
A regulator of photosynthesis, potassium helps move vital nutrients from place to place in a plant. It promotes root growth and seed production. Your plants are deficient in potassium if they are growing slowly, appear weak and spindly, attract more pests and disease than usual, and/or have mottled yellow tips and edges (older leaves can look scorched).
Try your hand at making your own liquid or dry potassium fertilizer from banana peels!
Preparing the Soil
Now that you know what kind of soil you have and what it needs, it's time to put all of those things together and make a plan for your garden soil preparation.
Gather Your Items
When it's time for me to gather up the items I need to enrich the soil in my garden beds, I usually head over to my local garden center or nursery. The local garden center will have plenty of options for balancing your soil's nutrients. You can also purchase bags of compost, manure, or potting soil to lend even more nutrients, as well as structure to your soil.
Quick Steps to Amending Your Soil
Turn your soil – you can do this by hand if you have a small garden, or use a shovel or tiller if your garden is larger.
Add your soil amendments, at least a ½" thick to improve the structure of your soil, as well as the fertility level.
Turn the soil so that all of the amendments mix into the first 6-12" of your soil.
Rake your bed to level it out.
You are ready to plant!
It would be lovely to think that we could skip these instructions on how to prepare soil for planting, but it's not realistic. It is more realistic to know that each year there will some work to be done before the planting season.
The investment of a few extra hours before you plant will bring you closer to the results you are looking for, save you valuable time, and the bounty you hope to reap at the end of the season.