It seems like everyone and their brother is on medication, and multiple medications at that. Over the years, people skeptical of "big pharma" have been turning to herbs and other simple natural home remedies they can purchase at the store for their minor ailments. If that's you, and you want to take charge of your health care, as well as take your herbal skills to the next level, you can do that by learning how to make your own herbal remedies at home.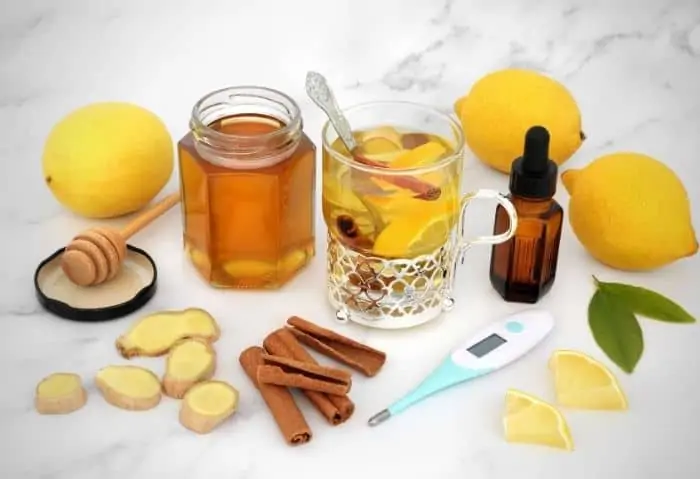 All information given on this site is for educational purposes ad should not take the place of your own research, and a doctor's care. I am not a doctor, but rather, an aspiring herbalist who has been studying and using herbs for 25+ years. Please research beyond this site to determine if herbal and natural remedies found on this site are right for you.
Using herbs is steadily on the rise as people become less satisfied with their quality and access to health care these days. Sometimes it takes weeks to be able to get in to see a doctor, and the alternative is to wait for hours in urgent care. This doesn't sit well with people, and often, it seems like we are at the mercy of a system that no longer sees us.
This is not to say that the medical system is bad–it's not. Our local health care facility is full most of the time, which is what I suspect is the issue. While I don't like to criticize a community which tries hard to care of patients as best they can, I do believe it is quite possible to take care of ourselves (within reason) using herbal remedies.
What You Need to Know First About Using Herbal Remedies
Making your own medicine correctly requires that you have some knowledge on the function of the herbs you are using. While herbs have a fantastic track record for safety, there are some things that I feel the need to mention, especially if you are new to herbs.
Though herbs are loads less volatile and have fewer side effects than prescription medicines, you will still need to study the herbs you are planning to use. Though unsafe-to-use herbs have been removed from the market (per Rosemary Gladstar, Foundations of Herbalism Online Course), there are still some herbs that need to be used with care. It's important to know what those are, and I'll have a cheat sheet available to you at the end of this article.
TIP: Gather 3-4 reference books written by herbalists who actually practice herbal medicine on themselves and on other people. These are the people that are going to understand how an herb works, how best to use the herb, and anything else that you need to know before using an herb for yourself. Here's a list of books that I recommend on the topic, and have in my own home library.

Understanding the safety rules of using herbs is important, especially if you are still using prescription (and even non-prescription) medications regularly. Herbs can interact with medications in various ways from cancelling out the medication's effects, to actually worsening your medical situation.
TIP: Drugs.com has a handy drug interaction checker that you can use when deciding whether or not you should use a particular herb alongside any medications that you are already taking.

Many herbs can have the same properties, but many herbs tend toward having an "affinity" to specific parts of the body. For example, red raspberry leaf has anti-emetic properties (lessens nausea, and prevents and relieves vomiting), but its affinity is actually to the female reproductive system. It's not bad to use it for nausea or vomiting, but it's better used for uterine support and issues having to do with the female reproductive system. (The herb that is the 'go-to' nausea herb is actually ginger, according to most.)
TIP: If you can, try to find out which herbs' affinities lie with which body system, or part of the body. Use the herbs wisely and for the most appropriate issues. This will save you money on herbs, and ensure maximum effectiveness for your issue.

Often, our bodies don't need an herb at all! We may need a lifestyle change, perhaps having to do with diet, exercise, sleep, stress, or something else that is causing your body to give you signals of unwellness. As I move through anxiety management, I have had the opportunity to try many different natural remedies, and one of the best has been something surprising. It hasn't been herbs or dietary supplements. It has actually been diet change! The removal of soy, wheat, sugar, corn, and dairy has been nearly as effective as taking a prescription medication, but with no side effects! This is not to say that this method will work for everyone, but that there are sometimes solutions that don't involve an actual remedy, but rather, a life change.
TIP: Before heading to your herbal remedies cabinet, consider what your issue is, and if it can be managed through diet change. An example might be quitting coffee and/or sugar, or making sure to get a good night's sleep every night if you are overly stressed.

Herbs are not meant to be used in the same way as medication. Though we use them this way because of what we've been trained to know about medicine in general, herbal remedies are not meant to be used as a symptom cure. They do not work like over the counter or prescription medicines, but rather, as a support to your whole body, while working on the area of its affinity. Taking an herb can often have the same results, albeit slower, but using them this way isn't using them to their fullest potential.
TIP: Understand that herbs sometimes take longer than prescription or over-the-counter medications. Using herbs is a longer game than taking medication, but the health benefits that you reap when using them are great.
And speaking of "whole body", it is good to understand that when we use herbs on ourselves, we want to support the whole body (ever heard of holistic medicine?), because by doing so, you are supporting wellness on a deeper level to your whole body than you would just alleviating the symptom.
And those are just a few basic things to understand, there really is so much more to understand about herbalism and natural medicine, and how they work in our bodies. For the sake of saving time and confusion, though, we'll just leave it there for now.
Where to Get Your Herbs
There are a few ways to get the herbs to use for making your own medicine. I like to grow some, and those I can't grow, I usually purchase from Amazon.com.
My favorite brands to use for herbal remedies are Starwest Botanicals and Frontier Co-Op, and I usually look for their organic versions to avoid any pesticides. Often, herbs aren't attacked by pests just by virtue of what they are (pests don't tend to like aromatic plants). But because herbal preparations often involve infusing a large amount of herb at a time, I feel better knowing that I'm getting fewer or no pesticides through my medicine.
Of course, our best option to have the most control over our herbs is to grow them ourselves. If I choose to grow them at home, I generally purchase them from the local garden center. Depending on price and what is available, I may buy organic, but if I don't, I make sure to use organic methods when I get them home.
This year, I am something new–growing chamomile and lemon balm from seed. My friend Mindy at Our Inspired Roots has a great article on the 12 Best Healing Herbs for the Homestead that is a fantastic read, and will get you started with growing 12 of the most versatile herbs to use in your herbal remedies.
How to Make Your Own Herbal Remedies
There are many ways to make your own medicinal remedies to keep in your cupboard or fridge for the day you need them. Some of the most common ones are capsules, teas, tinctures, salves, and balms. All of these are very easy to make and most can be done very quickly in your own kitchen. If you collect herbs, you may have nearly everything you need to make your own medicine!
Teas
Teas are by far the easiest way to self-medicate using herbs, and it's the most familiar to us. People have been using teas throughout the ages, and for good reason. They work! And they are easy to make.
An infusion is a tea made by steeping herbs in hot water. It usually doesn't take very long to extract the herby goodness from the dried or fresh plant, and you can enjoy it very soon after you start making it. This is the preparation you would use if you were using the aerial parts of the plant, like the flowers or leaves.
Infusion Recipe: Put 4-6 Tbsp dried herb into a quart jar. Pour boiling water over the herbs, filling the jar to the top. Let steep 30-45 minutes (depending on the herb you use). Strain and drink your infusion.
A decoction is when you simmer the root of an herb low and slow to pull all of the medicinal qualities from it. This method is used for roots, twiggy parts of the plant, bark, and some seeds and nuts.
Decoction Recipe: Put 4-6 Tbsp dried herb in a saucepan with a quart of water. Bring to a simmer slowly, and leave it on a low simmer for 25-45 minutes. Strain and drink.
More Tea Recipes to Try
Menstrual Cramp Relief Tea
Lemon-Thyme Tea for Cold, Congestion or Bronchitis
Red Raspberry Leaf Tea for Uterine Health (before, during, and after pregnancy)
Echinacea Tea for Cold Prevention and Immune Boosting
Healthy Herbal Tea Recipes
Make Your Own Herbal Tea Blends

Capsules
Making our own herbal supplements is really easy! We can do that by making our own capsules. Don't worry, it's not hard to do, but there are a few things to know about making your own capsules.
To make your capsules, you'll need the following items:

gelatin capsules in the size of your choice (I use #00)

a capsule-making machine (this one is for #00 capsules and comes with 100 gelatin capsules already)

herbs of your choice

Following the directions of the capsule machine, fill your capsules as full as you can get them (or if the instructions give you the option, you can fill them less). Make enough capsules to get you through the month, if you are taking them continually. If you are taking them as-needed, make as many as you think you will need in a month. Repeat each month. (Alternatively, if you would like to make more in one sitting, store your capsules in mason jars. Seal the lids with a mason jar lid sealer and add a 100cc oxygen absorber to keep them fresh until you need them.

My favorite capsules to make are valerian root. I use #00 capsules and fill the to the fullest to get around 1000mg of medicine in each capsule.
Recipes to Try
Make Turmeric Capsules at Home
How to Make Willow Bark Aspirin
Topical Medicines
Topical medicines like salves and balms are great herbal remedies to have on hand for cuts, scrapes, abrasions and sore muscles. Salves and balms are made of herbs, beeswax, and oils, and are used on the skin, rather than in the body.
Salves are good for cuts, scrapes, abrasions, rashes, and other skin irritations. You might use calendula, lemon balm, plantain, tea tree (melaleuca), or any other herb that is good for wound healing.
Balms are good for sore muscles, sprains, and strains. You might use arnica or comfrey for a balm used for these things. Here's a recipe for an arnica balm that I made and used effectively for lower back pain as well as neck pain.
Here is a really thoughtful article on the differences between the two by Pronounce Skincare.
To make a salve or balm, you will need the following ingredients:

1 to 1-1/2 cups infused herbal oil (you can find my recipe here, just make it with the herbs of your choice)

1 oz beeswax

12-24 drops essential oils (for medicinal qualities and aroma)

1. Make your infused herbal oil. (Instructions below this recipe)

2. Using a double boiler, heat the herbal oil. (I just used a metal bowl over a medium saucepan; but you could use a pyrex measuring cup set inside of the saucepan filled with water)

3. Add your beeswax and allow to melt. (breaking it up before adding it to the oil works best) Stir until it is all the way melted. Remove from heat for a minute.

4. Add essential oils and stir in.

5. Carefully pour your hot salve or balm into small jars or tins. (I use plastic lotion jars that I bought a long time ago, but these amber jars would be a better choice to protect and prolong the shelf life of the medicine.)

6. Leave uncovered until medicine hardens, then put a lid on them and store in a cool, dry place for several months.
Recipes for Salves, Balms, and More
Cooling DIY Stress Headache Relief Lotion
Silky Rub for Sore Muscles
Homemade Muscle Rub
Plantain Leaf Healing Balm
Pine Resin Salve
DIY Arnica Salve
Menstrual Cramp Relief Salve
Postpartum Afterpains Relief Salve

Tinctures
Tinctures are my very favorite of all herbal remedies. They are a concentrated version of the herbs we use in teas and other medicines. They have a long shelf life, and are easy to make which makes them a popular way to take herbs. Because they are super-concentrated, you will want to be more mindful of dosages, especially when you are using them with what are called low-dose herbs. My Low-Dose Herbs List can help keep you out of trouble. It is in my resource library, and you can get the password at the end of this article.
Herbal dosaging can feel tricky, but it's pretty easy once you learn the basic guidelines.
Tincture Recipe
You can make this recipe using alcohol (I use 80 proof vodka, the cheapest kind works fine), or you can switch out the alcohol for glycerine or a high quality apple cider vinegar.

pint jar with a tight fitting lid
herbs
alcohol (or glycerine or vinegar)

Add herbs to the jar to about 2/3-3/4 full (1/3-1/2 if using roots, bark, or berries). Fill with alcohol to the top of the jar, covering all plant material completely. Let sit for 6-8 weeks in a cool, dry place. Strain and bottle in amber glass bottles.
Tincture Recipes to Try
How to Make Echinacea Tincture
How to Make Elderberry Tincture
How to Make Cannabis CBD Tincture
How to Make Chickweed Tincture
How to Make Dandelion Tincture
Elderberry Tincture or Liqueur
More Herbal Remedies For Your Medicine Cabinet
Instant Pot Calming Cough Syrup
Instant Pot Elderberry Syrup and Gummies
Ginger-Mint Anti-Nausea Lollipops
How to Heal Mastitis in 24 Hours
Wild Lettuce Pain Relief
Making Sage Honey
Kitchen Herb Garden Cold Remedies
Stop Diaper Rash with This Herbal Remedy