There's little more satisfying than filling your plate or glass with something you made with your own hands. Even better if it's something you have grown on your homestead! Making fruit wine is one of those satisfying activities, and this one yields the best flavor. This post will teach you how to make strawberry wine with store bought, or home-grown berries.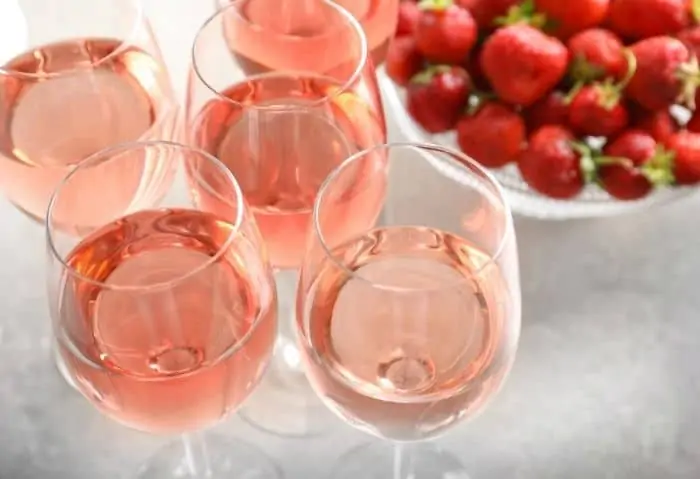 If you haven't made wine before, don't worry. Inside of this post is everything you need to make a yummy strawberry wine that you can enjoy in about a month!
How to Make Strawberry Wine
This wine is super easy and perfect for a beginner to "cut their teeth" on. It takes only about 30 days to make, though you can brew it longer if you'd like. It's delicious and a great confidence-builder for a new wine maker!
Equipment Needed
There are quite a few pieces of equipment that you need to have before you start any brewing project. None of them are super expensive, but added together, these items will be somewhat of an investment.
The good news is that these are mostly one-time purchases (with the exception of the consumable ingredients and supplies), and you will be able to use them again and again for years. This equipment will even cross over into other brewing projects that you may want to try in the future.
Pre-Brewing
fermentation bucket with lid
airlock
stopper for airlock
mesh bag
hydrometer and test jar
large stock pot
long-handled spoon
StarSan
Post-Brewing
racking cane with siphon hose
12 oz. beer bottles or 4-5 quart mason jars
bottle caps and bottle capper (if using beer bottles)
lids and rings (if using mason jars)
Recipe
Learning how to make strawberry wine is pretty simple as soon you as you get the steps down. The more you make it, the easier it gets because you begin to learn to recognize what the brew looks like in its various stages.
Ingredients
12-16 cups of water
4 lbs of fresh strawberries, the sweeter the better
4.5 cups/2 lbs granulated sugar
2 campden tablets
1 packet dry wine yeast
1 tsp. yeast nutrient
2 tsp. acid blend
1/2 tsp. pectic enzyme
1/4 tsp. tannin
Instructions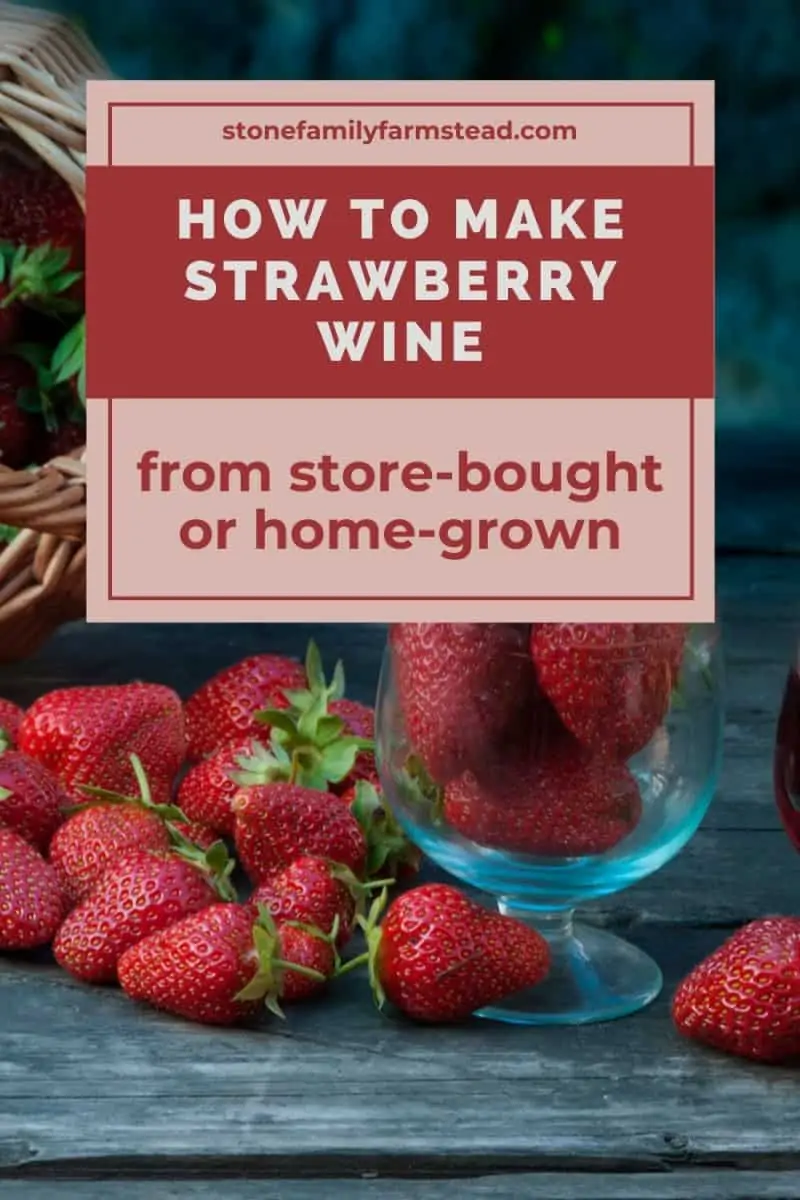 More Brewing Projects to Try
Now that you have learned how to make strawberry wine, you are ready to tackle some other brewing projects!
Fig Wine
Black Raspberry Wine
Kombucha (non-alcoholic)
Give Your Wine as a Gift!
What's better than a gift from the homestead that is handmade by you, using the fruits of your labor and land? Not much!
Once you have your wine brewed up and bottled, it's only a few more steps to make it a fantastically enchanting gift for the wine-lover in your life!
Make Your Labels
Making labels can be simple or fancy, it's really up to you. I made mine in Canva, and paid $1.00 to use it for different wine labels. I simply printed mine on paper.
However, if I were going to give my wine as a gift, I would spring for sticky labels that I could print. If you don't feel savvy enough to do the whole job, you can always go here to design your and order your labels to be printed for you!
Affix Your Labels
Once you have your labels in hand, cut out your labels and affix them on your clean, filled bottles. If you are using labels printed on paper, you can affix them with a glue stick. If they are sticky, by removing the backing and carefully placing them on the bottles.
Once you are done, you can use this idea for a quick gift wrap!
This post is also part of a collaborative effort with other bloggers called Gifts from the Homestead. Each blogger has created a lovely article sharing a gift that you can make on your homestead for any occasion! Check it out:
Gifts You Can Make in an Hour or Less
Creative Cookie Packaging Ideas
|| Rootsy Network
Create a Giftable Indoor Herb Garden Kit
|| Not So Modern Housewife
Two Holiday Chai Tea Blends: The Perfect Fall or Winter Gift
|| Healing Harvest Homestead
Soup in a Jar: the Perfect Comfort Gift
|| Dehydrating Made Easy
Snickerdoodle Cookies
|| Nancy On The Homefront
Cinnamon Roasted Almonds (with printable gift tags)
|| A Modern Homestead
How to Make & Give Homemade Hot Cocoa Mixes
|| Homespun Seasonal Living
How to Can Homemade Salsa
|| Not So Modern Housewife
Make Gift-Worthy Bread Mix In A Jar – Great for Your Own Pantry Shelf Too!
|| Oak Hill Homestead
Make Your Own Lotion Bars
|| Learning and Yearning
Easy Homemade Bath Salts Recipe
|| Better Hens and Gardens
Peppermint Foot Salve
|| The Self Sufficient Home Acre
SPF Lip Balm Recipe
|| Our Inspired Roots
3 Bedtime Bath Teas for Kids
|| Homestead Lady
DIY Flaxseed Neck Heating Pad for Soothing Muscles
|| Joybilee Farm
No-Sew Scented Sachet Bags With 5 Herbal Recipes
|| Rockin W Homestead
Fall Air Freshener DIY
|| Feathers In The Woods
Gifts You Can Make in a Day or Less
Easy Applesauce Recipe For Canning or Eating Fresh
|| Hidden Springs Homestead
How to Make Hot Process Soap Complete Picture Tutorial
|| Healing Harvest Homestead
Crockpot Apple Butter with Canning Instructions
|| A Modern Homestead
DIY Quilted Mug Rug
|| Flip Flop Barnyard
Feathers & Hugs – How to Create a Psalms 91 Throw
|| The Farm Wife
DIY Flower & Veggie Row Markers
|| The Self Sufficient Home Acre
Make Your Own Veggie Hod
|| Nancy On The Homefront
Horseshoe Farm Sign – Fun DIY Gift for the Horse Lover
|| Homegrown Self Reliance
Gifts You Can Make in a Week
Easy Primitive Throw Pillow Tutorial
|| Hidden Springs Homestead
How to Make a Rag Quilt
|| Flip Flop Barnyard
Make Your Own Plant Pots and Baskets
|| Homestead Lady
Special Gifts That Take One Month to Create (but are well worth the wait)
Making Herbal Vinegar
|| Better Hens and Gardens
Elderberry Elixir – A Delicious Immune Boosting Gift
|| Homegrown Self Reliance
How to Make Homemade Vanilla Extract
|| Farming My Backyard
How to Make Strawberry Wine Step-by-Step
|| Stone Family Farmstead
How to Make Cold-Process Soap from Scratch
|| Oak Hill Homestead