Are you dying to learn soap making, but are afraid of doing it wrong? Tired of buying melt and pour soap just to avoid using lye?
This four ingredient recipe is so easy, and can be made by a beginner, cold or hot process, and even in a crock pot! Perfect for getting your feet wet!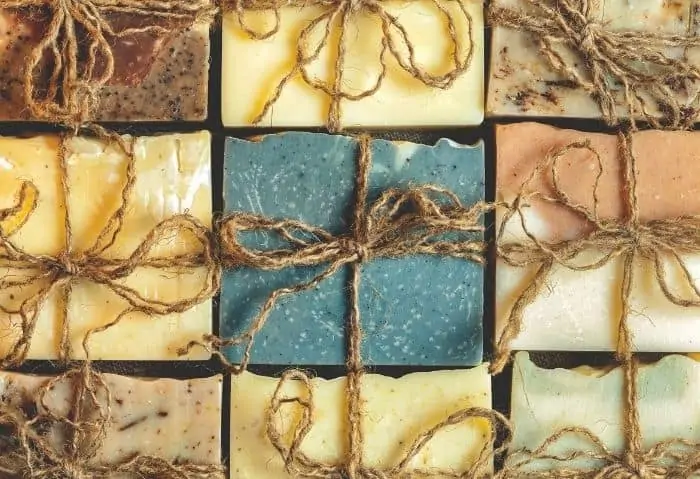 You definitely don't have to forego soap making if you are afraid of doing it wrong. All you need is someone to hold your hand through the process of mixing lye, what the soap should look like in each stage, and a simple recipe and you should be on your way to making soap in no time!
To help you out, I have a printable PDF of this recipe available to you here to keep in your soap making notebook! And when you are ready to experiment with colorants and fragrances, I have a free Natural Colorant and Fragrance chart available at the end of this post.
But for now–let's just work on getting the basics of soap making down!
Beginner Soap Making
Making homemade soap is not that hard, you really just need to know how to do specific parts of it correctly. It's a somewhat forgiving project as long as you have those things in order.
So what are those things?
The top skill in soap making that intimidates most is working with lye. There is definitely science involved but it's not as rigid as you might think.
The easy part is mixing the lye into the water (NOT the water into the lye), but there are a few things to know about that:
the lye will heat the water to about 200 degrees
both the dry lye powder and the lye mixture can burn your skin
the lye mixture will give off momentary, but very strong fumes
Because of these three things, we want to make sure to wear protective gloves and goggles, and perhaps even a face mask. If you can, mix your lye outdoors so the fumes don't hang in the air.
Watch me mix lye in this video:
Super Basic Coconut Oil & Shea Butter Soap
This super basic soap uses few ingredients on purpose, so that the beginner soap maker can focus on each step without having to handle more difficult concepts.
If you are interested in adding colorants and fragrances, there is a free download in my resource library that you can grab any time you are ready.
Yield: 8 bars (4 oz)
Author: Kristi Stone
Cost: 1.12 per bar (basic recipe)
Equipment
Materials
Ingredients to make the soap:
Instructions
How to Make It
Gather all of your tools and supplies to your work area. Line your mold with freezer paper if you aren't using a silicone mold.
Measure both oils and melt them in your crock pot on low. When your oils are melted, turn your crock pot off.
Next put on your safety goggles and plastic gloves and mix your lye into your water and stir with you silicone spatula. (NOTE: ALWAYS add your lye to your water, not your water to your lye, or you might have a lye volcano on your hands, and you definitely don't want that. I like to mix my lye outdoors because of the fumes. If you try this, and if you have outdoor pets, make sure not to spill any of your dry lye, or leave your lye mixture unattended. My cat and dog seem to always want to know what I'm doing, so I tend to lock up the dog and relocate the cat when I'm mixing lye.)
Once the lye is mixed, bring your lye mixture into the house and wait about 5 minutes (remember, don't leave the mixture unattended if you have indoor animals). Use this time to set up a pan of water with a splash or two of vinegar in it (vinegar is said to neutralize lye). This is where you will put any tools used previously to soak, while you are working on your soap. Instead of using a pan from my kitchen, I use a small-sized plastic cat litter box that I bought for making soap. (If I don't have any dirty dishes in the sink, I sometimes use that, and sometimes I don't use vinegar. Either way, I always wash my soapmaking dishes with my gloves on so I don't suffer any lye burns on my hands.)
Next, stir your lye mixture into your oils.
Use your stick blender to begin mixing, turning it on and off so as not to burn your motor out. It should not take long to trace this recipe, probably less than 5-10 minutes.
Identify "trace". This is when your soap is the consistency of pudding, and when you can draw a line with your stick blender and see it in the soap. (Make sure to turn OFF your stick blender before you draw your line!)
Once at trace, turn off and remove your stick blender and turn your crock pot on low and cover. You are watching for your soap to slowly bubble up the sides of the crock pot, and it will appear dryer on the sides than in the middle. Stir occasionally to aid your soap in cooking evenly, and watch for your soap to take on the look of waxy mashed potatoes.
Begin testing the pH of your soap with the test strips. If you don't have them, you can do the "zap test" on your tongue (I don't use this method, myself, but many people do.) Depending on your crock pot and your recipe, the cook times vary, so make sure to stay close by during the cooking–you don't want your soap to get too hot and escape your crock pot, especially if your soap is still caustic.
Once your soap's pH reads less than 10 (or doesn't zap you), the soap is no longer caustic. You can, at this point, take a small bit of your soap and try to wash your hands with it. If there are bubbles, even if there aren't many, it is definitely done and ready to put into your mold. (If you are using additives, make sure to allow your soap to cool for a few minutes and add them before molding.) You can keep cooking it until the pH is lower (I usually do), but there's always a risk of your soap becoming dry or flaky when you do that.
Scoop about 1/3 of your soap out into your mold and bang the mold a few times on the counter to let out air bubbles (be careful if you are using a cylinder or column mold that has two separate pieces, because it can squirt out the sides!). Add your second and third portions of the soap, doing the same each time you add more soap. Smooth the top of your soap, if desired, and set aside to cool in the mold. Clean up all of your tools and your work area.
After 12 hours, unmold your soap and slice into the sizes and shapes you prefer. Your soap is ready to use now, but the longer you wait, the harder your bar will be, and the longer it will last.
Notes
*This can also be molded right after trace and additives, but you will need to cure it for 4-6 weeks before using. Source: https://classicbells.com/soap/cure.asp
Soap FAQs
Where can I buy lye for soap making?
There are many places, but for ease, you might just head down to your local hardware store and buy a small tub of 100% lye (for opening drains). You can also get sodium hydroxide on Amazon.com.
What is trace soap making
Well, I've never heard of "trace soap making", but you are probably referring to bringing a batch of soap "to trace". This is done in both hot process and cold process soap making, and it simply means stirring or mixing the batch until it resembles pudding, and if you drag a spatula over the top, it leaves a trail or indention. This is when you know your soap is at trace, and is ready to move to the next instruction in the process.
Where to buy essential oils for soap making
Essential oils can be bought pretty much anywhere these days. They are a popular item, however, they are not all created equal. Some are adulterated with other ingredients, and some are 100%. Of course, the adulterated EOs are much cheaper, but there are also some 100% oils that are also very inexpensive. I tend to use cheaper essential oils for soap, because I can get a larger volume of them for the price. They seem to work fine, but your mileage may vary with different brands. Places to purchase them: Walmart, Amazon.com.
Where can I buy soap making supplies?
You can purchase all that you need on Amazon.com these days, but if you would prefer a kit or an actual soap making site, try Brambleberry.com.
Grab an ad-free printable PDF version of this here!