Gardening can save you money, or cost you money–it just depends on how much time you have to spend on extra tasks that make gardening cheaper. These days, it's important to learn how to use up what we have and save our pennies. One way to do that is to use the bones you would usually throw away to make your own homemade fertilizer.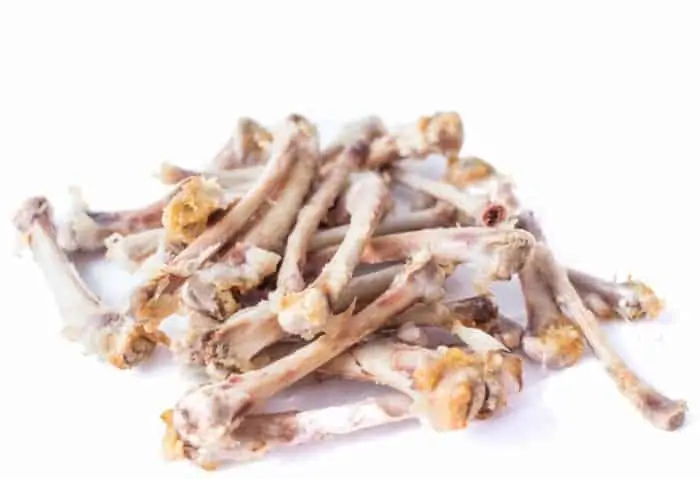 I love the idea of using what I already have to make homemade fertilizers for my plants. I don't always have the time to do it, but it just makes so much sense to try to use things up before they go into the trash or compost pile.
Welcome to the World of Homemade Fertilizer!
According to Iowa State University, plants need 17 of different nutrients to grow properly and produce fruit. The three that plants need most frequently are nitrogen, potassium, and phosphorus.
In the past I've saved my banana peels for a potassium fertilizer, saved eggshells for a calcium additive, and while castings aren't exactly kitchen scraps, we do like to make worm tea for boosting nitrogen. Bone meal is an excellent source of phosphorus.
Why do plants need phosphorus?
Phosphorus is a vital nutrient for all plants. It helps your plants harness the sun's energy and convert it, so it can grow well and produce fruit.
If a plant doesn't have enough phosphorus, it becomes spindly and weak. The stems will be thin and short, and the leaves will turn a dark purplish-green. The plant will not be able to produce seeds or fruit well.
How to Make Homemade Bone Meal Fertilizer
Wash all of your bones, removing all skin and other meat debris.
Bake your bones on a cookie sheet in a 300 degree oven for 3 hours to kill any bacteria or disease that might affect the growth of your plants.
Grind your dried bones to a powder.
Measure out a half-cup of powder, and add to a sauce pan.
Add 1 quart of water and 1/2 cup baking soda. Mix well.
While stirring, bring the liquid to a boil.
Remove from heat, and allow to cool completely.
Pour your homemade fertilizer around your phosphorus loving plants!
Directions for Using This Homemade Fertilizer
Plants don't need as much phosphorus in the beginning of their lives as they do in its production months. At that time, you can start with watering your plants with bone meal fertilizer once per month. You can gauge whether your plant needs more or less by the color of the leaves. Purplish-green leaves mean your plant needs more phosphorus; yellow leaves may mean they need less.