So far, we have gathered our tools for the wine making process, made the mash for the first ferment, and this week it's time to transfer our wine to a 1 gallon jug for the second ferment!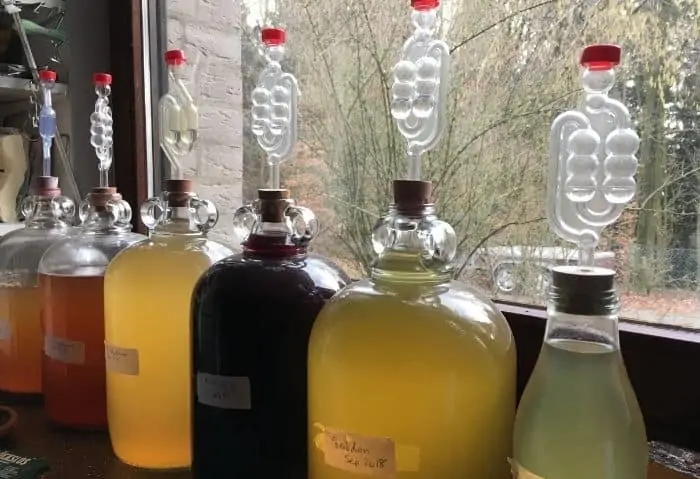 Are we having fun yet?
I know I am! Despite the fact that I am 72 days sober on the day I'm writing this article, I really do enjoy making wine. We grow chardonnay grapes here on our homestead, and there's really nothing else to do with them. They definitely don't taste good like the Manukka table grapes we grow, so I freeze them to make wine later!
And you know what? There's a lot we can do with the wine around here. Todd is not in recovery (he's what we call a "normie"–he can enjoy a drink now and then and not go nuts), so he will be happy to drink some of our home-grown wine. We can serve it to guests in our home, or even give bottles of it away as gifts throughout the year! I have even heard of infusing herbs in wine, but I haven't tried it.
Chances are, if you are making fruit wine, you probably don't have the same issue with drinking it that I do. And if you won't be drinking it, let me know how you will be using yours. I'd love new ideas!
What You'll Need for This Step in the Process
your week-old first ferment in the fermentation bucket
cheesecloth
fine mesh strainer
funnel
large bowl (large enough to hold the gallon of wine)
very clean hands
Steps to Making the Transfer from Fermenting Bucket to Jug
Sanitize your 1 gallon jug, stopper, airlock, cheesecloth, fine mesh strainer, long handled spoon, bowl and funnel.
Wash your hands thoroughly (if you haven't yet).
Open fermentation bucket and remove the bag. Squeeze out the fruit gently to extract as much liquid as possible. Set mesh bag with fruit aside.
Place the strainer over the bowl and cover with the cheesecloth.
Pour the wine into the strainer so as to filter out any solids.
Place the funnel into the mouth of the jug and gently pour the wine into the jug.
Put the wine somewhere cool and dark, and allow it to ferment for 4 more weeks.
At the 4 week point, begin to watch the airlock. If 2 minutes pass with no activity, the wine is finished fermenting.
So what's next?
At this point, you will want to move on to my next post (part 4), which covers racking the wine for a 3rd ferment, and bottling and storing your wine. Stay tuned!