Summer is the season when many delicious fruits are harvested. Sometimes the windfall more than provides more than enough jam, frozen fruit, fruit leather, and other fruit products until next harvest. A great way to use up all of your extra figs is to learn how to make fig wine at home.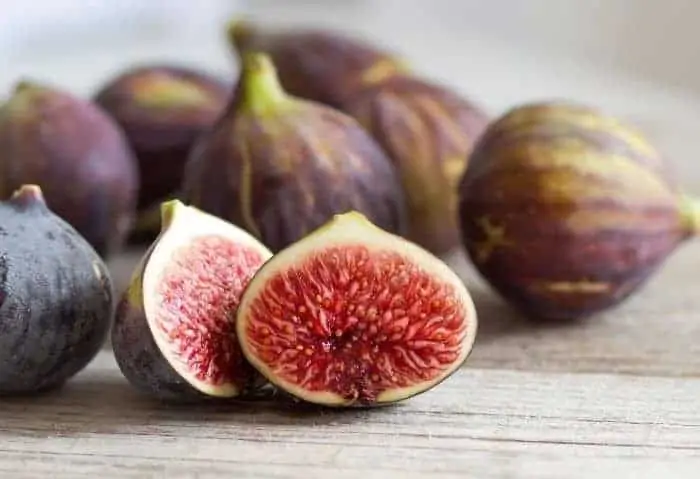 A few years ago, we were invited to a friend's farm to harvest figs from her huge tree. It was loaded with juicy, ripe figs, and as we picked and chatted, and chatted and picked, we discussed all of the lovely ways I could prepare these figs for us to enjoy.
All of her ideas sounded fantastic, but the project that really grabbed me (even before we arrived at her house) was fig wine. She told me that it's possible to make wine from figs, though she hadn't yet tried it.
We brought home a couple of bags, just enough to make a gallon-batch of wine and to eat a few of them raw. They were very tasty even though they weren't quite ripe enough. I allowed them to sit on my table, spread apart on linen napkins so they wouldn't mold.
How Do You Make Fig Wine?
I found a recipe on a wine making site that would help me to turn these figs into something sparkling and delicious in about three months. I tried it, and it turned out very nice, but the recipe assumed that I had made fruit wines before, so there were a few things that I needed to learn before I could use the recipe in the link.
Over the years, I have gone on to use the Fruit Wine recipe in my favorite brewing book, True Brews: How to Craft Fermented Cider, Beer, Wine, Sake, Soda, Mead, Kefir, and Kombucha at Home by Emma Christensen. This book has been my go-to for all of my brewing needs, except for kombucha (I use the recipe from Nourishing Traditions by Sally Fallon for that.)
What Do You Need to Make Fig Wine?
To make any fruit wine, you will need the proper equipment and ingredients:
For brewing:
fermentation bucket with lid
airlock
stopper for airlock
mesh bag
hydrometer and test jar
large stock pot
long-handled spoon
StarSan
Ingredients:
12-16 cups of water
4lbs of fresh figs, coarsely chopped
3.5-4 lbs of granulated sugar
2 campden tablets
1 packet dry wine yeast
1 tsp. yeast nutrient
2 tsp. acid blend
1/2 tsp. pectic enzyme
1/4 tsp. tannin
For after brewing:
racking cane with siphon hose
12 oz. beer bottles or 4-5 quart mason jars
bottle caps and bottle capper (if using beer bottles)
lids and rings (if using mason jars)
Need a supplies checklist? I got you covered! Click here to download yours!
How to Make Fresh Fig Wine
Heat water on stove in stock pot until simmering. While you are waiting for that, fill up a large container (or a clean sink) and begin sanitizing all of your tools according to the directions on the StarSan label.
When water is simmering, add sugar and allow it to dissolve. Pour sugar water into the fermentation bucket. Add coarsely chopped fruit to mesh bag, close securely (or tie) and put bag into the sugar water. Mash the fruit with a potato masher to extract as much of the fruit juice as possible. Stir around a bit to incorporate everything together well.
Measure original gravity with the sterilized hydrometer. (You're looking for somewhere around 1.090.) Crush one campden tablet and stir it in with a long-handled spoon. Put lid on top tightly. Add water up to the line on the airlock, then put the airlock into the hole in the top of the lid. Wait 24 hours while fruit is sterilized.
After 24 hours, add a packet of yeast and stir vigorously with a sterilized long-handled spoon along with the yeast nutrient, tannin, acid blend, and pectic enzyme. You are looking for the new ingredients to be mixed in well, and at the same time you are aerating the brew.
Snap the lid back onto the bucket, and add the freshly sanitized airlock back to the lid. Within a few hours, you should see some bubbling activity in the airlock. This means it's brewing! Allow it to brew for a week.
After a week, remove the mesh bag and (with very clean hands) squeeze out as much of the juice as you can from the fruit. Discard the fruit and wash the mesh bag. Return lid and airlock to the fermentation bucket and allow to sit for 30 days.
After 30 days, siphon the brew into a large glass container (I use a 2 gallon glass jar) to sit while you wash your bucket. When siphoning, do your best not to disturb the sediment on the bottom of the bucket. This will be dumped out of the bucket, as it is not wanted in your brew. Return your brew to the bucket, replace the lid and airlock (refill airlock if needed).
Alternatively, if you would like to save a little time, you can siphon the brew directly into a glass gallon jug (this link is to one that comes with a stopper and airlock) and allow it to brew right in the jug. This is the method I use, and I even have two jugs so that I don't have to allow my brew to sit out too long exposed to the air.
After 30 days, siphon the brew again, dumping the sediment and washing and sanitizing the bucket. Return the brew to the bucket, replacing the lid and airlock.
After 30 more days, if there is no more sediment left in the wine, you can bottle it in your beer bottles or mason jars. Before you bottle, though, you will need to sterilize it with the other Campden tab. Crush it into the wine, then transfer the wine to a clean and sanitized jug and insert a sanitized stopper and airlock. Wait 24 hours, then bottle! Label and put on the shelf for future enjoyment.
Is Fig Wine Good?
Yes! We were pleasantly surprised to find that it was really delicious, and not at all "figgy". We aren't really fans of fresh figs, but we definitely are fans of the wine. And now you know how to make homemade fig wine, too! Don't forget to come back and let me know how you like it.
NOTE: You can also switch the figs out for strawberries and use this same method, but you may need a little less sugar. Play around with it and see what you come up with!
For more in-depth information addressing why I have chosen the tools and ingredients I use in this recipe, please refer to the book True Brews by Emma Christensen.