There aren't many things more comforting than a good mug of soup on a cold day, and a good soup's game is upped when you use this pressure cooker bone broth in it. Whether you have the Crock Pot Express or some other pressure cooker, you can have your bone broth in under two hours!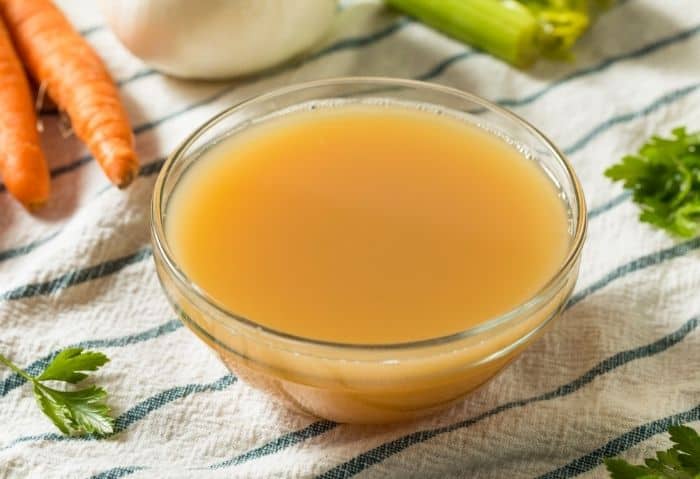 The Crock Pot Express Multi-Cooker is pretty much my favorite appliance to use for beans, rice, roasts, soups, and recently, bone broth. It's an awesome tool to cut back on dinner preparation times, and it can do a lot of things that a regular crock pot can't.
As you may know, bone broth is usually a day-long endeavor if you want to make sure that all of the wonderful nutrients are pulled from the bones and vegetables you are using. However, it doesn't need to take that long when you use a pressure cooker like the Instant Pot, or the Crock Pot Express.
You'll love making bone broth in a pressure cooker!
It's super fast, easy, and pretty much a set-and-forget kind of recipe–only quicker!
I began making it sort of as a fluke. I could never stand throwing our baked chicken carcasses away when there was still meat on them.
Back then, money was tighter, and I tried to stretch our dollars the best I could by using strawberry tops to make strawberry syrup, our stale bread for homemade croutons, our banana peels for garden fertilizer, and by making use of all of our kitchen scraps for either the chickens or the compost.
I knew that soup could be made from the bones, so I started slow cooking them in water overnight. The result was a fantastic broth that I used in rice dishes, soups, and other dishes for extra added flavor.
I can remember once refrigerating some beef broth and ending up with what I thought was a gross gelatinous mess! Little did I know back then that this was a good thing!
What Others Say About Bone Broth
Bone broth has been hailed as a fix to things from joint issues to gut health, and then some. While there are some who feel that bone broth is more of a fad than helpful to the consumer, other studies seem to support its use in a roundabout way.
Ali Miller, RD, author of The Anti-Anxiety Diet, believes that the glutamine in bone broth is helpful in supporting leaky gut issues. This conclusion seems to be supported in this study, which states that glutamine is a major nutrient to maintain intestinal barrier function in animals and humans.
This study shows that collagen supplementation (from chicken bones) resulted in improvement of knee joint symptoms in knee osteoarthritis patients.
However, according to this article by Harvard Medical School's website, Harvard Health Publishing, there isn't much scientific evidence to directly link bone broth to all the healing powers it is touted to correct.
Whatever side of the fence you fall on, there is really nothing like a hot nutritious bowl of soup or broth to "fix what ails ya". Bone broth is where all of that fantastic-ness starts.
And when made with plenty of nutritious vegetables, you have a nutrient-packed, cold-busting, healthy, homemade mug of goodness in your hands.
How to Make Bone Broth in a Pressure Cooker
Bone broth doesn't take a whole lot of effort. All you need are some bones, some vegetables, and a vessel to simmer it for a long time. Unless you are using a pressure cooker! Both ways work very well, and because the Crock Pot Express is a pressure cooker and a slow cooker, I'll provide instructions in the notes for making crockpot bone broth.
For good measure, use the best quality ingredients, such as pasture-raised/organic meat, grass fed butter, and organic produce. If you don't have that, do your best with what you've got. There will still be benefits.
QUICK TIP: If you never seem to have all the ingredients for your bone broth recipe at the same time, after roasting the bones from whatever meat choice you choose, freeze them. In addition, try freezing veggie scraps until you have enough to make a big batch of bone broth. Don't forget to freeze all the juices from your roasted meat–they will help flavor your broth beautifully!
Bone Broth (Crock Pot Express)
This is a fabulously herby tasting broth that is great as a base for soup, or just to fill up a mug and enjoy. This recipe was adapted from Ali Miller's Gut Restoring Chicken Bone Broth recipe from her book, The Anti-Anxiety Diet.
Ingredients
1

chicken carcass

or beef bones

1/2

tsp

black pepper

or to taste

1

yellow onion with skin

quartered, then chopped in half

1

red onion with skin

quartered, then chopped in half

3

carrots

chopped into 2-3 inch pieces

1

bunch

celery

leaves on, chopped

1

bunch

fresh rosemary

chopped

6-7

cloves

garlic

skinned and smashed

2-3

quarts

water
Instructions
Put all ingredients into the liner of the cooker. Cover all ingredients with water to the top fill line

Cover the cooker with the lid and lock. Set the steam release valve to closed.

Choose the Meat button, and set the time for 60 minutes. Press the Start/Stop button.

Once you hear the beep signaling the cooking time is done, allow the machine to fully release pressure.

When all pressure is released, open the lid and strain the solids from the broth through a mesh strainer, or through cheesecloth in a colander.

Store in jars for 3-4 days in the refrigerator, or in the freezer for up to 1 year.
Notes
You could definitely cook this in a regular crock pot if you would like to. To make in the crockpot, fill the slow cooker with all of your ingredients and water. Turn your crockpot on high for about 2 hours, then low for 12 (or overnight). Strain and store as in step 6.
More Bone Broth Ideas
You don't have to only use chicken or beef bones for your bone broth. Do you hunt? You can contribute to the idea of "using the whole animal" by making bone broth out of your leftover antelope bones. How about using up the turkey carcass from Thanksgiving for some wonderful turkey bone broth? The possibilities are endless for making bone broth!
I sometimes like to home pressure can my bone broth, which makes it last a lot longer and doesn't take up space in my freezer. It's so nice to be able to grab my own homemade bone broth off the shelf and know that it's healthy, nutritious, and ready to go!
FAQs About the Crock Pot Express
Are Instant Pot and Crock Pot Express Recipes the same?
Pretty much, yes. If you know how the controls on the two cookers coincide, you should be able to do whatever you can do with the Instant Pot with the Crock Pot Express.
Can Instant Pot recipes be used in the Crock Pot Express?
Sure! The buttons on the front of those of these machines are very similar, so it shouldn't be too hard to choose the right setting when using Instant Pot recipes in the Crock Pot Express.
What are the best things to cook in a Crock Pot Express?
I cook so many things in it! Soups, chilies, stews, roasts, whole chickens, bone broth of any kind, spaghetti sauce…the list is endless!