There's nothing like putting up our own homemade sauces, salsa, and other preserved foods from the veggies that we grew with our own hands, and our own efforts. Learning how to can tomato sauce is one way that we can preserve all the work we put into growing tomatoes, as well as the lovely flavors that only fresh, homegrown tomatoes can bring to the table.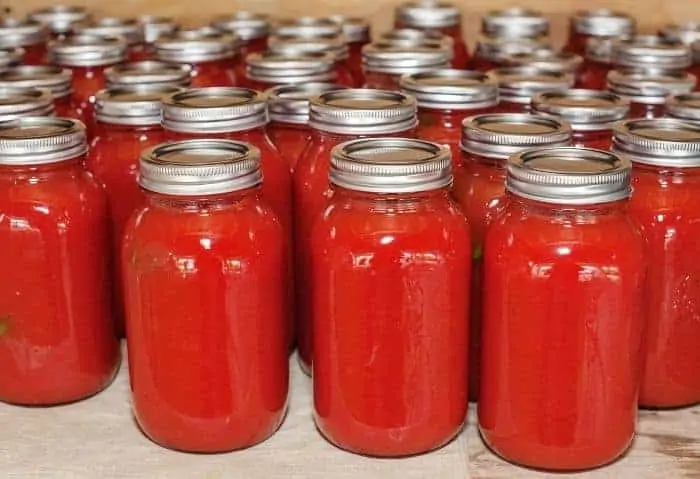 If you are like me, you have bought a lot of tomato sauce. It seems that so many recipes I use call for at least 8 oz of tomato sauce, and I can go through a 24-can flat of it in no time. I use it in soups and chilis, pizza sauce, spaghetti sauce, and lots of other things. It has really become a staple in our kitchen. It makes sense to learn how to keep our organically grown tomatoes on the shelf so that we can translate all that goodness to our homemade family favorites.
How to Can Tomato Sauce
This post is going to assume that you understand the basics of water bath canning, but if you are doing this for the first time, or are not quite sure you have the basics down, you can refer to my post, "How to Can Food for Beginners". It's a fantastic article that takes you step-by-step through both canning processes. This time you will only need the information under the headings of Steps Before Processing, Water Bath Processing, and Steps After Processing.
Items Needed for Canning Tomato Sauce
tomatoes, 45 pounds (125-135 medium)
bottled lemon juice or citric acid
tools and equipment listed under "The Tools" section in this post
How to Can Tomato Sauce Step-by-Step
Makes about 14 pints or 7 quarts.
Step 1: Fill up a stock pot about halfway with water and bring to a boil. Do step 2 while you are waiting for that to happen.
Step 2: Remove all of the stems from tomatoes. Fill up a clean sink with water and dump all of your tomatoes in. Swish around and drain.
Step 3: This step will need to be done in separate small loads. Add about a quart of tomatoes at a time to the boiling water and allow to blanch (boil in the water) for 30 seconds to one minute. While you are waiting for the first load to finish, put some ice in a big bowl and fill up with water. Set on the counter near the pot you are using for the tomatoes.
Step 4: With a slotted spoon, remove the tomatoes from the boiling water and place them into the ice water for a couple of minutes. This will stop the cooking process. Remove from the ice water and place in a bowl for later. Repeat Steps 3 and 4 until all of the tomatoes have been blanched, cooled, and moved to the bowl for later.
Step 5: With a knife or a tomato corer, remove the stem end and slip the skins off the tomatoes. You can use the scraps to make tomato powder later if you have a dehydrator. At this point, cut your tomatoes into quarters.
Step 6: Simmer tomatoes in a large saucepan until they are soft.
Step 7: Puree tomatoes in a blender (I use a Ninja blender), then pour into a large wire mesh strainer over a large bowl. (Alternatively, you could use a food mill, but I'm kind of cheap and have too many appliances already, so I make do with this setup.) Scrape the sides and bottom of the strainer, moving the tomato puree around so it can drain out the bottom of the strainer. Do this until all of the liquid is out of the puree, leaving a ball of tomato scrap. You can keep this also to make tomato powder.
Step 8: Return your strained puree to your saucepan and cook over medium-high heat until puree thickens. Stir frequently to prevent sticking. Do this until the puree cooks down to half the original volume.
Step 9: Add 1/4 tsp. citric acid or 1 Tbsp bottled lemon juice to your pint jar; 1/2 tsp. citric acid or 2 Tbsp bottled lemon juice to your quart jar. Fill your jar with hot tomato sauce, leaving a 1/2-inch head space.

Step 10: Remove air bubbles with a bubble remover, and clean the jar rim. Center the lid onto the clean jar rim and screw on the band only fingertip-tight. Repeat steps 6-9 until all jars are filled.

Step 11: Place jars into the simmering water in your canner. Water must cover jars by at least 1 inch. Adjust heat to medium/high and cover the canner. Wait until the water boils.
Step 12: Once water is boiling, set your timer for 35 minutes for pint jars, or 40 minutes for quart jars.
Step 13: Once processing time is finished, turn off the heat and uncover the canner. Allow canner to sit for 5 minutes, then remove jars with the jar lifter to a towel on your counter. Allow to cool for 12 hours. Test seals, label, and store jars.