Want to fill your shelves with food while saving money? Sick of buying canned bone broth at the store when you know very well, you can make it for free out of your kitchen scraps? I know you do, and I know you are.
The good news is canning your own bone broth at home will make you a BOSS at filling your shelves in no time flat! Follow this recipe, and you will be doing it easily, and more important, safely.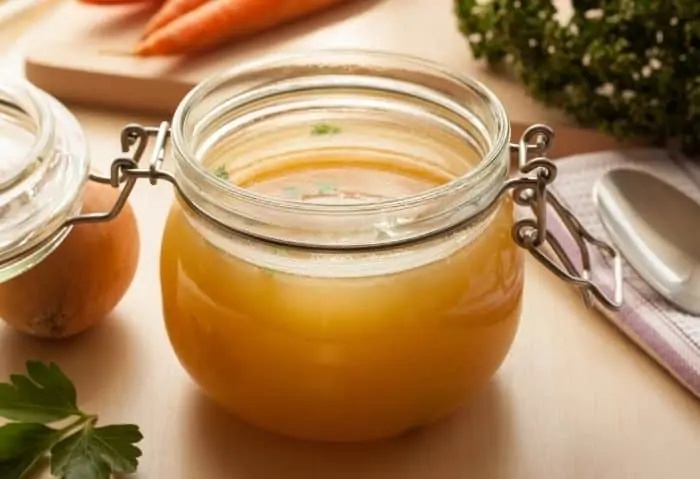 A few days ago, I shared how to can meat with you. Meats are so great to have on the shelf for quick-fix dinners when you don't have a ton of time to be cooking.
This time around, I'll be teaching you how to can bone broth–that lovely, rich broth that you can slow cook from the bones of the meat you canned the other day. Rest assured, I only share scientifically proven recipes and techniques that are approved and used in the Ball Blue Book and the National Center for Home Food Preservation.
We use bone broth for so many things. It's super handy to have on the shelf for soups, rice dishes, cooking beans, and I even use it to make my dogs' dog food! It's wonderful to drink when you are sick with a cold or flu, it's so soothing. We use it so much more than I ever thought we would, and we make it from chicken, beef, and ham/pork bones alike. If you are a hunting family, you have even more options!
The cool thing about bone broth is that it is so easy to make, and you basically make it out of trash! If you have read my blog for very long, you may have run across my posts on using strawberry tops and banana peels on their way to the trash, and stale bread for croutons, too! But I'm digressing. The topic is how to make bone broth, and I'm going to show you that right now.
Canning Bone Broth is Super Easy, Fun, and Will Fill Your Shelves FAST!
This post is going to assume that you understand the basics of pressure canning, but if you are doing this for the first time, or are not quite sure you have the basics down, you can refer to my post, "How to Can Food for Beginners". It's a fantastic article that takes you step-by-step through both canning processes. This time you will only need the information under the headings of Steps Before Processing, Pressure Canning, and Steps After Processing.
Items Needed for Canning Bone Broth
beef or poultry bones
salt (optional)
water
tools and equipment listed under "The Tools" section in this post
How to Can Bone Broth Step-by-Step
Preserve in pint or quart jars.
Step 1, Prep the broth: FOR BEEF: place bones in large stock pot and cover the bones with water. Place pot on stove to simmer covered for 3-4 hours. FOR CHICKEN OR TURKEY: Place carcass bones (with meat removed) in a large stock pot. Cover and simmer for 30-45 minutes. FOR BOTH: Remove bones, cool broth, and skim and discard excess fat. Reheat broth to boiling. (Here's how I make it in a Crock Pot Express Multi-Cooker.)
Step 2, Fill the jars: Fill hot jars with broth, leaving 1 inch head space.
Step 3, Preparing for the canner: Clean the jar rim. Center the lid onto the clean jar rim and screw on the band only fingertip-tight. Repeat steps 2-3 until all jars are filled.
Step 4, Fill your canner: Place all jars into your pressure canner. (For instructions on how much water should be in your canner at this point, please refer to the instructions for your canner, as each one is different).
Step 5, Close the canner and vent: Place the lid on the canner and lock into place, according to the instructions for your canner. Turn heat up to high and wait for the canner to begin exhausting steam from the vent. Allow steam to escape for 10 minutes, then put the weighted gauge on the vent. Bring canner to 10lbs pressure (make sure to check your altitude, because if you are over 1,000 ft altitude, this will be different).
Step 6, Begin timing: Once the canner is at the proper pressure, set your timer for 20 minutes for pints, or 25 minutes for quarts.
Step 7, After processing: Once processing time is finished, turn off the heat and allow the canner to depressurize naturally down to zero pressure. Allow canner to sit for 5 minutes, then remove the lid, allowing steam to escape AWAY from you so as not to burn yourself. Let jars cool 10 minutes, then with the jar lifter, remove jars to a towel on your counter. Allow to cool for 12 hours. Test seals, label, and store jars.