Overwhelmed by all you have to do in your home and on the homestead? Getting organized can be easy if you just take control, but how? Here's a simple system can put together to get your home and homestead working like a well-oiled machine!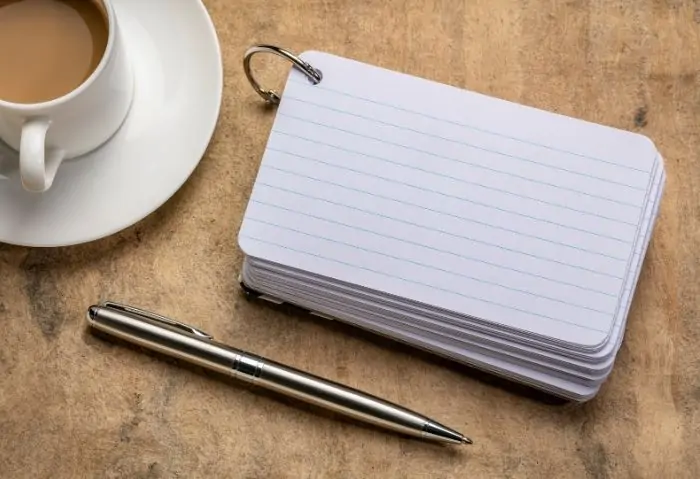 Let's face it–keeping home and homestead is busy work! There is planting, harvesting, preserving, feeding, milking, doctoring, raking, digging…and that's only the outdoor stuff.
You've learned to start with one homesteading skill and master it, and now, we'll learn to apply that same strategy so that you have time for the indoor stuff.
To make this plain and simple, all you will be doing is making an index card system and using it. It really couldn't be easier! The hardest part will be going to the store to get the index cards!
The part that you may not realize is that accomplishing the tasks you choose on a daily basis will help you in your ultimate goal — home organization. But first things first.
But Wait–What Do You Mean by 'Well-Oiled Machine'?
I thought you might want to know this.
The phrase "well-oiled machine" may feel like a really tall order, but it's not if you keep in mind what it might mean to you. For me, it means that each morning the house is 'reset', making it easier for me to move through my day's tasks without a hitch in my plans.
Those plans can be a cooking day, a day of sewing or crafting with friends, or any plans that keep me moving around in the house. This also ensures that my home is 'guest ready' at pretty much any time.
It's always a little embarrassing to experience that awkward see-your-home-through-the-eyes-of-others thing; not to mention, I'd like my friends to be able to use the bathroom without feeling like they are surrounded by a Stone family germ-fest!
One thing I've found in my "how to organize your home" quest, is that home organization is a wonderful tool for warding off anxiety! Really!
I suffer from hormonal anxiety, and at specific times in my month, I can get to feeling very overwhelmed. Overwhelmed feelings tend to transfer to the rest of my family and create tension in the home, so it's something I strive to avoid.
Having this index card system handy means that I can move through my chores on autopilot, creating that 'well-oiled machine' feeling without having to think much about it.
How to Get Your Home and/or Homestead Organized Once and For All
A "Control Center" (just a fancy name for my index card system) is just a 3×5 index card box with cards inside. This isn't originally my idea. I learned about it from a book called Sidetracked Home Executives, which was just what I needed at the time!
The cards are set up like a tickler file, which just means that each day's task cards are filed behind a numbered card. The numbers on the cards are 1-31, and there are enough cards to correspond with each date in the month.
Inside are cards with daily, weekly, monthly, bi-yearly, and yearly chores on them. Each set of chores is written on a different color card for easy identification, making it easier to get organized at chore time.
Today, we'll just work on setting up your daily chores.
Here's what you'll need:
storage box for 3×5 index cards – I use one of these (affiliate link)
index card guides, 1-31 (affiliate link)
3×5 index cards (you only need one color since we are doing your daily chores today)
pen
Here's what to do:
On a sheet of paper, list 5-10 things that you want to get done each morning. I can give you a list, but the reality is that the list must be based on what works best in your home.
If you must have an example (I usually do), here is something from one point in my life:
I need the dishes done every morning, because if I leave them out one morning, they are inevitably part of the dinner hour chores, which can be a little nerve wracking. Also, my wheat sprout fodder has nowhere to get rinsed if my sink is full.
The point is, you will want to choose those things that will foster peace in your home (whether that be yours or your family's), and those things that can potentially fall off your plate if you forget to do them.
There's no right or wrong way to get organized, it's all about your way. I'll share my list of indoor chores to get your mind thinking in this direction:
wash up
get dressed
tidy master bath
make bed/pick up dirty clothes
devotions
eat breakfast/take supplements
correct/assign schoolwork
dishes/wipe down counters and stove/rinse sprouts
wash/dry/put away/reboot laundry
Think about what is needful in your home for it to feel generally organized at all times:
Do you need to make sure someone has a lunch to take out the door every morning?
Do you have indoor plants to water?
A baby's diaper to change? (Ok, ok…that would be a hard one to forget, ha ha.)
Whatever it is that would be better off with daily attention needs to go into your daily list. Having said that, please make sure that you only choose 5-10 things for now to add to your morning. We don't want this to be so overwhelming that you want to chuck your new index card system out the window after a few days!
Putting It All Together
1. Open up the packaging on your box and 1-31 dividers and just drop the dividers in.
2. Write on each card the room that the chore takes place on the upper left, and the word "daily" on the upper right. In the middle, write down steps or details that will help you move through the chore quickly.
Here's an example of what my master bath card looks like. Rather than making 5 different cards, I wrote all of the items down on just one card: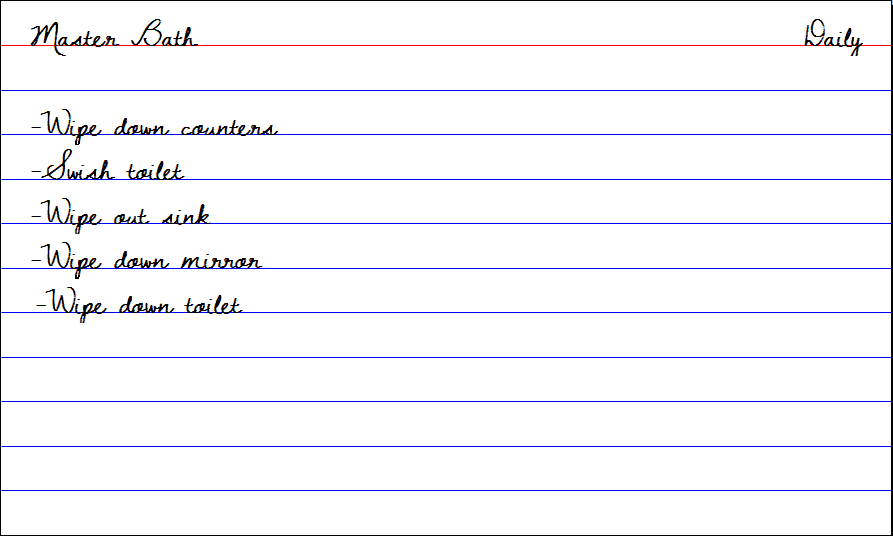 3. Once you get all of your daily cards written, file them behind the divider numbered with tomorrow's date (i.e., if it's the 23rd tomorrow, file it behind the card with the number 23 on it).
4. OPTIONAL: If you have a general menu that you use each week, write out a card for that and tape it to the front of your box. Do the same if you have general themes for each day of the week. Tape that card to the top of your box so you always have a general idea of what you are having for dinner!
To use the file, pull all the cards out from behind the present day's date. Do the tasks on the cards in whatever order works best for you. Once each task on each card is completed, file it behind the next day's date.
Make it a habit to check your file daily. It helps to put it somewhere that you will see it every day, like on your counter or desk.
What About the Rest of the Cards?
Once you have your daily system working like a well-oiled machine, you can make your lists and fill out your weekly, monthly, bi-yearly, and yearly cards in the same way that you did the dailies.
These will come in handy for homestead chores like trimming goat hooves, harvesting certain fruits and vegetables, animal vaccinations, and other tasks that only come up every now and then, or at specific times of the year.
Using different colored cards will give you an at-a-glance look at how busy each day will be with chores, and whether or not you need to even your chores out over the week or month.
Having the different colors will help you quickly grab those cards and let the rest go for the day. If you do skip any cards, make sure to refile them for another day, or even the following week, month, or year.
It's all up to the way you want to accomplish those tasks, and how frequently.
Take Heart and Be Kind to Yourself
Realize that some days will be busier than others, or that you may not be up to everything on your cards.
That's okay! Just get your dailies and time sensitive cards done and file the rest for the next day or week. This isn't about perfection, it's about finding a pace you can work toward in your home organization journey!
Enjoy your newly organized days!