Have you ever wanted been sick and known you needed something, but didn't know what? Did you feel like you had no idea what would help you, but really didn't want to go to the doctor? Have you ever wished you just knew how to make your own herbal remedies? Perhaps learning how to become an herbalist is the answer for you!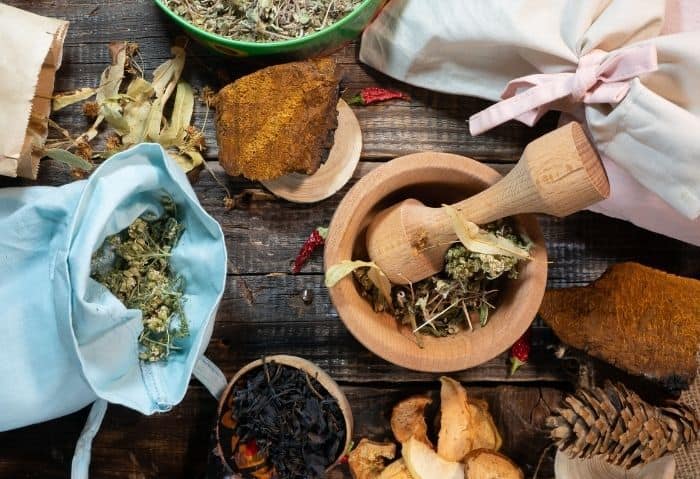 When I talk about not going to the doctor, I do not mean to suggest that you can treat just anything at home. Major illnesses and injuries, like cancer or broken bones (amongst many other conditions), need the expertise and resources of a good doctor. However, there are many minor illnesses and injuries that can be easier, cheaper, more convenient, and quite safe to manage at home. I have a free PDF for you to help you learn how to get started at the bottom of this article.
Reasons for Learning How to Become an Herbalist
You will know what to do when your family has minor medical issues. Minor chronic conditions can often be controlled with herbs, saving co-pay and prescription fees.
When any of your pets or small livestock need minor medical care, you can know how to treat it right from your kitchen or medicine cabinet. Livestock owners notoriously have issues with finding vets to treat their goats (at least in my area), as well as other small livestock or even exotic pets. Most vets don't treat more than domestic animals.
You will save money on expensive over-the-counter medications, including medical care products designed for animals. Using herbs can be just as effective and loads gentler than using synthetic drugs. Herbs are the original medicine. Even animals self-medicate with herbs given the opportunity! Not to mention, many of our man-made drugs are manufactured from extracted parts of herbs.
Herbs are effective, inexpensive, and gentle for humans and animals, if you know what you are doing. You can learn how to use herbs easily, and inexpensively. My FREE "Herbal Preparations Mini eBook" can help you get started. It is available in my resource library, and you can get the password for the library at the end of this article.
About Herbalist Certification
There isn't any kind of certification that will ensure anyone the title of "herbalist". According to Google, an herbalist is one who practices or deals in the use of medicinal herbs. It's a title that one can go by with no one to tell them that they can't. There's a wide berth for anyone who would like to use the title.
My Thoughts on the "Herbalist" Title
For me, the "herbalist" title is one that indicates that one has actually done the research to back up what she says when she shares her knowledge about herbs. I feel that for anyone to use the title "herbalist", they should have some knowledge, experience, and education under her belt. It is for this reason that I have been studying and using herbs in various ways for the past few years.
I've collected and read books, I've tested herbs on myself for various afflictions from minor cuts and abrasions to anxiety and depression, and I've taken two courses in herbalism with the Herbal Academy.
The truth is, anyone who studies herbs can carry the "herbalist" title. Because of this, those I study under are herbalists who have treated themselves and others with herbs for years, and have a tried and true track record when it comes to teaching others about using herbs. Here is a list of herbalism books on my shelf if you'd like to know who I trust to teach me about herbs.
Ready to Learn How to Become an Herbalist?
If you feel ready to start your herbalist studies, I have a few suggestions for you. You have many choices on how to get started, and price ranges vary greatly.
Collect Books for Your Shelf – $
This is by far the cheapest way to get started, but it takes the longest, in my opinion. It can also cost a lot more money in the long run if you are "trying out" books and herbalists willy nilly. In that case, it would be better to just buy a course from a trusted herbalist.
Still, buying books authored only by trusted herbalists will be a much cheaper way to learn how to get started with herbs. Here are some of my favorite books on herbalism, all from trusted herbalists.
Rosemary Gladstar's Foundations of Herbalism Video Course – $$
Do you know Rosemary? I don't either, but I feel like I do, and you will too when you take this wonderful video course! Rosemary is a beautiful person, super down-to-earth, and so fun to learn from. These videos will teach you all you need to know to get started with herbal home remedies. Click here to check out the course.
The Confident Herbalist Course – $$$
Guys, I love this course written by Heidi Villegas from Healing Harvest Homestead. Heidi's easy way of teaching both foundational and more advanced herbal concepts and skills is well worth the price of this course. Check it out here.
Herbal Academy – $$$$
These classes on the more expensive side, are comprehensive and in depth, yet easy to understand and well worth the time. At this point, they have an Online Introductory Herbal Course and for those of you who are confident in your basic herbal skills, they have an Online Intermediate Herbal Course. These two courses should suffice just fine if you are new to herbalism.