Making soap can feel intimidating, but it's really pretty simple if you use this hot process goat milk soap recipe. The part that makes most people nervous is working with lye, but once that skill is mastered, it's easy to make homemade goat milk soap quickly and easily.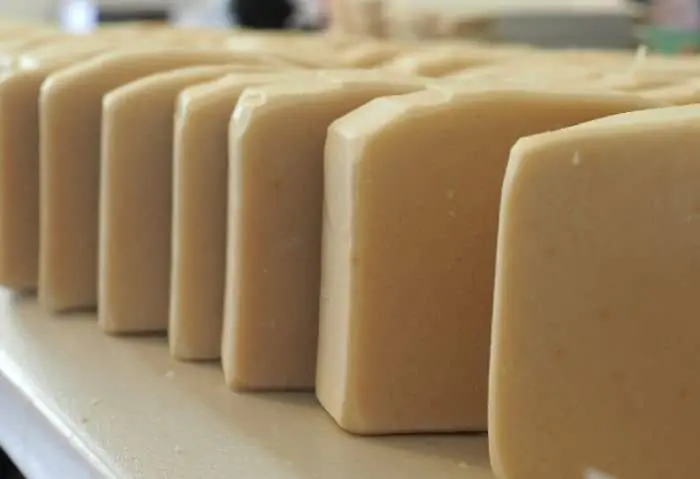 Homesteaders are usually DIYers, often taking responsibility into their own hands to learn the skills they need in order to create the best and healthiest life they can for their families. I know you are that way because you are here, reading this post.
In addition to being hardcore DIYers, natural living is often a common and recurring theme with homesteaders because, let's face it, if we wanted to rely on others to do everything for us, we probably wouldn't be homesteaders.
The problem with doing everything for ourselves is usually the shortage of time we have between growing a garden, milking goats, feeding chickens, canning or dehydrating food, and everything else we need to do on the homestead, including taking care of the family!
Today, the challenge of soapmaking will change for you because this hot process goat milk soap recipe is so quick and easy that you'll be able to make your soap and be using it on the same day if you need to.
Gone are the days where you have to wait 6 weeks for the soap to cure, which takes so much forethought if your family is reliant on your homemade soap. Forgot to make a batch? No problem, you can do it today.
NOTE: This is where I need to share with you something I've recently run across: just because you CAN use the soap the next day, doesn't mean you SHOULD. You will definitely have a safe bar to use quickly after it's hardened, but your soap won't be at its very best quality at that time. Allowing it to cure for a few weeks will allow the water to evaporate out of the bars, making a harder, longer-lasting bar, more lathery soap. Let me encourage you, if you are making this soap for gifts of any kind, to allow those "gift bars" to cure on the shelf a few weeks before you gift them. The recipient will be so much happier with their gift! (Source)
About Hot Process Soap
You should know that hot process soap doesn't always end up looking as beautiful as many of the soaps you see online. Once you get this mastered, you can definitely make this recipe your own by making your soaps beautiful, but for now, your soaps will be the simple, rustic type.
Hot process soaps are generally earthy in color, and feel great on your skin, especially when you "superfat" them (more about that later). They don't burn or dry out your skin like some people believe lye soap will do if you use the proper amount and right type of oils in your recipe.
Hot Process Goat Milk Soap Recipe
The secret weapon to making hot process soap is a crock pot. Don't use your kitchen crock if you plan on cooking in it again, but rather, have a dedicated unit that is just for soap.
Because this process involves cooking the soap, you are basically curing it quickly which neutralizes the lye for the most part, making your soap available for use much sooner than if you were to use the cold process method like in this recipe.
With the hot process method, you won't be paying attention to the temperature of the oils and lye mixture at any point. However, keep in mind that if you mix when both the oils and the lye mixture are too hot, your soap can seize and become hard very quickly.
No need to worry, just allow your oils and your lye mixture to cool for 5 or so minutes before mixing the two together. Because all crock pots are different, this method may need to be modified to fit yours, so be prepared for that possibility.
This recipe will make about 2lbs of soap (or 33.25 oz to be exact). This recipe has already be run through a lye calculator, but you should practice that as well with every recipe you are trying for the first time (this one is good). Sometimes recipes you get online are slightly off, and it is important that you use the right amounts of these two items to get a good soap. Getting into the practice of running recipes through a lye calculator will make you a soap superhero.
But Wait, What is Superfatting Soap?
Superfatting sounds complicated, but it's really not. It's simply adding more oil or less lye to your soap recipe so that there is more of a moisturizing agent in your soap. Though it isn't hard to do, it's best to wait before calculating your own superfatting. Practice using recipes that have some superfatting built into them so you can learn the "feel" you are going for.
This hot process goat milk soap recipe will be 5% superfatted, which just means that 5% of the oils will not turn to soap, but rather, they will be working to moisturize your skin whenever you use it. As you get familiar with soap making, you can adjust the superfatting on a recipe to get your soap just the way your family loves it.
Goat Milk, Coconut Oil, and Shea Butter Soap
Materials
Tools You'll Need:
Safety goggles

Neoprene gloves

I use latex from the cleaning section at Walmart

Crock pot

at least a 4 qt in size

Stick blender

Plastic or glass bowl

for mixing the lye

Metal spoon

for mixing the lye

Silicone spatula/scraper

for stirring the soap in the crock pot, and to use when molding your soap

Soap mold large enough to hold 33.25 oz of soap

click here to calculate the volume of your soap mold

Freezer paper to line your soap mold

if not using a silicone mold

pH Testing Strips

optional
Ingredients to make the soap:
Coconut oil

76 degree, 30 oz

Shea butter

3.25 oz

Frozen goat milk

8-12 oz (I use 10oz)*

Sodium hydroxide

aka 100% lye, 5.64 oz
Instructions
Gather all of your tools and supplies to your work area. Line your mold with freezer paper if you aren't using a silicone mold.

Measure both oils and melt them in your crock pot on low. When your oils are melted, turn your crock pot off.

Next put on your safety goggles and plastic gloves and mix your lye into your frozen goat milk, stirring gently until the goat milk/lye mixture is completely liquid. This step takes 5-10 minutes for the frozen milk chunks to melt, so it's best to start with smaller chunks so the mixture doesn't cool completely. (NOTE: ALWAYS add your lye to your water, not your water to your lye, or you might have a lye volcano on your hands, and you definitely don't want that. I always mix my lye and goat milk outdoors because of the fumes. If you do this also, and if you have outdoor pets, make sure not to spill any of your dry lye, or leave your lye mixture unattended. My cat and dog seem to always want to know what I'm doing, so I tend to lock up the dog and relocate the cat when I'm mixing lye.)

Once mixed and the milk is completely melted, bring your lye mixture into the house and wait about 5 minutes (remember, don't leave the mixture unattended if you have indoor animals). Use this time to set up a pan of water with a splash or two of vinegar in it (vinegar is said to neutralize lye). This is where you will put any tools used previously to soak, while you are working on your soap. Instead of using a pan from my kitchen, I use a small-sized plastic cat litter box that I bought for making soap. If I don't have any dirty dishes in the sink, I sometimes use that, and sometimes I don't use vinegar. Either way, I always wash my soapmaking dishes with my gloves on so I don't suffer any lye burns on my hands.

Next, stir your lye mixture into your oils.

Use your stick blender to begin mixing, turning it on and off so as not to burn your motor out. It should not take long to trace this recipe, probably less than 10-15 minutes.

Identify "trace". This is when your soap is the consistency of pudding, and when you can draw a line with your stick blender and see it in the soap. (Make sure to turn OFF your stick blender before you draw your line!)

Once at trace, turn off and remove your stick blender and turn your crock pot on low and cover. You are watching for your soap to slowly bubble up the sides of the crock pot, and it will appear dryer on the sides than in the middle. Stir occasionally to aid your soap in cooking evenly, and watch for your soap to take on the look of waxy mashed potatoes.

Begin testing the pH of your soap with the test strips. If you don't have them, you can do the "zap test" on your tongue (I don't use this method, myself, but many people do.) Depending on your crock pot and your recipe, the cook times vary, so make sure to stay close by during the cooking--you don't want your soap to get too hot and escape your crock pot, especially if your soap is still caustic.

Once your soap's pH reads less than 10 (or doesn't zap you), the soap is no longer caustic. You can, at this point, take a small bit of your soap and try to wash your hands with it. If there are bubbles, even if there aren't many, it is definitely done and ready to put into your mold. (If you are using additives, make sure to allow your soap to cool for a few minutes and add them before molding.) You can keep cooking it until the pH is lower (I usually do), but there's always a risk of your soap becoming dry or flaky when you do that.

Scoop about 1/3 of your soap out into your mold and bang the mold a few times on the counter to let out air bubbles (be careful if you are using a cylinder or column mold that has two separate pieces, because it can squirt out the sides!). Add your second and third portions of the soap, doing the same each time you add more soap. Smooth the top of your soap, if desired, and set aside to cool in the mold. Clean up all of your tools and your work area.

After 12 hours, unmold your soap and slice into the sizes and shapes you prefer. (Or if you are me, 5 hours, because I'm impatient. Just make sure it's cool and completely hardened.) Your soap is ready to use now, but the longer you wait, the harder your bar will be, and the longer it will last.
What's Next?
If you've tried this hot process goat milk soap recipe and are ready to sink your teeth into soapmaking even more, check out Heidi Villegas' book on hot process soap making, called Hot Process Soap Making: How to Make & Customize Your Own Natural Soap. Heidi is super knowledgeable on this topic and makes the most beautiful soaps!
If you are more interested in cold process method of soapmaking, check out this article. This resource will teach you how to make not only functional, but beautiful, fragrant soaps using the cold process method. Jan teaches on a very easy level how to use colorants, essential oils, fruits and vegetables, grains, and many other ingredients to make soaps that will wow your family and friends, and keep your skin and body healthy!