We've been talking about making homesteading goals now since the beginning of the year, and I'm willing to bet you have a whole lot of paper piled around with homesteading notes, amiright? Now you need something to arrange them all in a way that will make sense. That something is a homestead management binder!
If you've been following along in the past few weeks, you've probably written down some goals for yourself. You may have even broken them down into tasks and written them into your planner. You may be well into completing one of your goals by now, and if you are, let me just say right now, YOU ARE AWESOME!
If you haven't gotten there yet, no worries! You can and will get there if you stick with me. I promise! For now, I'm going to help you build a binder that will eventually be the 'home' for all of your homestead goals. By the time you're done with this, you'll be ready to SHRED your homestead goals. Ready? Let's do this!
NOTE: If you haven't written any homesteading goals down yet, why not take a few minutes to go back and read those previous posts and get some goals down on paper for your homestead? Go ahead, I'll wait for you. *smile*
So now that you are all up to speed, let's talk about what to do with all those goals so you can achieve those goals like a boss!

Start Your Homestead Management Binder
Homestead management is going to be one of your best tools for conquering your day, and your homesteading goals. One way to get your thoughts, dreams, and goals together in an organized fashion is with the homestead management binder. And, as always, I'll have some FREE resources for you at the end of this post to make this easier for you!
The Connection Between Writing and Memory
You may have heard that there is a very real connection to what you write down and what you remember. Writing down your daily routines will help you to remember what it is you need to do every day. When you plan a basic routine on paper, it will be much easier to remember what your days will look like, and create powerful habits that command your days. Don't you want to command your days? Who doesn't?
In addition to that, arranging your most important homesteading ideas in a binder will help you to keep an eye on your goal progress. It will also give you a place to jot down all of your homesteading ideas that come to mind on any given day. (And writing will help you remember them, right?)
What You Need
Binder – Hey, I know we are all practical gals here, but the reality for some of us is that if your binder isn't something you actually like, it will be less fun and interesting to interact with. If fun and interesting is your jam, please, by all means get a binder you love. If you are a practical gal, though, and don't need the bells and whistles, anything will do!
Dividers – You'll want at least 5, for the varying areas of homesteading where you will be setting goals (i.e., gardening, livestock, etc.).
Planner Sheets – You may have these after reading my "Homesteading: How to Get it All Done in a Day" post from last week. If so, add them in. If not, bookmark that post and come back to it at a better time. Later, don't forget to add those sheets to your binder!
Writing Paper – Plain, lined paper is fine (or fancy paper if you're fancy). If you have them, goal sheets that you have filled out after reading previous blog posts, or any goal sheets that you have written down on your own.
Cover Sheet/Section Sheets – You don't need these, but they will make your binder feel more cohesive and orderly. If you draw, you can draw them yourself and make enough copies of them for each section. Or, you can create them in something like Canva with a photo of your homestead. Add to each page words like "My Homestead" or "Homestead Management Binder" on the front cover sheet; and on the section sheets, the name of each of your sections.
Your Favorite Pen – Because it SUCKS to write with a bad pen!
What To Do
Make a section for each divider with each area of homesteading that you will set goals for (don't worry, you don't have to set goals all at the same time for each area). Make the first divider "General Homesteading". This is where your goal setting will start, and where you will funnel all of your lists and ideas before you start thinking of them as actual goals.
Label the rest of your dividers with every area of your homestead that you will be setting goals. My sections are: General Homesteading, Food Preservation, Disaster Prep, Veggie Garden, Medicinal/Culinary Herbs, Chickens, Goats, and Homestead Sales. Once you write these, they ar not set in stone. You can totally change these later to fit better. You may find that one section doesn't get used and that's ok. It's just not where your head is at right now. You can always buy more dividers and bring that section back later if you end up needed to scrap it in favor of something else.
Add your goal setting worksheets (both filled out and blank) and/or writing paper into each appropriate section.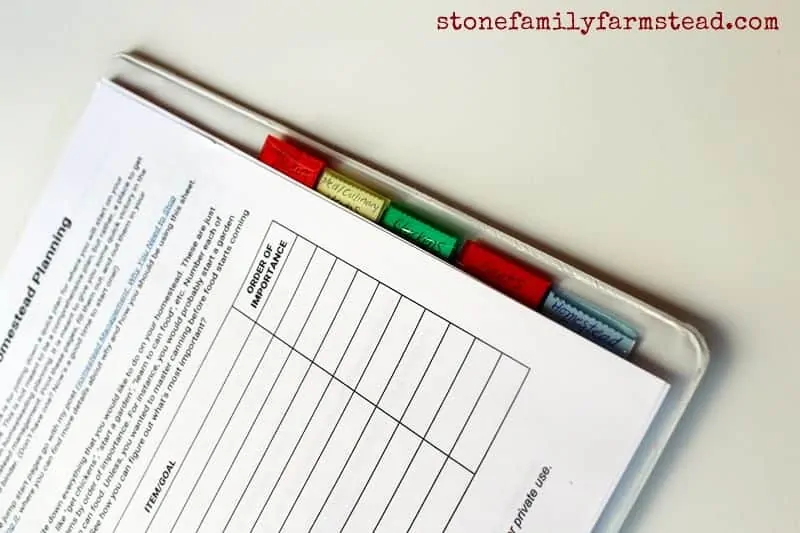 Next Steps
Of course, your homestead management binder will have much more in it than just your goals. Eventually, each different section of your binder will hold other pertinent information as well. Here are some ideas for things you can add to yours:

Add anything else that will help you be excited about using this as your goal planner. You may want to add in a printable calendar for each month.
Add any receipts and animal records that you have to each section, just to keep things nice and neat. Do you see this coming together, and how it can help you keep your homestead plans, records, information, and goals all in one place?
Add anything into each section that inspires you. This can be concept drawings for plans you have for your homestead. Include photos of what you would like your chicken coop or garden to look like, plans for building a goat shelter, or even an aerial view of your property with your future plans drawn in. Here is a drawing that I have added to my notebook under the "Homestead Sales" tab. My husband and I would love to have a little "store" sometime in the future.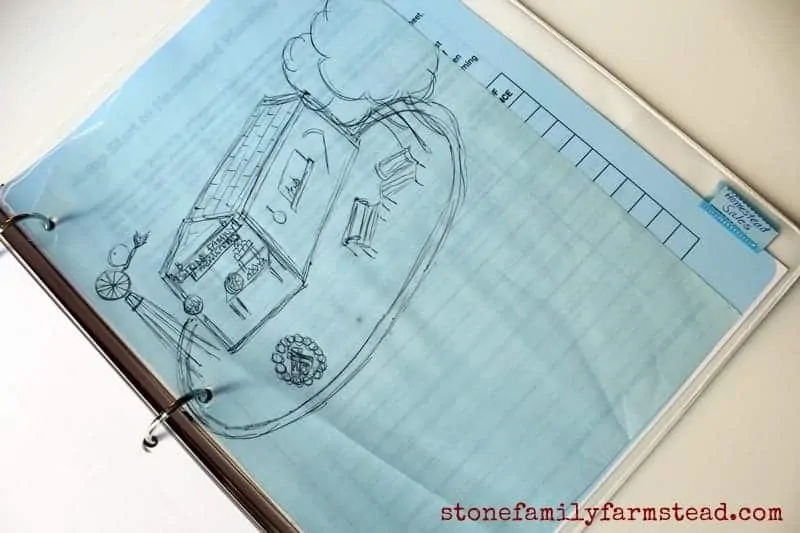 This is our dream way to supplement our retirement. Here's what that area looks like right now. Don't you think it would make a super cute little shop?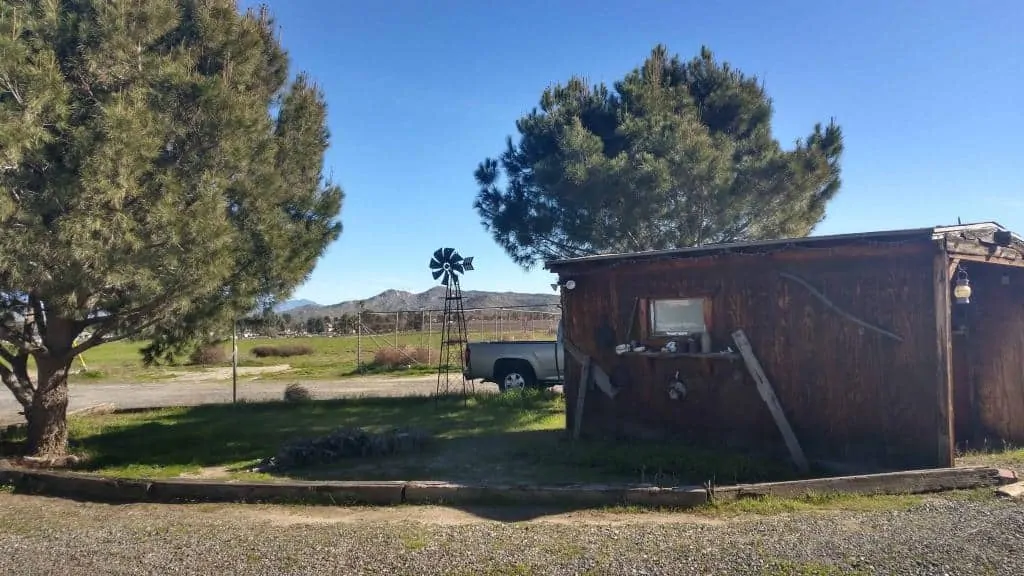 What would you add? Do you have a goal for making your homestead a business? Would you love to have a large garden to eat fresh from and preserve your food for the year? Would you love to get into livestock breeding?
If so, perhaps you can make a simple vision board for your homestead dreams? A vision board can really help you get and stay fired up about your goals. You can add anything you'd like to it that will keep you inspired and ready to tackle every step of your goal!
Confused? Don't Be!
The purpose of this post is to help you to conquer your homesteading goals. If you're feeling overwhelmed with all of it, just do the bare minimum: build the notebook, make some goals (if you haven't already), and add in your goal sheets to the section! Oh–one more–complete the tasks that get you closer to conquering those goals!