It's safe to say that the kitchen is the nucleus of a homestead. It's where all the garden harvests are introduced to the food preservation process, not to mention all of your meal prep. The importance of having a functioning, ultra efficient homestead kitchen with as much cooking area as possible can't be stressed enough, and when you have it, you'll wonder what you ever did without it.
At Stone Family Farmstead, we are in our kitchen daily (probably much like yourself). In addition to daily meal preparation, we also do some food preservation, make herbal medicines, baking, and of course, we make coffee (a lot).
Because we are spending much more time at home than ever, and because we have 4 adults living in the house this year, at least one of us is in there a few times a day. This equals a lot of kitchen use, and that's not even counting the dinner hour! It's important for us to be able to find what we need, have space to do what we need to do, and get out of there quickly.
Think About What You Need from Your Homestead Kitchen
It's possible you'll be doing anything from cooking and baking, to canning and preserving, even experimenting with food. Other than the typical cast iron skillet and Dutch oven, I'll share with you some other essential tools and appliances, as well as design ideas that make can make your homestead kitchen much more conducive to what you need on the daily.
What Will You Be Doing in There?
Think about your long term goals for how you will use your homestead kitchen.
Will you be canning your garden harvests? Dehydrating? Fermenting? If so, you will need lots of counter space. Not that you will be doing them all at the same time, but there are steps to those tasks that will need more than just a few square inches of space to work with.
Another consideration if you will be building up food storage through food preservation is cabinet space. If you have a pantry, that could work, but you will need more space for storing all of your beautiful jars of food.
Will you be working with herbs? This could include growing culinary herbs on a windowsill, drying them for herbal medicines or just simply to use in your cooking.
There are many other things to consider, but these are a few more common tasks that homesteaders perform in their kitchens.
Counter Space
In our kitchen, we have granite counter tops that are easy to keep clean and look beautiful. If we need to, we can cut right on the counter without damaging it. While we don't do that often at all, it's an option for us that makes the workflow easier, eliminating the need to look for a cutting board with dirty hands.
A lot of contemporary homestead kitchens elevate natural materials like timber, granite, and marble to create a cozier and warmer feel. This is arguably the closest of all concepts to the heart of homestead, as it involves blending elements inspired by or directly from nature.
Love the look but can't afford granite?
HGTV provides a clear picture of how to incorporate a natural look into kitchens without breaking the bank. The key here is to take advantage of new laminate technologies and formulas, which offer cheaper, more viable alternative designs for your homestead cooking space. In other words, opt for patterns instead of actual materials. (Just don't cut directly on the counter!)
Space Saving
Keeping the counters clear and ready for work at any time of the day is a challenge, but using ideas like the one pictured below is a great way to save time as well as counter space.
Maximizing storage by using your large wall spaces can create that rustic, homestead-y look, as well as make your kitchen a ton more functional.
In our kitchen, we don't have a lot of extra wall space, but we do practice keeping things off the counter by having a ton of cabinet space, and designating that space to specific appliances and tools we use often.
If you do happen to have a lot of wall space, this can work in your favor for things like storing pots and pans, canned items, and even cooking utensils.
Here's a really cool idea for a ceiling herb-drying system. It is super functional and looks so beautiful!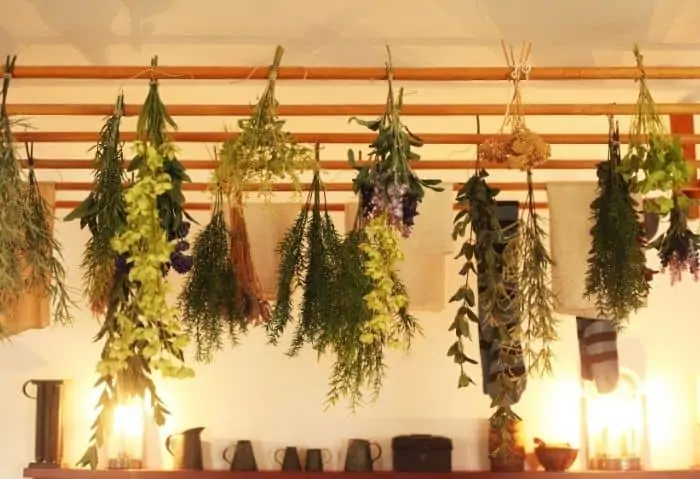 Sink Functionality
One of the things I definitely wanted when we redesigned our kitchen was a deep sink that could fit my 23-quart canner into it. We also added a tall faucet (ours has a detachable sprayer nozzle as well) and it works perfectly for filling and washing my canner, and all manner of large items that I might use in the kitchen.
There really are a ton of things you can do to make your kitchen more functional. Please feel free to share what you do in your kitchen to make it more functional for you and your fa