There are plenty of choices for layer feed that we can purchase from our local farm supply store that your flock will thrive on. However, not all of them can boast a lack of genetically-modified ingredients, and the ones that do are pretty pricey. There's only so many foods we can give our chickens from our kitchens and without the right foods protein levels won't be met, which is important for a flock of layers. Here's how to make chicken feed that is great for layers as well as the rest of your flock, that won't skimp on protein and won't affect egg production.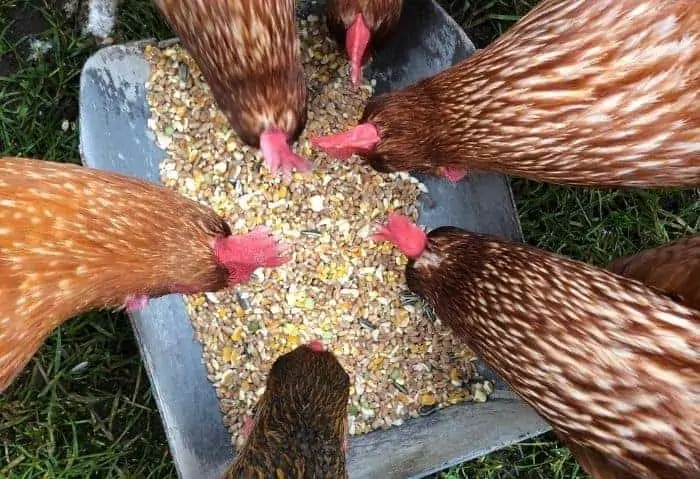 A few years ago, I began studying up on how to make chicken feed for my girls. I created a barebones framework for my feed, which I shared here with you before, but I wasn't satisfied with just using grain in it.
I was able to achieve the right level of protein for my laying hens, but I didn't feel that was enough to make it a vitamin, nutrient, and wellness-packed feed. Also, I didn't want to lose egg production.
How to Make Chicken Feed That is Beneficial to Your Flock
There are a few things to consider when we are mixing our own animal feed: egg production and the ingredients you use to reach the appropriate amount of nutrients needed to keep your girls laying successfully.
Egg Production
Interestingly, the first batch didn't yield significant drop in egg production during the switch. The most significant drop happened in the first week, and the total drop for the full month was only 11%. I expected the damage to be worse, this being my first time mixing chicken feed.
In April, they laid 66 eggs between the 5 of them. In May, where the switch took place between the 2nd, 3rd, and 4th weeks, they laid 59. There was only a difference of 7 eggs from April to May.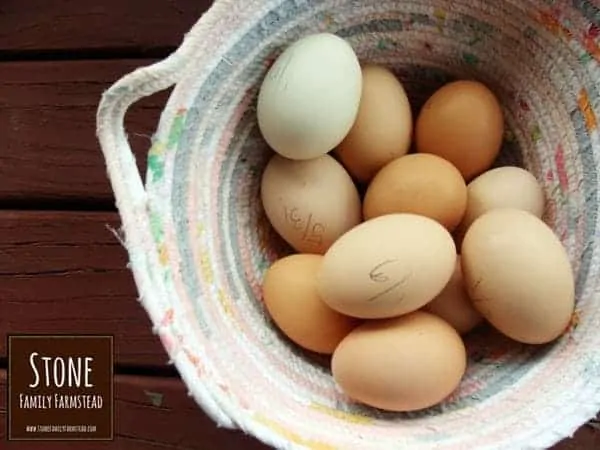 The Ingredients
Chickens need fresh, clean water, and a mix of protein, carbohydrates, fats, minerals, and vitamins. Each ingredient in this recipe was hand-picked based on what it would add to this homemade layer feed recipe, what it would do for the eggs they lay, and whether or not the ingredients are easy to obtain.
With this homemade layer feed, you will be able to maintain your chickens' health, and ensure that the eggs they lay for you will be healthy, nutritious, and non-GMO.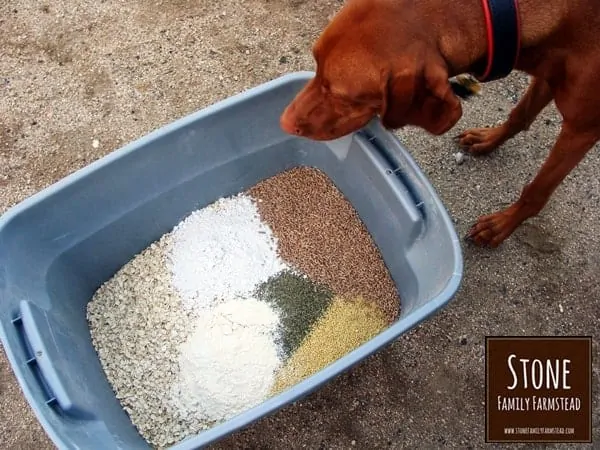 If you have a local Winco (or other bulk seller), you can get the grains and the garlic powder. Kelp and diatomacious earth can be purchased online. If you want to supplement sometimes with black oil sunflower seeds, you can get those at your local farm supply, or order them online.
NOTE: All of the ingredients I use in this recipe have been checked with this page of the International Service for the Acquisition of Agri-biotech Applications (ISAAA) website for verification that none of them are genetically modified.
Pearl Barley – High in fiber, but low in energy and difficult for chickens to digest. Should be no more than 20% of a chicken's diet.
Hard Red Wheat – High in protein, good for energy
Millet – This tiny grain is rich in iron and amino acids
Oats – High protein, adds calcium, fiber, and B vitamins to the feed; good energy source
Split Peas – Very high in protein
Kelp – Adds omega-3s to the hen's diet, making egg yolks that wonderful, deep orange color
Garlic Powder – Thought of as one of nature's best antibiotics, garlic brings power to the immune system of your chicken
Black Oil Sunflower Seeds – Adds protein, makes feathers shinier, increase egg production, increases nutrients in eggs
Diatomaceous Earth (food grade) – Keeps bugs out of the feed, is thought of as a natural wormer by some
Homemade Whole Grain Layer Feed
Instructions
Mix all ingredients together in a large tub. Cover and store. Feed 1/4lb (about 1/2 cup) per hen each day.
Add black oil sunflower seeds to boost protein every now and then.
Protein: 17.5% (not counting the sunflower seeds)
Crude fat: 2.1%
Homemade Layer Feed Stats
The protein percentage in this mix is 17.5% which is just about where it needs to be according to my research. Laying hens are supposed to have between 15-18%, which makes this feed just right.
This recipe makes just over 28lbs of feed and it cost me roughly $22.50 to make it. Serving size for each chicken is 1/4 lb., which makes this recipe enough for 112 servings. Non-GMO feed at the time this was written was going for about $1/lb, and this new feed cost was .80/lb, which is a pretty good savings at 20%. This is the way to go if you are concerned with what is in your chicken feed.
There could be issue with the amount of crude fat in this recipe. It is 2.1% in my recipe, and on the bag of non-GMO feed that I was using as a guideline, the minimum amount of crude fat was 2.7%. The crude fat level should be higher because some of the vitamins in a chicken's diet are fat soluble. According to this UGE extension article, fats are the highest energy source in feed. You can always supplement with a suet block or other fatty treats each week.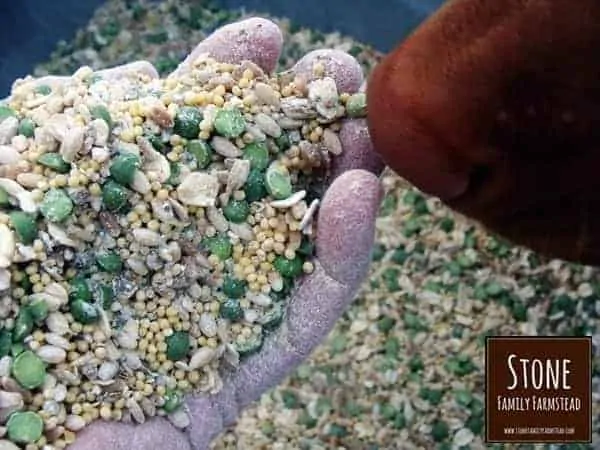 Sources and Other Helpful Reading:
Feeding Chickens by the Cooperative Extension of California
Feeding Barley to Poultry by Extension.org
Poultry Rations and Feeding Methods – Manitoba Food, Agriculture, and Rural Development
What to Feed Chickens: How to Formulate Your Own Chicken Feed – Mother Earth News
Garden Betty's Post on Homemade Whole Grain Chicken Feed (see bottom of her post for a very handy feed calculator)