Keeping outdoor animals often means the gathering of pesky flies in your barn, yard, or both. Flies are an inevitability as we move into the spring and summer months. Use these ideas for natural fly repellent, and you will be able to keep the hutch nearly fly-free, and your rabbits happy and healthy.
Keeping flies away from your rabbit and her feeder can be tricky, but it mustn't be ignored. Flies are notorious for spreading germs (just think of what they prefer to land on) and for being just plain obnoxious.
If you think about how animals respond to them: swatting them away with their tails, moving their ears or skin to startle them away, or even (in the case of our dog Bella) trying to catch them in mid-air Mr. Miyagi-style, it pretty much indicates that they are annoyed by them too.
Rabbits can experience this annoyance, I'm sure, but there is a worse malady that they can suffer. If you suspect a fly infestation around your rabbit or in the hutch, you may have an issue. The flies could be a good indication that there is something potentially wrong in your setup. Flies are attracted to manure, urine, and otherwise wet or damp areas. It could also mean that there are fly eggs actually on your rabbit, which could be deadly to her.
Rabbits are especially vulnerable to swarms of flies because they can fall victim to a condition called fly strike. Flies lay their eggs on the wet, soiled, and mucky rear end of your rabbit. This creates a situation where your rabbit is now a host to a mess of maggots. Eventually, this could lead to your bunny's death.
To avoid this, make sure the hutch tray is emptied regularly and is kept as dry as possible. Cleaning the hutch tray regularly will go a long way in keeping the flies–and the smell–at bay.
Also, make sure to check your rabbits backside often. Sometimes a rabbit's cecotropes can get loose in texture and get all over her backside and feet, and just make a huge mess. There are other possibilities, but just know that if she is mucky, you'll want to make sure she's cleaned up asap. The fur back there should be dry, with nothing stuck to it.
Natural Fly Repellent Solutions
While it might feel like a huge problem when you see it, mostly likely you will just need to do a few things to remedy the problem. Some of the items are things that you would want to do daily or a few times per week so clear up the issue. The point is to make the hutch less attractive and "homey" to flies.
The three steps below should take care of whatever issues you may have in your hutch. Keeping it clean is honestly good enough, unless you live in a community where there are many flies and your bunnies live outdoors.
Step 1: Check your rabbit's bum to make sure she is not the host of any maggots. If she is, then she's the victim of fly-strike, and it needs to be dealt with immediately. House Rabbit Society has a good article on what to do if your bunny has fly-strike.
Step 2: Check to see if there is fresh waste in the hutch. If so, start with removing it as often as is necessary to keep the flies away. That could be daily, or every other day, depending on the need. Rabbits are HUGE poop machines and for my little 4lb Jersey Wooly, it only takes one night to crank out enough pellets to cover the hutch floor, and a couple nights to create a wet mess in her litter box!
Step 3: If your hutch has a tray (mine doesn't, hence, the pellets covering the floor), empty it every 2-3 days and give it a good spray once per week. If it gets terribly stinky, you can allow it to dry in the sun to kill most of the smelly bacteria. If you have it, add diatomaceous earth and pine shavings to the hutch tray to control urine odors after you scoop.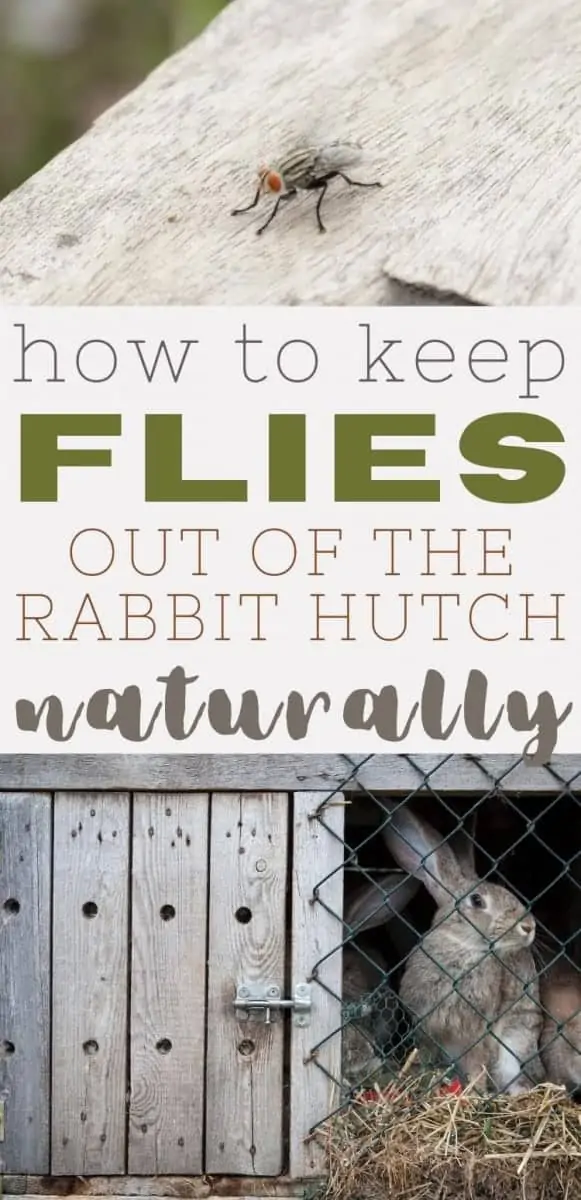 Herbal Fly Control for Rabbits
Add these two homemade fly repellent ideas to your hutch cleaning regimen to give the bunny's environment to keep these pesky visitors from making a home in her hutch, or on her body.
#1: Add crushed garlic cloves or peels and scraps to the hutch tray. Again, make sure that the garlic cloves or scraps are out of reach of your rabbit, though I doubt they would try to eat it anyway. Still, garlic can be toxic in large amounts for your rabbit, so best to be careful with it. You can also add aromatic herbs like mint, basil, or lavender to the tray. Replace dry herbs with fresh as often as needed.
#2: Decorate your rabbit's hutch with pretty sprigs or bouquets of fresh rosemary or other aromatic herbs. Mint (any variety but Pennyroyal), basil, or lavender. Flies do not like these herbs. Again, once the herbs dry out, adding another fresh batch of fresh herbs will go a long way to keeping flies out of the rabbit hutch.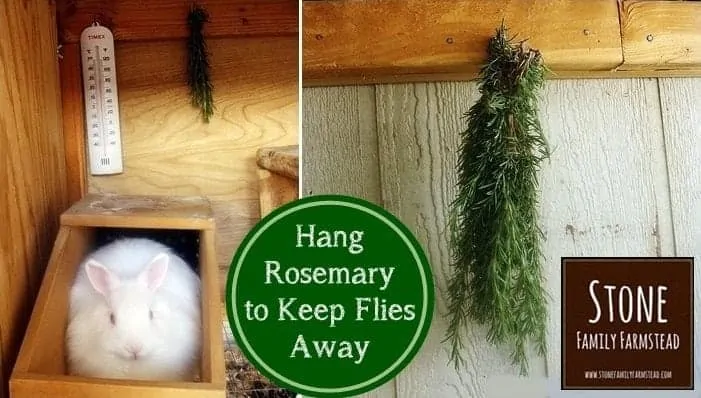 Another Homemade Fly Repellent Idea
There are a lot of different fly sprays out there on the internet, but because essential oils are generally not great for small animals, I wanted to avoid those. I found a thread on the online forum RabbitsOnline.com which contains a discussion of bunny safe fly sprays. I thought the following recipe from that thread seemed like something that would be great to use in the hutch tray, though bunny may not like the smell. Please make sure not to spray it on your bunny, or anywhere she will get her paws in it, but rather in only in hutch tray that sits a few inches beneath the wire floor.
Bunny Fly Spray
1 garlic clove, chopped
1 small onion, chopped
1 Tbsp cayenne pepper
1 quart water
1 Tbsp liquid dish soap
Mix all of the first four ingredients and let sit for one hour.
Strain mixture. Then add the liquid dish soap right before you are going to use it in the sprayer.
Chin Up, a Little Diligence Pays Off
Keeping flies out of the rabbit hutch doesn't have to be complicated, but with daily time and attention and the few homemade fly repellent ideas you have implemented, fly control for rabbits can become second nature for you. Soon enough, you will be keeping your bunny happy, healthy, and less annoyed (by flies that is)!
New to raising rabbits and not sure if you have everything you need to care for her? Here's a post with my top 10 recommendations for things to have in your rabbit kit. Make sure to get the free printable checklist (link in the post) to bring shopping so you don't forget anything!