If you have a cat with long hair, for some, it's inevitable that they might get mats in their fur. From the time your long-haired cat is younger to the time she is old, grooming will be necessary. If your cat has matted fur now, follow the instructions in this article to relieve your cat from this issue.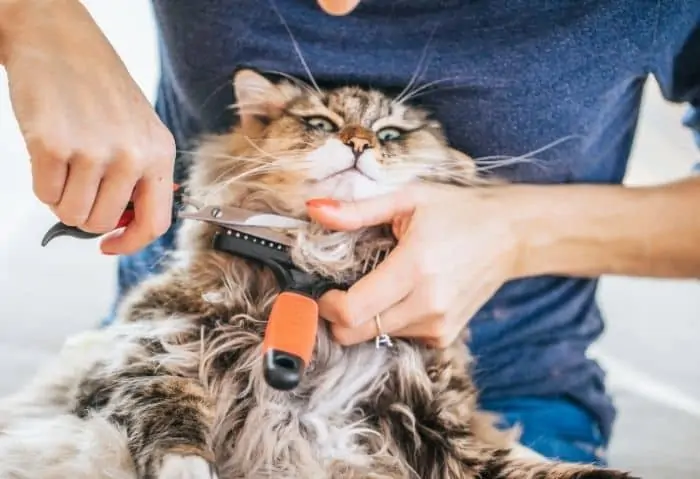 We used to have a fantastic cat named Storm. We had her since 1996, for almost as long as we have lived in this county. She was a beloved friend and awesome mouser, and we really loved our old girl. She was a very healthy cat–I believe it's probably because she had eaten a fairly steady diet of fresh meat in the form of gophers and mice for so very long. However, toward the end of her life, she had developed some really nasty mats in her fur.
Our Poor Senior Cat
Just like any other elderly being, Storm was no longer able to care for herself in the same way she always had. Though she was spry and could still hunt, she moved slowly toward the end and took it easy most days.
She was an outdoor cat, and she preferred it that way for quite a while. Her favorite place to lounge was on a chair by our front door where she could get plenty of attention, as well as have the freedom to move about where and when she wants to.
The first time I noticed a mat problem on Storm was about 4 years ago. She was still pretty active at the time, and we didn't always see her every day. The mats on her were clumpy, very close to her skin, and pretty much covered her whole back. I could tell that they were uncomfortable, so I went to work on her with a pair of scissors, which was really slow going.
I worked for weeks to get those off her back, and thankfully it was spring, warm enough for her to be without some of her fur. It wasn't the best way to remove the mats, and it sure was slow, but it did work. I was hoping this would be a done deal once I was finished, and that her former cat-grooming super powers would take over from there.
Well, that didn't happen, and she ended up with another tangled mess of matted cat fur on her body almost as bad as the last one. With no real ideas except to return to the scissors method, I turned to my friend Sue from Paws à La Mode Himalayan Cattery for some ideas.
I figured that if anyone knew how to get mats out of a long-haired cat's fur, Sue would since the breed she specializes in is a long-haired breed. She had some great ideas that have helped me immensely in freeing our poor old girl from her mat-prison.
Grooming Tools for Matted Cat Fur
What to Do When Your Cat Has Matted Fur
I tend to spend 10-15 minutes per day 3-4x per week if she will allow it. With the seam ripper, I am able to get under each layer of hairs, cutting them quickly simply by moving in a sideways motion.
There is not much room to work with if the mats are close to the body. With the seam ripper, it's much easier to just get under layer after layer of the hair between the mat and the skin, resulting in a quick removal of the mat. I've used this method also on one of my chinchillas. It works like a charm.
It is prudent to watch closely while you are cutting, and to have some Vetericyn or some other wound care ointment or spray on hand just in case. Also, per my Himalayan cat breeder cat friend, Sue: in a situation where mats are covering large amounts of your cat's body, be sure to wash your cat with Dawn soap twice to release the oils in those pores that were being suffocated by the mat.
Feel like a weight has been lifted? So did I when Sue shared these things with me. So go get yourself some grooming tools for long haired cats and get rippin (GENTLY, and with the seam ripper)! Wishing you all the best in freeing your senior cat of her rug-mats!