Growing zucchini is probably one of the easiest parts of spring gardening. They are almost a plant-it-and-forget-it kind of veggie. Growing zucchini in pots is not that much harder than it is in the ground, but it can be a bit more tricky and definitely does have a learning curve. This step-by-step guide will help you to plant and grow your zucchini plants easily.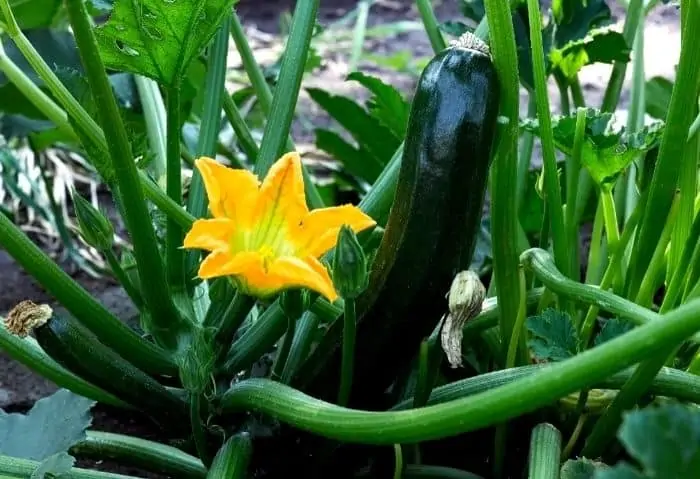 Spring in Southern California is the perfect time to plant zucchini outdoors. There is no need to worry about all the indoor seed starting steps that are necessary in the late winter and early spring. As long as you have a container with nutrient-rich soil, you are good to go.
Growing Zucchini in Pots is Easy!
There are a few things you will want to have on hand whenever you are growing vegetables in containers. The first thing is a container with drainage holes at the bottom for drainage. For zucchini, it would be best to have at least a 5 gallon container, but bigger is better.
You will also need a container mix. I use potting soil (outdoor), worm castings, and a time-release fertilizer to make the mix. The recipe that I use to fill the container is 4 parts potting soil, 1 part worm castings, 1/4 part time-release fertilizer, all mixed together so that they are all incorporated nicely.
Another item that is absolutely necessary in my garden is drip irrigation. Drip irrigation will help your plants to be watered evenly and regularly, which helps them grow better than if watering is hit and miss. It is an expensive investment, but once it's in place, you can use it over and over again in your containers.
The last few things you will need are a water soluble fertilizer to water your seeds or transplant (zucchini seedling) with directly after planting. And at last, you will need your seeds or transplant.
Best Size Container for Growing Zucchini in Pots
At present I am growing all of my zucchini in 5 gallon containers, and it is working fine. I wouldn't plant them in anything smaller than that unless you intend to transplant them later.
Shopping List
Here's a quick list with some affiliate links so you can see what these things look like. They may or may not be the exact brand or item that I use, but they are what I would buy in place of those I couldn't find online. Please check prices at your local garden center, as many of these items are much cheaper than online.
Miracle Gro Nature's Care Organic Potting Mix
Miracle Gro Nature's Care Organic and Natural Vegetable Fruit and Flower Food
Vermisterra or Unco Industries Organic Earthworm Castings
Drip Irrigation System (if you don't have one operating in your garden already)
Drip Irrigation Accessories (if you do have a drip system already in place)
–drip hose with built in emitters every 6″
–1/4″ drip line (no emitters)
–1/4″ goof plugs
–1/4″ barbed connectors
–garden staples
Automatic Timer
Any companion plants you would like to plant with your zucchini
Plant Your Zucchini
Before you plant your seeds or transplants, you will want to mix your soil and get it into your container. My formula for mixing soil is 4 parts potting soil, 1 part worm castings and 1/4 part dry plant food.) Once that is finished, it is time to add your drip irrigation.
I like to add it in a circular pattern, from outside to inside, so that the whole top surface of the soil gets watered. This is especially important when you are planting seeds, because they need that moisture to germinate. Run your drip irrigation before planting long enough for the soil to become wet, but not soggy.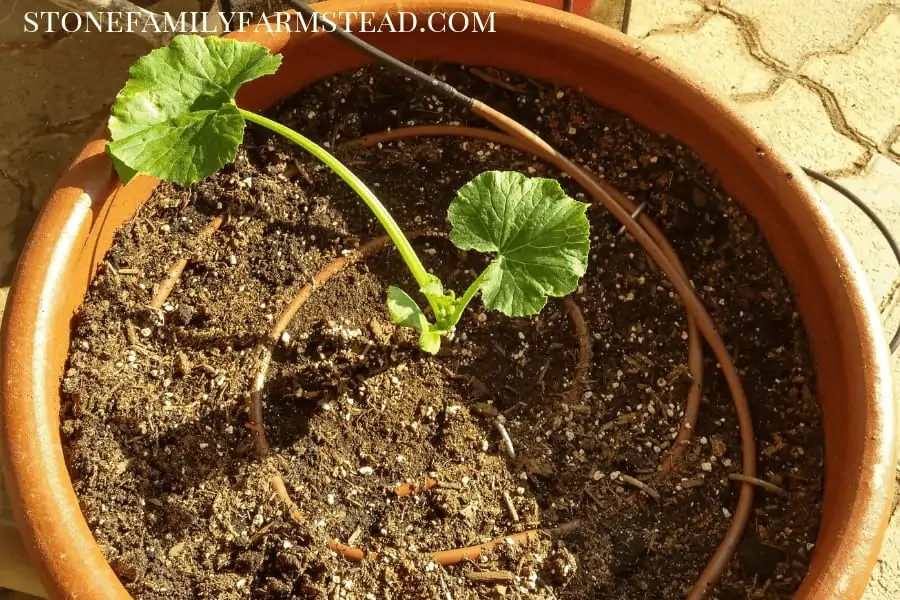 Growing Zucchini from Seeds
If you are planting seeds, you will need to keep the soil moist until the seeds germinate, which may mean watering more often than you would normally. To plant, poke three holes in the center of the soil in a triangle shape, avoiding the irrigation, about 2 inches apart from each other. Make sure these holes are about an inch deep. Drop one seed into each hole, and lightly cover the hole to be flush with the surface of the soil.
Plan to water daily if your area is temperate (like in the 70s), or twice per day if you are in a hot area. Zucchini seeds sprout in 7-14 days, and often earlier depending on the weather. Once your seeds sprout, you can cut back some on the watering, depending on how hot it is where you live.
It is also recommended that after a few weeks to remove the two weakest plants and leave the most vigorous one to produce fruit. It seems a shame to do this, but it's better to have one healthy and productive plant than three struggling ones.
Growing Zucchini from Transplants
If you choose to go with purchasing your zucchini transplants, water your plant well about 15 minutes before you start. The transplant's soil should be wet, but not soggy. This will help the transplant to avoid transplant shock, which is common with squash transplants.
Dig a hole in the center of the soil, as deep as you need to accommodate the plant's depth. (You may need to move some of the irrigation hose before you dig your hole, and replace it after your transplant is planted.) Gently with the stem between two of your fingers, turn your plant over into your hand so that it falls out of the container.
If you are adding any companion plants to the pot, dig holes along the irrigation line to make sure that whatever you plant gets watered well.
Set your plant into the hole and gently fill the hole in with the remaining dirt. Secure your irrigation hose back into place. Water your plant with water soluble fertilizer, giving it a nice drink. This is another way to help your plant avoid transplant shock.
Plan to water with the same schedule as you do with seeds, except cut back on the watering once your plant is looking vigorous again.(It may droop for a day or two.) If it is hot where you live, you may need to experiment with different watering schedules until you find one that works for your plant.
A Note About Transplants in Biodegradable Containers
If you choose a transplant with one of the biodegradable containers (like the kind that Bonnie plants come in), you can leave the container around the plant's soil. This will help also with transplant shock, but it could hinder the roots' ability to stretch out and be fed with the fertilizer in the larger container. My recommendation is that you remove the container and plant just the plant and the dirt it comes in. If you are concerned about transplant shock, try not to mess with the dirt around the roots too much.
Harvesting Zucchini
Maturity for zucchini is 40-50 days whether you planted seeds or transplants. It's important to harvest zucchini when they are about 6 inches long, as this is when they are most tender. You can harvest them larger, but they will be less flavorful. If you harvest them "thigh-size", you can carve the seeds out and save those for next year's planting (let them dry out completely before storing in an air-tight container).