Fermented peppers is on today's kitchen plan. We use them in so many ways and never seem to have enough in the house. We love to use them on our family's favorite breakfast sandwiches (subscribe for that recipe), pizza, burgers, nachos, and anything else that would benefit from the jalapeno flavor.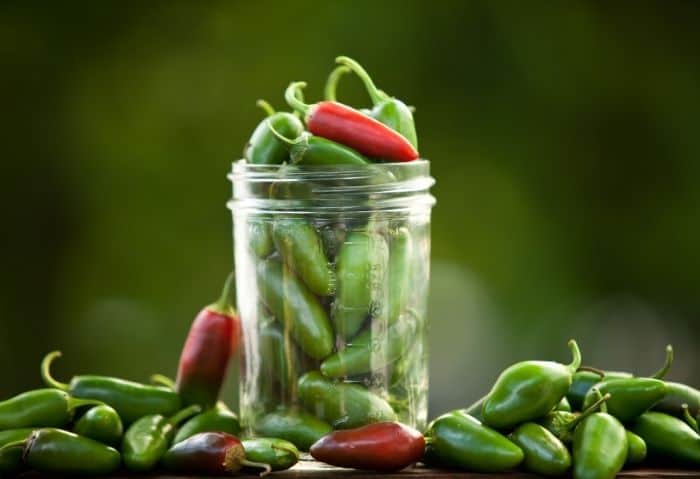 We eat many of our peppers fresh, but because we tend to get a bumper crop of hot peppers, some preservation of the overflow will be in order. My choices in the past have been freezing, drying and canning, but this year, I'm adding lacto-fermenting to my list of options. Fermented peppers are for sure going to go on each year's list of kitchen must-makes.
I found this recipe years ago on the website called ThisChickCooks.net, but unfortunately, it no longer exists (to my knowledge; if I am mistaken, please let me know so I can link to the recipe. They do have a Facebook page that you can check out, though the last post was in 2013). Here's the recipe as it was originally shared (my photo):
Fermented Peppers from Fresh Jalapeños
Ingredients
1/2

lb.

fresh jalapeños

cut into 1/4" rings (remove seeds to get a milder taste)

2

Tbsp.

whey**

see notes below for instructions on how to get some

1/2

cup

filtered water

or more as needed

1/2

Tbsp

unrefined salt

original recipe author used Real Salt

1

clove

garlic

sliced

1

pint

sized mason jar
Instructions
Alternate layers of peppers and garlic slices in a clean mason jar. You'll want to lay them in the jar as flat as possible to get the most amount of peppers in the jar. You want to leave an inch of space between the top of the peppers and the top of the jar.

In a bowl, mix whey, water, and salt.

Pour the whey mixture over the peppers, leave 1 inch of space for expansion between the top of the liquid and the top of the jar. Make sure that all of the peppers are covered by the whe. You may need to add a bit of extra water.

Put on the mason jar's lid and allow to sit at room temperature for 2-3 days and then move the jar to cold storage. We keep ours in the fridge.
Notes
*Kristi's notes: I followed the directions for this recipe pretty closely, except I used sea salt in place of the unrefined salt, and I used 2 cloves of garlic because we love garlic here. I used a wide-mouth pint jar for ease of loading, and because it would make it easier to use a canning lid to hold the peppers down under the water/whey mixture (I used a Tattler regular mouth lid for this).
**If you don't have any whey on hand, don't worry, you can get some pretty quickly if you have some plain unsweetened yogurt and some cheesecloth on hand. All you need to do is layer a colander with cheesecloth (I used 2 layers) and pour your yogurt into it and allow it to drain for about an hour. It could take less time than that, but an hour should do for the 2 Tbsp. this recipe calls for.
Need time to gather your ingredients? Pin this for later!

Don't forget to label your fermented peppers!
Once you are done packing your jar and covering it, label it with the date and the "fermented peppers" (or jalapenos/serranos/whatever) so you don't forget when and what you did. Think I'm kidding? I'm not. I have forgotten things that I just knew I would remember the next day. #over40brain Do it, you'll save yourself some trouble.
Because I am cheap and have to label everything in the kitchen that I'm working on, I simply use blue painter's tape and a sharpie. Not as aesthetically pleasing as mason jar labels, but it comes off jars super easily and I always have it around.
I love these fermented peppers. The consistency turned out nice, and because I didn't use vinegar at all, they simply just taste like hot peppers. I believe that these will be great on pizza, in salsa, in chili, and anywhere else you might slice up a jalapeno. These would likely even be great on the side if you eat chilies that way (I do). For those of you who do not like vinegar-y peppers, these would be the way to go.