Gardening and starting seeds indoors doesn't have to cost an arm and a leg. When starting your garden is expensive, there are so many cheap garden supplies available at the dollar store that can put money back into your pocket!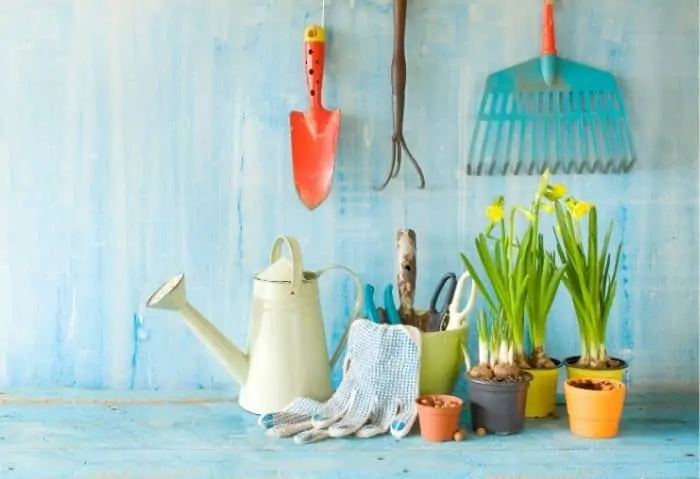 Dollar stores are one of the very best places to get inexpensive garden items. Many items that you find there could cost you multiple times the amount you would pay, had you shopped elsewhere. The 99 Cents Only Store and Dollar Tree are two of my very favorite dollar stores to frequent, especially in spring. Spring is when you can find garden items, from seeds to tools to decor, for cheap, cheap, cheap.
How to Know Which Cheap Garden Supplies Are Worth It
There are definitely some garden supplies that are best purchased from your local big box store. You truly do get what you pay for!
But here's the thing: Sometimes it just doesn't matter! You can purchase some things at the dollar store and do just fine with your garden.
What Not to Buy at the Dollar Store
I've been using the dollar store for many years to find tools, plants, seed starter, seeds, peat pots, and so many things, and I must say that I'm so cheap I was willing to try anything more than once! In many cases, many many times!
While many of the dollar store garden tools and supplies are great for the value and can last quite a long time, there are plenty of items I would never buy there again because they are either built poorly, won't last due to falling apart or rust, or they are just too flimsy for my needs.
Sometimes, the items are actually MORE expensive to get from the dollar store not only because the value, but because they are sold in smaller sections (like fencing) than you can get at other locations for a cheaper end price.
Some of the items I will never buy at the dollar store again are:
metal garden shovels/trowels/hoes (not built well)
larger pruners (lose springs easily)
hoses (too short for my needs)
seed starting soil/potting soil (less expensive in larger bags elsewhere)
metal watering cans (unless they are galvanized)
metal buckets (unless they are galvanized)
fence panels (flimsy and can be expensive for large areas)
tomato cages (WAY too flimsy to hold up a tomato plant)
zip ties (they don't seem to last as long as the ones I get from other stores)
light bulbs (these are fine, but not for growing plants)
Stuff That's Okay and Even Great to Get at the Dollar Store
Having shared all of those things, there are so many more things you CAN get at the dollar store that will work for gardening. If you take care of them, they will last years, too.
For the most part, I opt out from using items that will just end up in the landfill in a few months or within the year, and I suggest that to you as well.
However, if you can't find an inexpensive metal alternative and all you can afford is the plastic version, buy that and take care of it (don't leave it out in the sun to dry out, etc.) so you don't have to feel guilty about using a few plastic items.
NOTE: Many have approached me and asked if I would not include plastic in my list due to the fact that it's plastic, and it's ruining the earth. The short answer is "no", and the reason for that is because my aim with this post and my below video is to show people how they can garden and grow food inexpensively. I'm sorry to disappoint. Please consider visiting my friend Jessie's blog, Tiny Yellow Bungalow, for sustainable, eco-friendly living and gardening tips.
seeds (good selection, heirloom seeds available, 4/$1)
plants (if they look healthy — many times they don't)
Fiskars garden tools (when they are available)
peat pots (WAY cheaper than Jiffy brand)
3″ plastic pots (for transplanting to the next size pot)
small pruning scissors (blunt and sharp)
large flower pots
gardening gloves
clamps (in the hardware section)
garden netting
scissors
plastic, flat-bottomed baskets of all sizes (I use these for hardening off)
gardening bags
small rakes
kneeling pads
metal hangars (in the hardware section)
screwdrivers (hardware section)
timers (household section — use for your grow light box)
plant markers
bulbs
garden decor
and more!
Check out my video where I share some of my very favorite items. Happy Gardening!