Running a homestead can be overwhelming–even if it is a small, 1 acre hobby farm. There is so much to do, so much that we can't forget. Your homestead success may be tied to your home management in ways that you may not realize.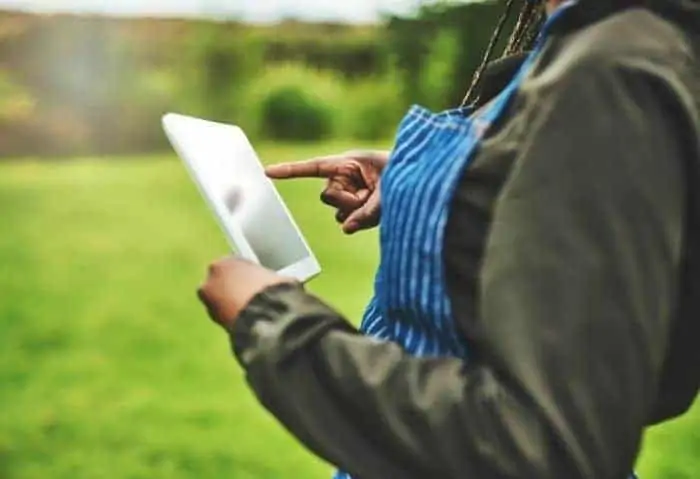 Those who choose to homestead are usually self-starters who are confident in their own abilities to become self-sufficient. Confidence is an awesome trait, and if you have that, you are halfway there!
BUT — and it's a big but — if you are not mentally organized you may find homesteading crazy-overwhelming. But thats nothing that a 3×5 index card and some time management skills can't handle!
Your Homesteading Journey May Start with Home Management
Just in case you are skeptical of the point I'm making here, let me share my own story with you.
My Story
I am a big fan of organization, but I wasn't always. There was a time in my life when I felt so out of control that I didn't have any idea where to even start to find peace. I prayed about it. What's funny about prayer is that you think you are praying for one thing, then you get another. This was one of those situations.
After praying for more patience in my life, I was "gifted" with the answer of organization. My response was something like, "Really, Lord?" But then I started looking into ways to get organized. I found a treasure trove of ideas that helped me to pull myself and my home together. Lo and behold, more patience and peace entered my life and home.
I have carried these lessons with me since those first prayers. They play themselves out in my method of home (and homestead) management.
Organization Is Not Magic
Now, don't let me fool you into thinking that making lists, chore cards and menus, magically eliminated my stress and depression. It took daily discipline and much tweaking of my home management plan to get where I am today.
Having said that, I want to say that knowing that I was going in the right direction brought more peace. I no longer wondered how I was going to get a hold of my home and my life.
That prayer was prayed 15 years ago, and since then, I have tried many different systems, printable chore files, and menu planners. I tend to switch them up now and again when I get tired of them, but the basic idea has always been the same.
The basic plan is to do a set of daily chores; and plan a menu and shopping list. It doesn't matter how I accomplished those things, but when I did, my home ran much more smoothly than when I didn't.
Getting Your 3×5 Index Cards in Gear
You may have heard of a "control journal" from the Flylady bandwagon that everyone seemed to be on a few years back (me too!). My idea is very similar. Matter of fact, I got the idea for the chore cards from a book, called Sidetracked Home Executives. Pam and Peggy, the Sidetracked Home Executives, were Flylady's inspiration.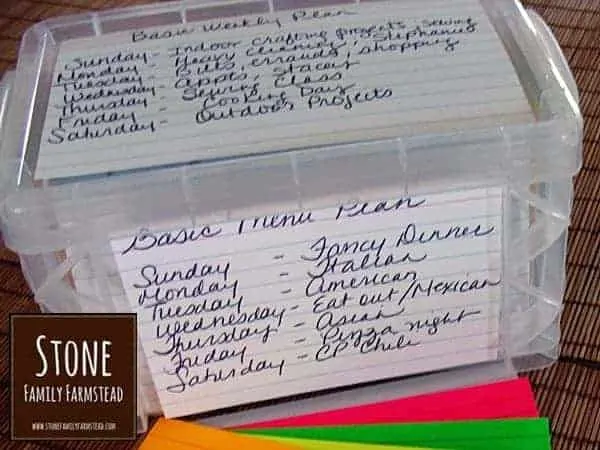 My Control Center (just a fancy name for my 3×5 index card system) is a little different from the control journal. It only takes up something like 15 square inches on my desk, and is much easier to work with. The ease of use of the Control Center is a huge plus for me. A system of organization that's not easy to use won't get used, bottom line.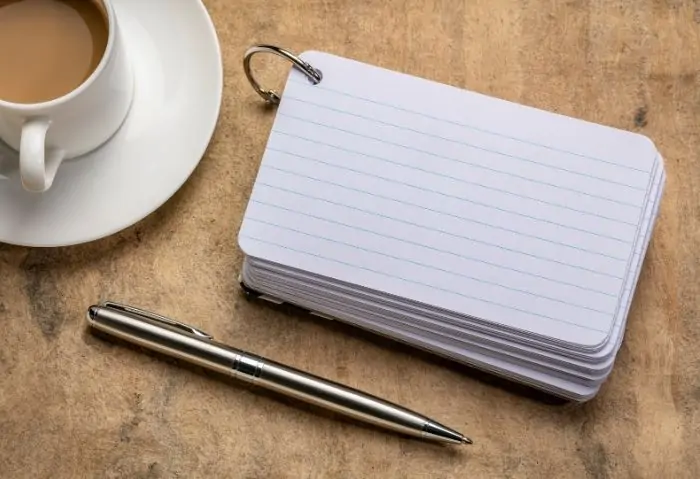 Now that we are living on our one-acre hobby farm, the chores seem to have multiplied. What with adding 2 goats (and sometimes goat kids), 3 chickens, and a new dog to train and tend to the ten animals we already owned, we have a lot more to do every day. Add to that the desire to grow our own produce and it can all feel really overwhelming.
I have a basic weekly plan to follow, which helps me to get organized each week and remain on track. It works out really well for me, and I pretty much just work on each day's focus until there's nothing left to do, I drop, or it's time to go to bed, whichever comes first.
Basic Weekly Plan
Sunday – indoor crafting projects (sewing, crochet, handiwork, mending)
Monday – heavy cleaning
Tuesday – bills, errands, shopping
Wednesday – doctor's appointments, anything else that couldn't get done on Tuesday
Thursday – sewing class
Friday – cooking, canning, making mixes, baking bread
Saturday – outdoor projects and big chores (cleaning out the coop/pens/hutches, building gardens, building fences, planting, fertilizing, etc., and other stuff that I can't do during the week)
I wrote this basic schedule on a 3×5 card and taped it to the top of my control center so I can see it easily when I am sitting at my desk.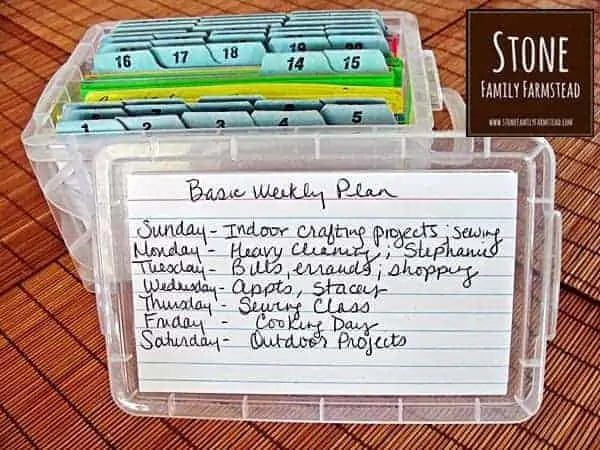 I also have a basic menu plan that I follow each week. This ensures that I cook at home most nights, and it really saves me money because cooking from scratch is so much cheaper than the alternative. Planning ahead makes it much easier to choose what to make for dinner when I don't have a menu planned for the week.
If you are not used to cooking from scratch, my friend Mindy at Our Inspired Roots wrote a great article called Cooking from Scratch for Beginners. It even includes a section on how to make the switch from boxed foods to scratch cooking, and how to incorporate scratch cooking into your lifestyle.
Basic Menu Plan
Sunday – Fancy-to-us dinner (homemade burgers and fries, steak dinner, roast, ribs, etc.)
Monday – Italian (usually spaghetti or chicken parmesan with salad and garlic bread)
Tuesday – American, chicken (usually oven-baked chicken with baked and sweet potatoes and a veggie)
Wednesday – Eat out or Mexican (usually wet burritos, carne asada/carnitas, beans and rice; if no meat is available, just bean burritos and rice will do on this day)
Thursday – Asian (usually teriyaki chicken stir fry, or teriyaki chicken over rice with a steamed veggie)
Friday – Pizza night
Saturday – Crock pot chili
I cut down and taped another index card to the front for quick reference.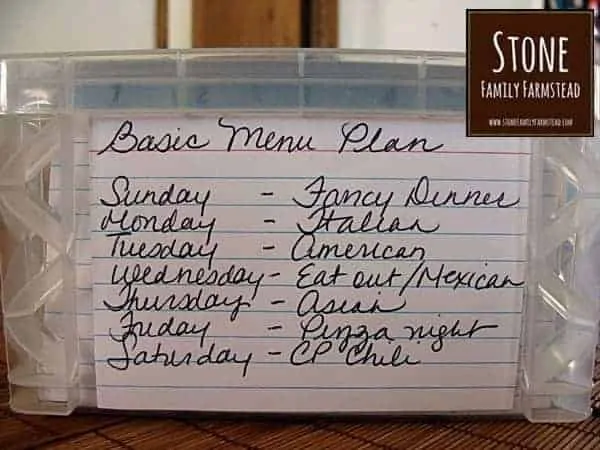 The third thing I do is to follow a basic set of chores that I do every day. These are all 1-10 minute activities that make my home look like it's always clean. These help me remember to do what is best for myself and for my animals every day. All in all, I can get organized in one hour per day if I do them daily.
Basic Daily Chores
Wash up (wash face, brush teeth)
Get dressed (put on clothes; put on shoes and makeup if I'm going somewhere that day)
Wipe down master bathroom (mirror, counters, sink; wipe and swish toilet)
Make bed, tidy bedroom, and pick up dirty clothes
Start laundry
Devotions or current Bible study
Do dishes, wipe kitchen counters and stove
Eat and take supplements (vitamins, herbs, and milk kefir)
Tend sprouting system
Check milk kefir
Correct and assign schoolwork
Outdoor chores (feeding, checking waters, scooping poop, and general tending to animals' daily needs)
My basic daily chores are written on yellow index cards and filed in what's called a "tickler" file. A tickler file is just a file with a divider for each date in the month. Behind each date divider, I file chore cards for each daily chore. I also have weekly, monthly, and yearly chores that I want to remember to do filed here as well. This file makes it really easy to just pull out what needs to be done for any given day in the month.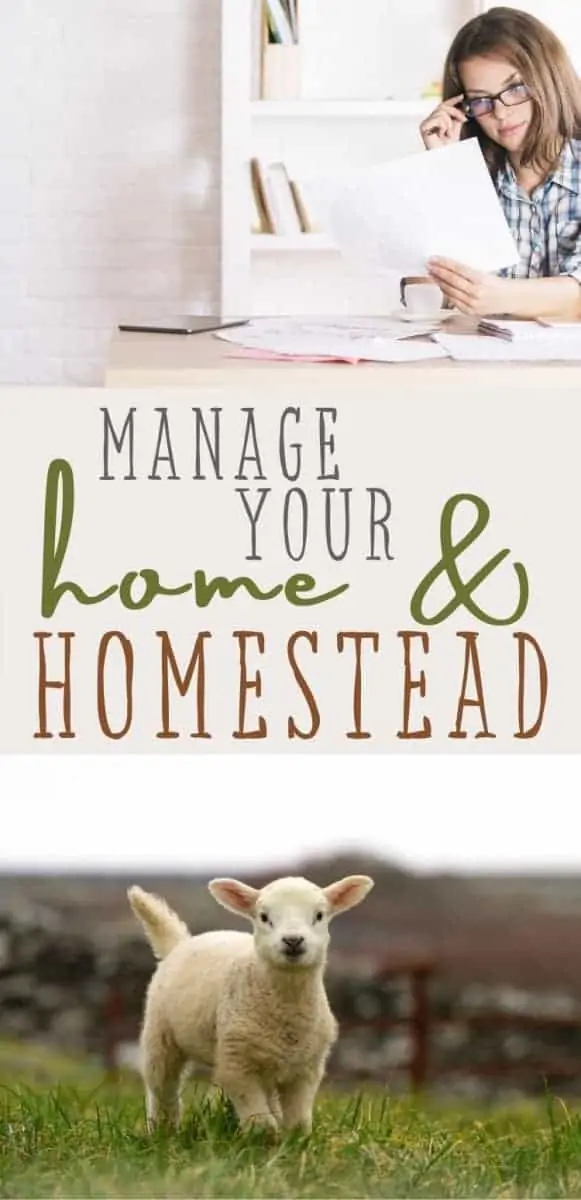 So that's my home management plan in a nutshell. In order for this plan to actually work, I do protect my time pretty fiercely by scheduling errands on designated errand days. Not planning anything on days where the day's focus will take all day long also helps. Some afternoons are more flexible, leaving time for me to plan crafty or fellowship-type meetings with friends.
I admit that there are days (and weeks) that I only do some of the items on my lists. I'm ok with that because I know there will be times that I am not able to get organized and hit my ideal for each day. At those times I am gentle with myself and try my best and let the rest slide. I know that when I come back around, however, that there will be lots to catch up on, so I try not to be inconsistent.