It takes some work to grow your own food. Believe me, I've been trying to get 'er done for many years, and it does take some doing. What I have learned over these years is that it doesn't have to take a lot of time to grow your own food, thankfully! These are three of my best tips for an easy garden, my fellow busy homesteader!

I almost called this post "The Lazy Gardener's Guide to Vegetable Gardening". But with only three ideas, it's hardly a guide! What it is, is a post with three awesome ideas for gardening easy. For a gardener like myself, cutting corners where it won't make much difference is definitely my jam! If you are busy, I'll bet it's yours too!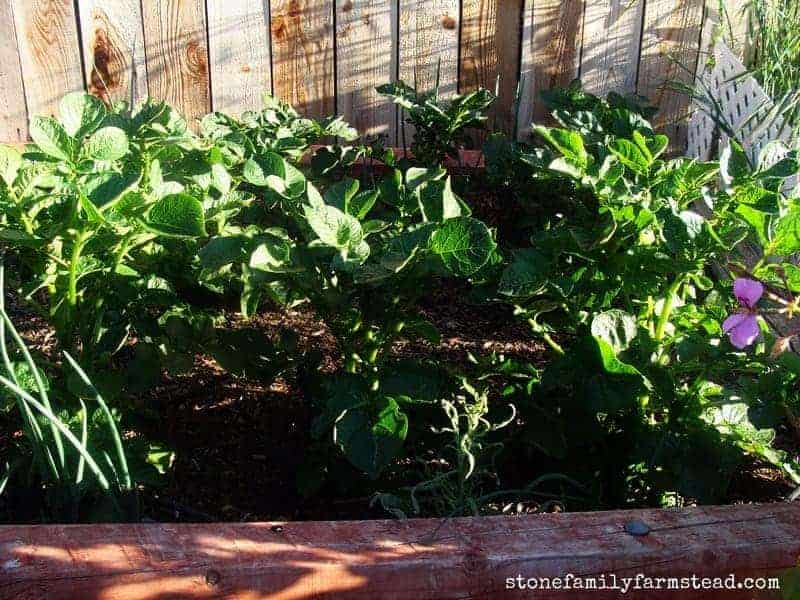 So listen, friend, there are some things that you can do to make things easier in the garden. These ideas work pretty well for me, and I know they will work well for you, too. If you aren't already doing these, you're welcome! 🙂
In addition to these tips, I also have a few really cool printable tools that you can add to your garden planner. These tools will help you garden better, cheaper, and more effectively! You can get them all by subscribing to my blog at the end of this post.
My Tips for an Easy Garden
Compost Right in Your Garden
This first idea of composting directly in the garden isn't new, and it's not really the best idea either. My habit for doing this is somewhat out of necessity. Full disclosure, I'm not the best composter around. I know how to do it, but I can't seem to get into the rhythm of piling all the browns and greens in order and in the right proportions. Then there's all the turning. It's just not my jam! I've started many compost piles, and they usually all end in piles of trash where there should be a pile because nothing breaks down.
So instead of beating myself up for not being able to get this done in the regularly prescribed way, I am deciding to work with what time, energy, and resources I have. Since I have goats and chickens, there is always plenty of mingled green and brown waste. Between the coop and goat pen, there is plenty! It does usually allow it to sit for a while and age, but it never really gets "hot" like a compost pile should. Because of this, it takes a lot longer for my compost to break down into the black gold we all know and love.
So, my solution is to add all of my uncomposted materials into my empty beds. I like to stick some drip irrigation on there to keep it damp, and let it compost on its own. I don't spend any time turning it at all, partially because I line my raised beds with either chicken wire or hardware cloth, and I don't want to break it.
If I'm well organized, I'll add the uncomposted materials about 2-3 months before I'm actually going to use the bed. I have, however, done it with less time between loading and planting. Usually after a couple of months, I can pull a handful out from below the surface, and see how nicely it's broken down. It's a slow process, but definitely an easy vegetable garden idea for the homesteader that doesn't have all the time in the world to turn compost piles.
I do realize that not everyone will have the space to compost directly into the garden, so if you are limited on space and would like to build a dedicated pile, my good friend Mindy at Our Inspired Roots has a wonderful article for you. It's called How to Compost: 5 Ways to Make Black Gold, and it will get off to a fantastic start with your new compost pile.
Enlist the Chickens
If you just simply can't stand it that your compost pile isn't being turned but you don't want to do it, just let the chickens root around in there a few times per week. They will happily turn your compost for you, and leave a few nuggets behind, if you know what I mean.

Here's a post I wrote for a magazine years ago when I first started using this method. I think you'll enjoy it.
Only Fill the Holes
My number two idea for you is for when you are planting your seedlings, or any plant, into the garden. Rather than worrying about amending the whole bed of soil, you can add fertilizers to the hole that you are planting in. Usually, if you use this method, your plant will get off to a great start, but you will want to remember to continue to fertilize throughout the season if you need to.
Usually, I do my regular raised-bed-composting routine, and I also add the following to each hole:
Once the hole is filled and the seedling is planted, I then water with water soluble fertilizer to give plants immediate access to food. This helps in avoiding transplant shock as well. I lead you through the process in this video.
Let me say that if you haven't added compost to your whole bed in a while, you may want to do that for the added available nutrients to your garden. I do mine once per year, and it works quite nicely.
Drip Irrigation
This is by far my favorite easy vegetable gardening idea! Drip irrigation has revolutionized my gardening in a way that nothing else can. It's hard to remember to water the plants, amiright? I've decided that I'm not planting anything, anywhere again without running a drip irrigation line to it. It's that important to the life of the plant (because otherwise, they die under my watch).
There are a few ways to make a drip irrigation system. You can make one with PVC, or with an actual drip system kit. I use both systems in different gardens, and there are pros and cons to both. The PVC system is a lot more work to set up, but it's super cheap and once it's set up, you're good to go and it lasts a very long time. The drip irrigation kit takes a lot less time to set up, but is more expensive and doesn't last as long as PVC.
Whichever type of system you choose, both will save you money on water. With a drip system, you can focus all your watering right where it needs to be. Since the water isn't going into the whole bed, there will also be less weeding involved.
You can pick up all that you need for a both a PVC irrigation system, or a standard drip irrigation system at your local big box hardware store. You can check out a standard drip irrigation and more irrigation systems at Drip Depot's website (choose "kits" in the menu on the left hand side of the screen). They have all kinds of help, including videos, calculators and more to help you determine the best type of drip irrigation for your situation.