If you have your own fruit trees or partake in loss leader deals at the store, you may find yourself with lots of extra fruit on hand during the summer. Rather than letting your overripe fruit go into the compost pile, why not take advantage of the sweetness of fruit at this stage and learn how to make fruit leather? It's nature's candy!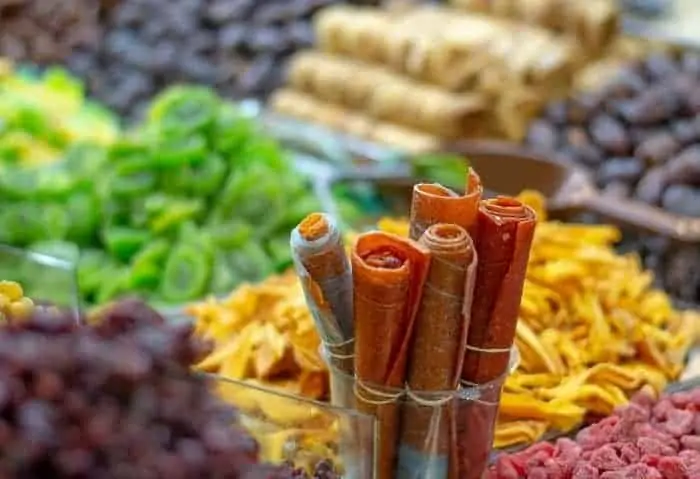 So you've made your strawberry jam, fig wine (or any-other-kind-of-fruit wine), and cherry bbq sauce, but you have leftover fruit to use up. Fruit leather is great for using up your fruit, as there are no amounts to measure out, save for the lemon juice and optional sweetener if you use it.
If you've ever had a fruit roll up and loved it, then you owe it to yourself to make a batch. It's super easy to make, and you can use any fruit that you have on hand, even frozen or canned!
How to Make Fruit Leather with the Fruit You Have
This recipe was extracted from the National Center for Home Food Preparation, which is an educational website which teaches the latest safe methods of food preservation. I use the recipes from this site often and I trust them enough to share with you, whether you are a seasoned or beginner level food preservationist.
I love this recipe because it covers different options for the fruit you may have on hand. Though I haven't made fruit leathers from all of these options, now that I know I can, I will definitely be trying it!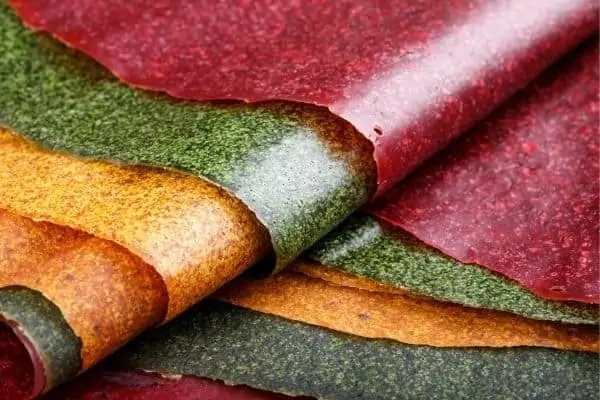 I have, however, made fruit roll ups from fresh fruit, and if I may say so, it's the bomb. No batch I have ever made has not been the most delicious way to eat fruit that I'd ever experienced. (Okay, maybe not the most delicious way, but pretty darn close!)
Tools to Make Fruit Leather
This fruit leather recipe is super easy and you can make it with a cookie sheet and oven that will go as low as 140 degrees, but for me, having the right equipment makes the job much, much easier. Here's what I use: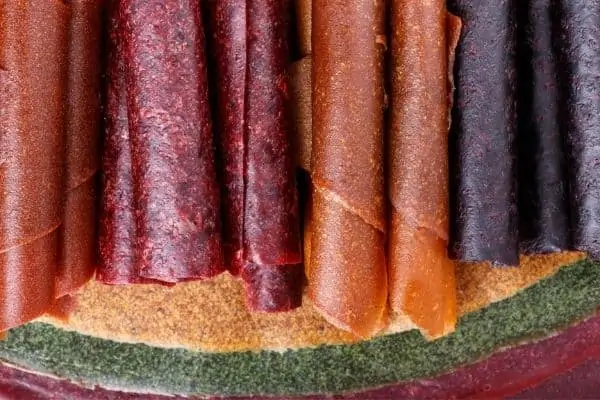 Fruit Leather Recipe (any fruit)
Fruit Leather is so good! It's like nature's candy, and so much better for us! This recipe goes together in a snap when you make it out of fresh, frozen, or canned fruit. Store on your shelf for up to 1 month, or in the freezer until you are ready to eat!
This recipe is from NCHFP.uga.edu.
INGREDIENTS
Fruit
Lemon juice or ascorbic acid
sugar or sugar free sweetener optional
INSTRUCTIONS
Leathers from Fresh Fruit
Select ripe or slightly overripe fruit.
Wash fresh fruit or berries in cool water. Remove peel, seeds and stem.
Cut fruit into chunks. Use 2 cups of fruit for each 13″ x 15″ inch fruit leather. Pureé fruit until smooth.
Add 2 teaspoons of lemon juice or 1/8 teaspoon ascorbic acid (375 mg) for each 2 cups light colored fruit to prevent darkening.
Optional: To sweeten, add corn syrup, honey or sugar. Corn syrup or honey is best for longer storage because it prevents crystals. Sugar is fine for immediate use or short storage. Use ¼ to ½ cup sugar, corn syrup or honey for each 2 cups of fruit. Saccharin-based sweeteners could also be used to reduce tartness without adding calories. Aspartame sweeteners may lose sweetness during drying.
Leathers from Canned or Frozen Fruit
Home preserved or store-bought canned or frozen fruit can be used.
Drain fruit, save liquid.
Use 1 pint of fruit for each 13″ X 15″ leather.
Purée fruit until smooth. If thick, add liquid.
Add 2 teaspoons of lemon juice or 1/8 teaspoon ascorbic acid (375 mg) for each 2 cups of light colored fruit to prevent darkening.
Applesauce can be dried alone or added to any fresh fruit pureé as an extender. It decreases tartness and makes the leather smoother and more pliable.
Preparing the Trays
For drying in the oven a 13″ X 15″ cookie pan with edges works well. Line pan with plastic wrap being careful to smooth out wrinkles. Do not use waxed paper or aluminum foil.
To dry in a dehydrator, specially designed plastic sheets can be purchased or plastic trays can be lined with plastic wrap.
Pouring the Leather
Fruit leathers can be poured into a single large sheet (13″ X 15″) or into several smaller sizes. Spread pureé evenly, about 1/8-inch thick, onto drying tray. Avoid pouring pureé too close to the edge of the cookie sheet. The larger fruit leathers take longer to dry. Approximate drying times are 6 to 8 hours in a dehydrator, up to 18 hours in an oven and 1 to 2 days in the sun.
Drying the Leather
Dry fruit leathers at 140ºF. Leather dries from the outside edge toward the center. Test for dryness by touching center of leather; no indentation should be evident. While warm, peel from plastic and roll, allow to cool and rewrap the roll in plastic. Cookie cutters can be used to cut out shapes that children will enjoy. Roll, and wrap in plastic.
Chances are the fruit leather will not last long enough for storage. If it does, it will keep up to 1 month at room temperature. For storage up to 1 year, place tightly wrapped rolls in the freezer.
Want a print copy of this recipe? No problem~~~>>> Click here!