As homesteaders, we are constantly busy, aren't we? There is so much to do on our properties that needs attention, and all of it seems to be RIGHT NOW. Despite the fact that we have plenty of food at our fingertips from growing food in our gardens, chicken coops, and perhaps even our livestock, the one thing our homesteads can't really give us back is time. Let me show you how dehydrated beans can redeem some of your time, and provide quick nutrition at meal time!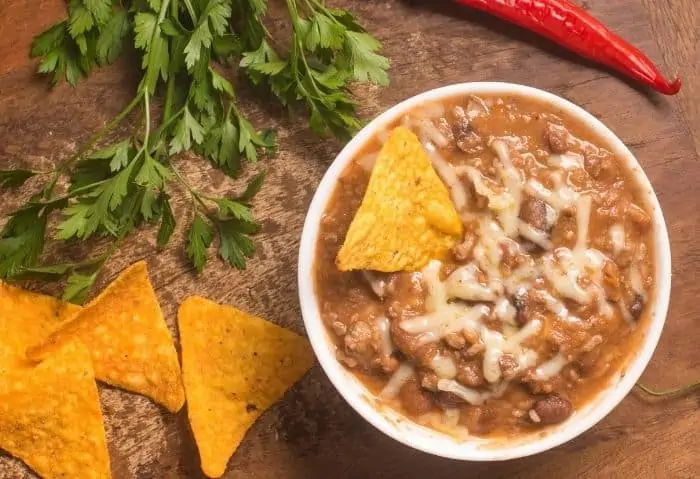 Dehydrated Beans as Convenience Food
So dehydrating doesn't seem like it would be a convenient thing to do at all, does it? The truth is, there are extra steps to preparing food for dehydrating, and honestly, it does take some thought and planning to have the right foods on the shelf if you'd like to make convenience foods from them.
If you think about it, dehydrated foods are pretty much all that is inside some of the most comforting convenience foods we eat! Think pasta–the difference between fresh and dry pasta is what? The lack of water in the dry pasta, right?
How about boxed mashed potatoes? Those are pretty much dry potato flakes that you just add water to! (Don't forget the butter and milk to make them creamy, and maybe bacon bits and cheese to make them decadent!)
What about cup o' noodles? Dry noodles, dehydrated veggies, and spices that you–you got it–just add water to! See where I'm going with this?
For fast and delicious convenience foods, homemade dehydrated beans are amongst THE best and quickest! Usually beans take hours to cook, but no more! These dehydrated beans will take you 10-20 minutes to finish cooking, and save you so much time and effort at dinner time! Let me show you how.
Drying Beans in a Dehydrator
Before I get on with my instructions, I want to point out that if you are new to dehydrating and haven't read my post called "How to Dehydrate Food for Beginners", let me encourage you to do that first. That post is chock full of information for the beginning or novice person seeking to get into or add more dehydrating to their kitchen.
Beans can take for.e.ver. to cook, amiright? The time that it takes almost begs for us to forget it and just buy cans for over a buck each. But did you know that if you were to home-can your beans, it would cost you closer to .23 per pint! That same savings translates when you dehydrate your beans! AND it takes 1/3 of the space on your shelf that your pint jars of canned beans would. That's a great thing!
So, back to the fact that beans take forever to cook. Since we know that is so, and that buying company-processed beans is way too expensive, I'm going to offer you a solution. It will definitely take some planning, just like all dehydrating will, but you will be rewarded tenfold, I promise! My solution is to make large batches at a time to dehydrate. You can do thisonce or twice per month, depending on how often your family eats beans. Here's how.
Prepping Your Beans
The awesome thing about beans it that they need very little prep. If you read my post about dehydrating potatoes, you know there can be a lot of prep. This makes beans a much easier choice for convenience food, in my opinion!
So basically what you will do is sort your beans. Make sure there are not little rocks in there, as sometimes there are, and you definitely won't want to find one of those in your dinner! Ouch.
Once you are finished sorting, rinse them. If you are cooking them on the stove, put them into a bowl, cover with water and allow them to soak overnight. I like to cook mine in a Crock Pot Express (similar to an Instant Pot), which doesn't require soaking the beans, but you will need to sort them still. I'll include instructions for both.
On the Stove (for 1-2lb of dry beans): Drain your soaking beans and add them to your pot. Cover with water about 2 inches above the top of the beans. You can add seasonings to your family's liking, or just season with salt and pepper. Bring to a boil, then cook on low for 2-4 hours.
In the Crock Pot Express (for 2lb of dry beans): Add your sorted and rinsed beans to the bowl liner of the machine along with 4 quarts of water (don't go over the fill line), 1 Tbsp oil, 1 tsp salt, and any other seasonings you like. I sometimes will add a quarter cup of taco seasoning if I'm feeling a little lazy (which I usually am), and I know I will be using all of these beans for mexican dinners (which again, I usually am). Close and lock the lid, and cook on high pressure for 40 minutes on the "beans/chili" setting and allow to depressurize on its own.
The Process of Dehydrating Beans
I should say here that I do my dehydrated beans a little differently than other people do in that I fully cook my beans. I have read in other places where you can par-cook them, then dehydrate and cook the rest of the way, but for the sake of time spent cooking later, I wanted to fully cook mine before getting them into the dehydrator. It works very well this way, and I probably wouldn't ever use the par-cook method. Here's how I do it.
Drain your beans. If you would like, you can save your aquafaba for use in other recipes. (Don't know what aquafaba is? Here's an article by America's Test Kitchen about it. It's pretty handy stuff!)
Load your dehydrator. Make single layers of beans on each tray, and it's fine if they touch. You may want to use tray liners, but it's not necessary.
Dehydrate at 135 for 8-10 hours. It works well to allow them to dehydrate overnight. Check them after about 8 hours and remove the dried beans, leaving the beans that aren't yet hard and dry.
To rehydrate, add your beans directly to a soup or stew, or cover with water and boil on high for about 10 minutes.
Knowing how to dehydrate beans is another fantastic stepping stone in learning how to make convenience foods for your shelf that your family will love! Stay tuned to next week's post where I will show you how to use your dehydrated beans and super quick and easy meals!