Canned ground beef isn't for everyone, and believe me, I wasn't sure it was for me either! However, over the years as I have learned to can it according to one of the recipes in the Ball Blue Book, I have really learned to rely on it as a staple in my kitchen.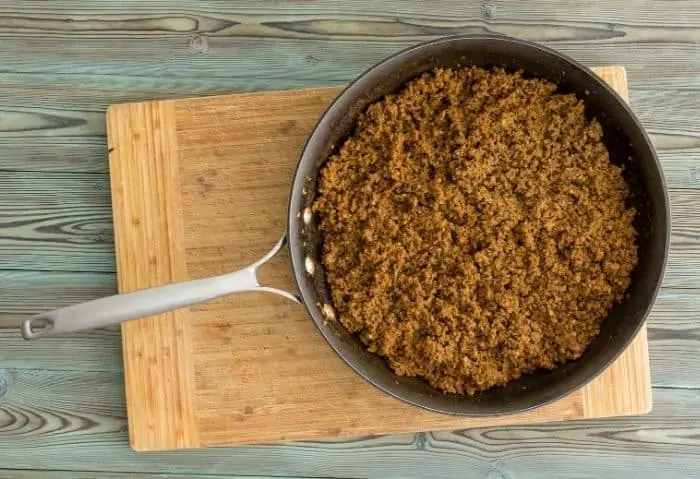 I mentioned the other day that we can use home-canned meats in many different dishes, like spaghetti, chili (my recipe found in this post), casseroles, tacos, soups, and anywhere else where the base of this ground beef sauce would fit in nicely. This lovely seasoned ground beef, which comes from the 2014 version of the Ball Blue Book (page 106), cuts time off your dinner prep because it's already cooked and has a dimension of seasoning that is a wonderful addition to savory dishes.
Ground beef is always hot packed when pressure canning because depending on what the fat content is in the meat, you will likely need to skim fat off the top before canning. The reason for this is because, according to page 98 of the 2014 Ball Blue Book, too much fat in the jar can cause the meat to develop a strong flavor, and it can also lead to seal failure.
This post is going to assume that you understand the basics of pressure canning, but if you are doing this for the first time, or are not quite sure you have the basics down, you can refer to my post, "How to Can Food for Beginners". It's a fantastic article that takes you step-by-step through both canning processes. This time you will only need the information under the headings of Steps Before Processing, Pressure Canning, and Steps After Processing.
You can also refer to National Center for Home Food Preservation as a great online guide for canning.
Items Needed for Canning Ground Beef
4lbs ground beef
1-1/2 cup chopped onions (about 2 medium)
2 cloves of garlic, minced
2 cups tomato juice
1-1/2 cups beef broth
1 tsp. seasoned salt
1/2 tsp. pepper
tools and equipment listed under "The Tools" section in this post
Canned Ground Beef Step-by-Step
This recipe will make 5 pint or 2 quart jars of meat.
Step 1, Prep the meat: Peel the onions and chop. Make sure to measure 1-1/2 cups of chopped onions for this recipe. Peel and finely mince garlic. Brown ground beef, and drain off the fat. Add meat back to pan and add remaining ingredients. Simmer 15 minutes or until hot throughout, all the while stirring so the meat and sauce don't stick to the pan. Skim off any excess fat.
Step 2, Pack the jars: Ladle hot meat into the jars, leaving 1 inch head space.
Step 3, Preparing for the canner: Remove air bubbles with a bubble remover, and clean the jar rim. Center the lid onto the clean jar rim and screw on the band only fingertip-tight. Repeat steps 2-3 until all jars are filled.
Step 4, Fill your canner: Place all jars into your pressure canner. (For instructions on how much water should be in your canner at this point, please refer to the instructions for your canner, as each one is different).
Step 5, Close the canner and vent: Place the lid on the canner and lock into place, according to the instructions for your canner. Turn heat up to high and wait for the canner to begin exhausting steam from the vent. Allow steam to escape for 10 minutes, then put the weighted gauge on the vent. Bring canner to 10lbs pressure (make sure to check your altitude, because if you are over 1,000 ft altitude, this will be different).
Step 6, Begin timing: Once the canner is at the proper pressure, set your timer for 75 minutes for pints, or 90 minutes for quarts.
Step 7, After processing: Once processing time is finished, turn off the heat and allow the canner to depressurize naturally down to zero pressure. Allow canner to sit for 5 minutes, then remove the lid, allowing steam to escape AWAY from you so as not to burn yourself. Let jars cool 10 minutes, then with the jar lifter, remove jars to a towel on your counter. Allow to cool for 12 hours. Test seals, label, and store jars.