Almost every successful gardener has a system for starting plants from seed and caring for seedlings. Some systems work better than others, but that shouldn't stop us from trying different setups to see which one works best for our space and habits as growers. My favorite method for growing seedlings is in a diy grow box.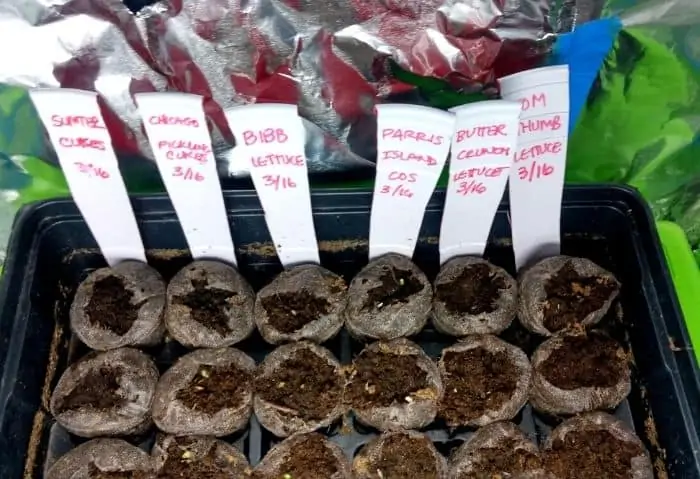 Most of us try to start our seedlings by spending as little as possible. It's important at first to be able to test and try things without spending a whole lot of money, don't you think? I have a really cool list of the top 5 super cheap tools you can get from the dollar store, and some of them might surprise you. The list is at the bottom of this post.
But back to grow lights. After all, grow light setups can be expensive and sunlight is free. Forty plus dollars sometimes only gets you two feet of light with a setup like this one. Since it's only one bulb, there is not nearly enough light for all of the plants that we want to grow. For the price of the grow light I mentioned, you can make two homemade grow light boxes! That's a lot of cheap light!
Since it's only one bulb, there is not nearly enough light for all of the plants that we want to grow. For the price of the grow light I mentioned, you can make two homemade grow light boxes! That's a lot of light!
How Can This DIY Grow Box Help?
It doesn't really matter what kind of setup we use, just as long as it provides the kind of light that our seedlings need to grow properly. This DIY grow light box is a great way to provide that much needed light.
We've all started seeds in our windowsills, right? And what happens to the seedlings when they start to grow? They get very tall reaching for the light of the sun! No need with this grow box!
Seedlings need to light to grow healthy and strong, but when they have to reach far for it, their stems tend to become very thin and fragile. This is called "leggy". Leggy seedlings can survive, but they won't be as healthy and strong as their counterparts that receive light from a closer source.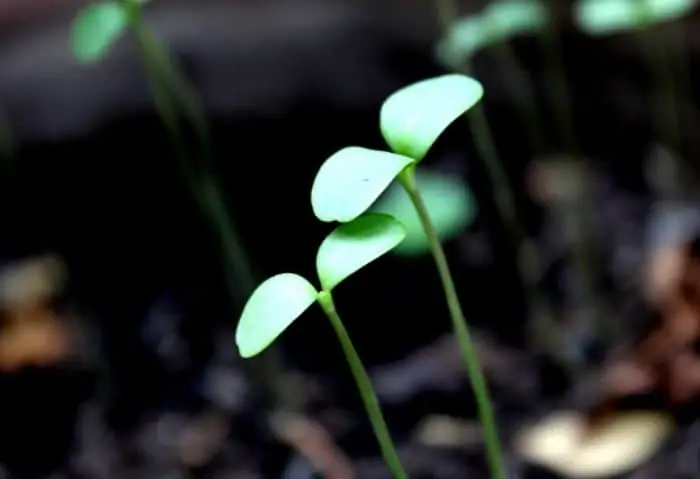 The Answer to Leggy is Light
The answer to leggy seedlings is to bring the light closer to your seedlings so that they don't have to stretch so far to get the light they need. You can bring that light to your seedlings using a simple homemade grow light box system.
All you need are a few things you probably have around your homestead. The things you don't have laying around, you can easily find at at Walmart or on Amazon.com.
I do not have an elaborate setup, myself. I use three diy grow light boxes and a couple clamping chicken brooder lights to take my seedlings from seed to outdoors. It works beautifully for me, and doesn't take up a whole lot of space in my barn.
I had tried this system years ago with a cardboard box, and it worked ok for me, but I have since upgraded the design (thanks to CaliKim Garden and Home) and it works so much better now.
DIY Grow Box Instructions
You will need these items to build one grow light box. Plan to make two to three of these boxes and you will have a decent setup to grow your seedlings from seed to garden!
What to collect:
-large plastic tote (I like this one because it's tall, and you can get these much cheaper at Walmart, Home Depot, or Lowe's)
–clamping heat lamp
-one 23 watt spiral CFL light bulb, 100 watt equivalent (6500K)
-aluminum foil
-duct tape
-sharp knife or box cutter
What to do:
Line your grow box with the foil, securing all the edges with duct tape.
Draw a square in the center of the lid. Use your knife or box cutter to cut out the square.
Draw a line from one side of the square to the center of one of the short sides, only as long as the distance of the socket to the round parts of the clamps on the heat lamp. "Cross your T" where you ended the line. Use your knife or box cutter to cut along that "T".
From the inside of the lid, work your lamp into the "T" with your clamp end on the side of the lid where you crossed your "T".
Line the inside of the lid with foil, securing it well with duct tape.
Screw your light bulb into the light fixture.
Repeat as many times as you want to, depending on how many boxes you would like to add to your system.
Now that you have your system built, you need to first decide where to put it. You can pretty much put your setup anywhere you want to, just as long as it will fit and it is convenient for you. I started out with mine indoors, which worked really well for germination of my seeds because it was warm.
I now keep my setup outside in my barn, which also works well, but because of the cooler temperatures at night, germination can take a bit longer. It won't hurt the growth of the seedlings from what I have seen, your seeds will just take a bit longer to germinate and may grow at a slower rate.
Using Your DIY Grow Light Box
Now that it is in place, you can plant your seeds! Decide what you want to grow according to the planting schedule for your zone. Don't know what zone you are in? Go here.
Once you have them planted, use a shoe box or two to bring the surface of the soil to about 2 inches below the light. You will lower the plants as they grow, maintaining the two inch gap between plants and light so the plant leaves don't get burnt.
Instead of lowering my plants, at this time, I usually move the plants that are taller to my next grow box–this is where the homemade grow light box system comes in.
Each box has a different level so that I can move faster growing plants into a box with the correct light spacing. You can put those disposable metal pans into your boxes so that the inside of your box doesn't get too wet.
Move your plants. As I mentioned above, you will want to move faster growing plants to the next box in the system so that it can continue to benefit from the light and keep growing well.
Other helpful tips:
Water your plants. When the top of your soil dries out, it's time to water your seedlings. Fill up your tray to about 1/3 full of water, and allow plants to sit 15 minutes or so in the water. Once the tops of the soil are wet again, you can pour off the water. You don't want to forget to pour off the water or the roots of your seedlings can rot, and you will lose them.
Fertilize your plants. Plants not only need light to grow, but once they get a set or two of true leaves, you will want to begin feeding them. You can fertilize with a water soluble fertilizer with a low N-P-K (nitrogen, phosphorus, potassium) like this one at 1/2 strength, or you can use worm tea at half or full strength to feed your seedlings. I make sure to feed my seedlings once per week.
Once your seedlings have grown nice and big and graduated out of the grow light box system, you can begin hardening them off. If you follow my instructions, they will be ready to go into the ground in a week!
Want to watch me build a grow light box?