Most plants need a certain amount of these top three macronutrients: nitrogen, phosphorus, and potassium. While there are TONS of different ways to get nitrogen to your vegetable garden, there are fewer to boost potassium. Banana peels can help with that, and and banana peel fertilizer is so easy to make.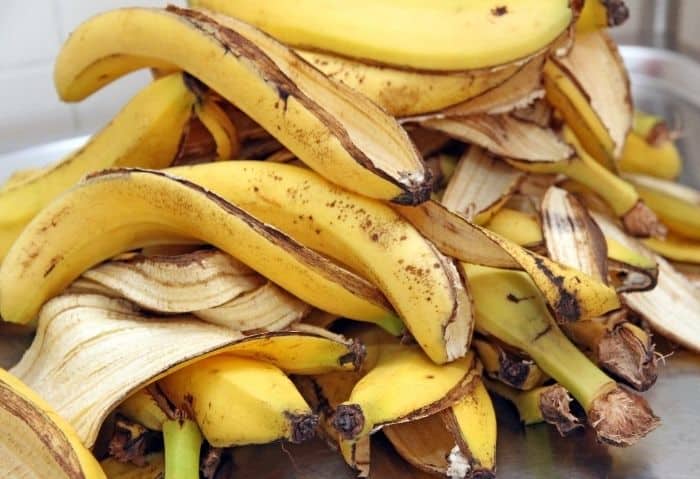 Potassium helps your plants move water and nutrients between cells. It strengthens the stems of your plants and protects them from disease. It is used to help the flowering process and is thought to be able to improve the quality of the fruit of your plants.
At 42% potassium, banana peels are a fantastic source. They are one of the highest organic potassium sources, and is loads higher in potassium than even wood ash. They do not contain nitrogen, which makes using this fertilizer for tomatoes and peppers a perfect choice because they both have a low nitrogen need.
Banana peels also contain calcium, which helps plants take up more nitrogen, which some potassium loving plants need. They also contain manganese, which helps with photosynthesis; sodium, which helps movement of water between cells; and magnesium and sulfur, both of which are helpful in the formation of chlorophyll.
NOTE: Banana peels can be buried whole near potassium-loving plants, if there will be no issue with creatures digging them up. However, whenever there is something to break down in the garden, nitrogen is depleted. If your plants have a good source of nitrogen already, then there is no problem burying a banana peel.
Use Organic Bananas for Banana Peel Fertilizer
Your best bet for avoiding toxins will be to use organic banana peels. According to an article on the Environmental Working Group website, banana-growing methods are pretty pesticide heavy.
The reason for this is because bananas are grown in monocultures, which means that's all they grow, and they do it over and over on the same land.
This creates a situation where the banana plants are quite vulnerable to pests and disease, therefore, there is a need for using plenty of pesticide. This is the reason that gardening books recommend rotating crops in your garden.
If Cost is Your Issue
Even if you do use organic bananas, it will be a pretty cheap fertilizer still — free really — because you would be throwing away the peels anyway. Plus, you will be getting fewer pesticides through your everyday snacks!
Frequently Asked Questions
Banana Peel Fertilizer Recipe
banana peels
quart mason jars
plastic mason jar lids
water
Add one banana peel to each quart jar.
Fill jars with water and seal.
Allow to sit for about a week before using on your potassium loving plants.
Once it's finished, use all of this fertilizer on one or two plants. Throw the peel into the compost pile, or throw away.
If you noticed a potassium deficiency in your plants, take note of that, and any changes that happen within a few days.
Looking for a dry version of banana peel fertilizer? Click here.